Researchers at the Hungarian University of Debrecen and University of Szeged have developed a novel, additive manufactured, low-cost medical device that is said to be capable of rapidly treating vaginal infections.  
Created using a commercial Craftbot 3 FDM 3D Printer, the team's TPU-based medical device is filled with a jellified antibiotic that, once in position, can be released to help relieve feminine itching. Having verified their ring's biocompatibility, the team say that it could now make vaginal infection remedies "more easily and rapidly accessible" to patients, "resulting in increased adherence" to treatment.
The inefficacy of BV treatment
Although both oral and local vaginal infection remedies are now readily available at pharmacies around the world, bacterial vaginosis (BV) remains a common condition. This is somewhat down to the limited efficacy of existing treatments, as despite the fact many sufferers use clindamycin or metronidazole to treat such infections, on average, 30% of them experience recurring symptoms inside 4 weeks.
While BV doesn't have a high mortality rate, it often causes patients long-lasting discomfort, and in extreme cases, it can even affect their quality of life. It therefore remains highly desirable for at least half the world's population that a more effective remedy for vaginal infections be found, and a significant amount of prior research in this area has centered around the drug 'chloramphenicol.'
Widely-used as an antibiotic, chloramphenicol is known to combat BV-inducing bacteria, but it also has serious potential side-effects such as neurotoxicity and bone marrow depression. To get around these quite sinister complications, researchers have previously sought out ways to apply the drug topically instead of orally, but using 3D printing to infuse it into a device has always proven difficult.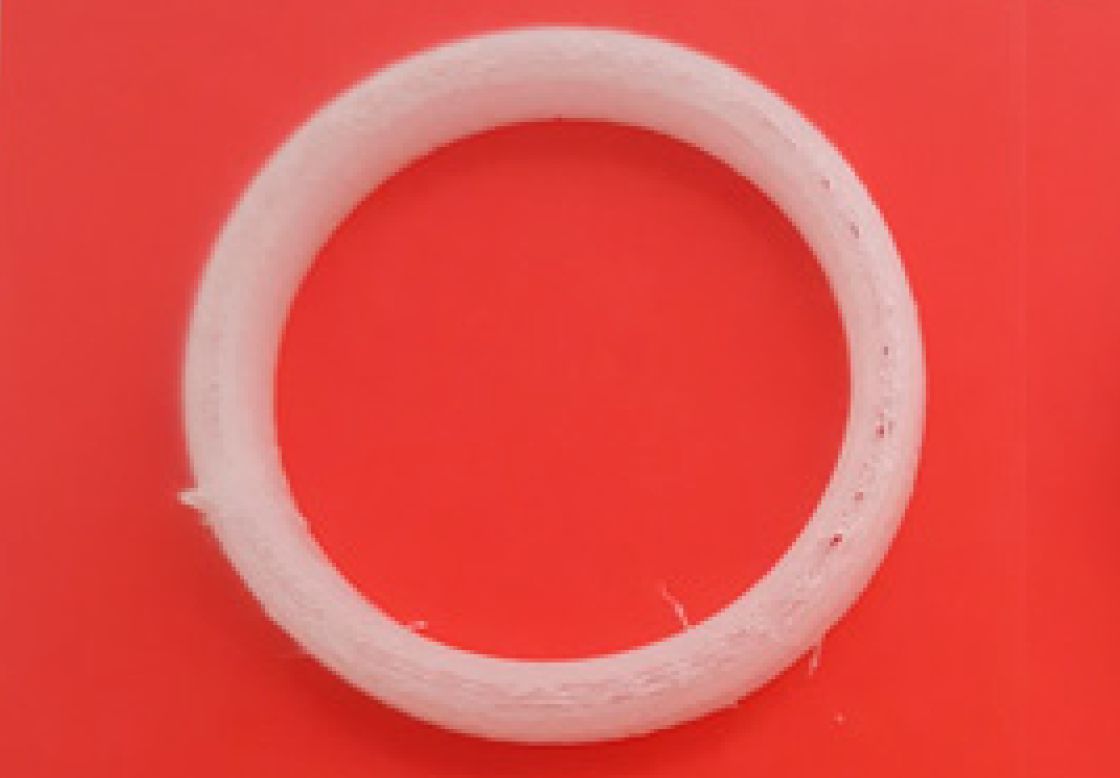 An anti-infection vaginal 'ring'
In an attempt to deliver chloramphenicol more effectively than existing medical suppositories allow, the Hungarian team has taken inspiration from the vaginal rings that have been available since the 1970s, and designed a similar-looking device that instead of acting as a contraceptive, is optimized for drug distribution.
Effectively, the engineers have been able to achieve this by 3D printing their rings as 'carrier systems' before manually filling them with antibiotics, rather than trying to infuse drugs into a processable filament. In doing so, they have managed to overcome the thermal variability that has hampered the R&D of previous devices, and develop a vessel that can be filled with different drugs to meet patients' needs.
To assess the efficacy of their novel vaginal remedy, the engineers chose to expose three of their prototype 3D printed rings to E. coli and C. albicans, given that the pathogens are often identified as common causes of BV. Interestingly, each test specimen was found to combat the bacteria within just 24 hours, but adding chitosan to the rings' antibiotics, accelerated the pace at which this occurred.
During biocompatibility testing, in which the engineers' devices were seeded with bovine cervix cells and cultured for up to 12 days, they also demonstrated their human end-use potential. In keeping with the ISO 10993 standard, the cells continually maintained a viability of more than 70%, thus the researchers concluded that their "vaginal ring samples could be considered cytocompatible."
While the issue of comfort during ring installation is conspicuous in its absence within the team's research, they maintain that their approach allows rings to be "printed without heat damage or antibiotic loss," and given the device's cytocompatibility and infection-fighting efficacy, they suggest their treatment method warrants "further investigation" moving forwards.
AM's drug delivery advantages
Creating vaginal treatments may be a fairly unusual application of FDM 3D printing in itself, but the technology's flexibility and precision does make it ideal for producing medication with a controlled rate of drug delivery. In one such case last year, a team of UK and US scientists developed magnetic field-triggered 3D printed devices, which proved capable of delivering drugs at personalizable dosages.
Similarly to the Hungarian team, researchers at Zhejiang University and De Montfort University have also 3D printed an E. coli-combatting device. Referred to by the scientists as a multi-layer drug delivery device (DDD), their system is targeted more towards probiotic than feminine hygiene applications, but still retains the capacity to deliver multiple drugs to various different areas of the stomach at once.
Researchers at the University of Kent and University of Strathclyde, meanwhile, have taken this approach to a whole new level, by 3D printing microneedles and incorporating them into a controllable transdermal drug delivery system. In doing so, the team have found they're able to adapt their device to suit the needs of individual patients, and condense it into painless needle phobia-fighting patches.
The researchers' findings are detailed in their paper titled "Manufacturing and Examination of Vaginal Drug Delivery System by FDM 3D Printing," which was co-authored by Petra Arany, Ildikó Papp, Marianna Zichar, Géza Regdon Jr, Mónika Béres, Melinda Szalóki, Renátó Kovács, Pálma Fehér, Zoltán Ujhelyi, Miklós Vecsernyés and Ildikó Bácskay.
To stay up to date with the latest 3D printing news, don't forget to subscribe to the 3D Printing Industry newsletter or follow us on Twitter or liking our page on Facebook.
For a deeper dive into additive manufacturing, you can now subscribe to our Youtube channel, featuring discussion, debriefs, and shots of 3D printing in-action.
Are you looking for a job in the additive manufacturing industry? Visit 3D Printing Jobs for a selection of roles in the industry.
Featured image shows a stock photo of a woman in discomfort. Image via Anete Lusina, Pexels.