Alice in Wonderland can and has been used as a metaphor for just about anything, from hallucinogenic trips to the Matrix. To me – acid trips aside – it represents how a shift in perspective can generate an entirely new world of discovery and exploration. In much the same way, the implementation of affordable 3D technology has opened up a completely novel universe for artists to explore.
We recently saw how that worked out with large-scale marble sculpturing making at Garfagnana Innovazione. Now, a new story goes even deeper down the rabbit hole, blending 3D technology and traditional arts and craft for several projects, the latest of which is, in fact, a celebration of the 150th Anniversary Lewis Carroll's novel by digital bronze sculptor Bridgette Mongeon.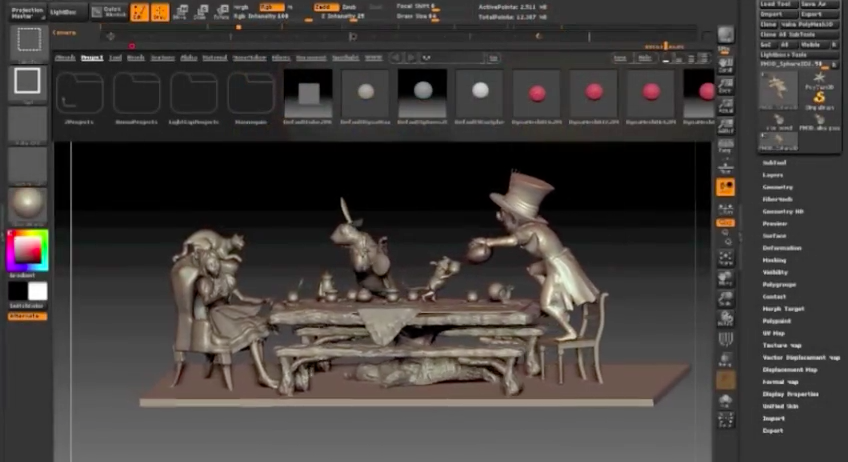 Bridgette has introduced 3D modeling, 3D scanning, CNC milling and 3D printing technologies to her creative process, which mainly consists of sculpting beautiful, realistic, and very large bronze statues. In fact, she has written about her work in her own version of "Bridgett in Wonderland", both via her Digital Sculpting website and in a book, titled 3D Technology In Fine Art and Craft: Exploring 3D Printing, Scanning, Sculpting and Milling.
In the book, she explores how great artists and artistic projects implement the 3D workflow. This wonderland includes the Digital Stone Project at Garfagnana Innovazione, as well as other great digital artist collectives, such as as Factum Arte and Estudios Durero.
Bridget's own travels through the 3D wonderland have now brought her to visit the Mad Hatter. Her newest sculpture, which will be described in her next book on the subject, is the Mad Hatter Tea Party. It has been presented at the North American Society of Lewis Carroll and will have its final location at Evelyn's Park in Bellaire, Texas, just outside of Houston.
Bridget begins working by digitally sculpting a sketch of the project. She then proceeds to take photos of subjects that she will reproduce in sculpture. Then, she uses her "analog" sculpting talent to create miniature clay representations of her statues, before reverting them back to digital models through 3D scanning. A CNC machine proceeds to carve the larger size model of the statue out of foam. Final details are added and the pieces are sent to be casted in bronze for their final versions.
The three invitees at – the Party, Alice, the Rabbit and the Mad Hatter – will all be about eight feet tall. The sculpture is meant to be a place for tourists and park visitors to join the party as well, with picnics or snacks. In honor of Alice's 150 year history, Bridgett will use 3D printing to create 150 special items which will be hidden within the sculpture. A special book will give visitors hints on how to find them and the trip down the rabbit hole will add yet another chapter.