Today, 3D Systems has introduced a 3D printing-based Star Trek app to create customized 3D printed products and collectibles based on the iconic Star Trek series through the company's content hosting and publishing platform, Cubify.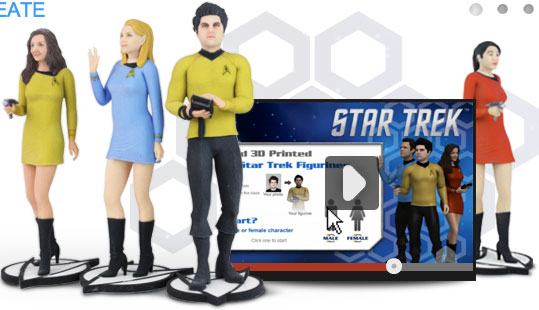 The app, called Star Trek 3DMe, runs under a license from CBS Consumer Products and allows users to create a full-colour, personalized 3D printed figurine of themselves in a Star Trek uniform from the original series by simply uploading two photographs of their face.
Users can personalize their figurines with a variety of options such as authentic Star Trek ranks from ensign through captain, uniform colours, and poses including the famous "live long and prosper" Vulcan gesture complete with Vulcan ears.
Each unique 5.5" figurines is 3D printed in full-color on a 3D Systems' Projet 660Pro, with a ceramic-like feel. Star Trek 3DMe figurines retail for $69.99 — but despite this, one can just imagine how popular this will be with Trekkies the world over!
"We're delighted to offer Star Trek fans the chance to join the crew of the Enterprise in a way that was never before possible – by replicating themselves in 3D as a crew member," commented Sarah W. Stocker, Senior Director of Cubify for 3D Systems.
STAR TREK and related marks are trademarks of CBS Studios Inc. All Rights Reserved.