This edition of 3D printing news Sliced features stories from Spee3d, the University of Pittsburgh, the Virtual Curation Laboratory, Charles Darwin University, Norsk Titanium, NuVasive, Trumpf, Pro Evolution Soccer, Space IL, Fishy Filaments, Obayashi Corporation and XRobots.
Significant sale for Spee3D, huge sales for Trumpf, and a New York Dedication for Norsk
Australian OEM Spee3D sold one of its high-speed cold spray fusion 3D metal printers to Charles Darwin University in July. The machine is now producing metal parts on demand, and the university's Additive Manufacturing Alliance (AMA) has plans to make it commercially available. The AMA's Dr. Rebecca Murray stated that the machine would "bring innovation to Darwin and make it a leading partner in advanced manufacturing."
German OEM Trumpf has announced that sales of its laser-technology have hit €1.23 billion, up €88 million on the previous year. This is in line with an 11% increase in its overall sales to €3.1 billion.
Norsk Titanium, known for making structural components for Boeing' 787 Dreamliner, has held a dedication ceremony for its Plattsburgh Development and Qualification Center. The opening of the new facility follows Norsk's decision to expand its operations at PDQC by 60%.
Up above and down below
Space IL, an Israeli space exploration startup has entered the Google X Moonshot competition with a spacecraft featuring 3D printed metal legs.
Obayashi corporation has developed Japan's first 3D printed concrete technology, using concrete "ink" developed by Denka Co. Ltd. The quick drying time and the rapid movement of the robotic arm ensures that the structures can support their own weight without collapsing.
Innovative applications and materials
NuVasive, a medical devices company specialising in spinal implants has announced the launch of, Modulus XLIF, a series of 3D printed titanium implants. The FDA approved implants use advanced "microporous surface topography" which mimics the characteristics of the bone and facilitates bone in-growth.
Dr. Minking Chyu, Distinguished Professor in Mechanical Engineering and Materials Science at the University of Pittsburgh's Swanson School of Engineering, has been awarded $777,192 grant from the US Department of Energy to further research into heat damage resistant gas turbines. Chyu's team will research how Oxide Dispersion-Strengthened alloys and 3D-printed lattice and transpiration cooling systems can be used to produce these turbines. The grant is a continuation of the DoE's $66 million Nuclear Energy Enabling Technologies (NEET) program.
Fishy Filaments is a Cornwall-based startup that recycles marine based waste plastics into 3D printable filament. Currently, Fishy Filaments' solar powered technology can only handle Nylon monofilament nets, but founder Ian Falconer is currently looking at extending it to other materials.
Seeing is believing (but not always)
The Virginia Historical Society museum in Richmond, Virginia, has completed its "touch tour", a series of 3D printed artefacts which the visually impaired can interact with. The joint project with Virginia's Virtual Curation Laboratory sees objects including General George S. Patton's corncob pipe, George Washington's signature and Native American weapons scanned and 3D printed as replicas.
Football video game Pro Evolution Soccer 18 has made use of 3D scanning to recreate football players realistically. Developer Konami used a 72 cameras to capture a number of squads including AC Milan, Inter Milan and Arsenal, together with their play styles and gestures.
James Bruton of XRobots, who has previously made an appearance on Sliced for his 3D printed longboards, has built a 3.5m tall giant 3D printed sculpture of himself at Winchester Discovery Centre in the UK. The giant version of the YouYube star is awaiting official confirmation as a Guinness world record.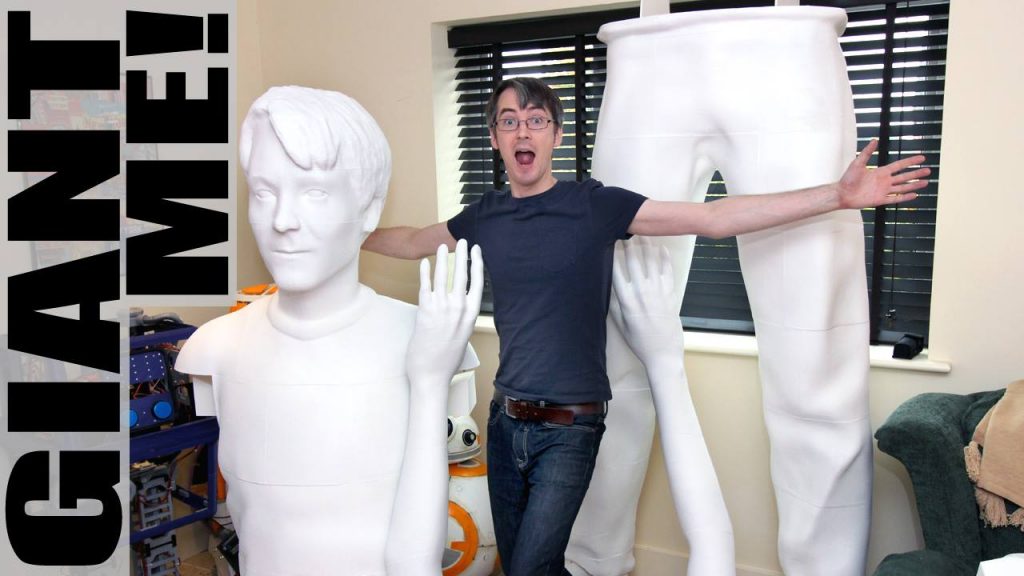 For more on the latest from the world of additive manufacturing subscribe to our free 3D Printing Industry newsletter, follow us on Twitter, and like us on Facebook.
Featured image shows a Fishy FIlaments ring in the Cornish sunshine. Photo via Fishy Filaments.