In this week's Sliced, our 3D printing news digest, we take a look at the latest creative application using 3D printing, including further forays into 3D printed wearables, 3D printed transport, and how the 3D printing community is experimenting with virtual reality and portable 3D printers.
Also included are the latest business developments from FDM Digital Solutions, Roboze, NexGen3D, Print-Rite and Jumbo Group. There are also updates in the science and medical sectors, including development of bioskins research for Aether and nScrypt.

Other featured companies include  Solvay and BASF, Filamentive, Massivit, Marie 3D, iMaterialise and Shapeways.
Playful projects in 3D printing – David Bowie cars, children's blocks & tofu
The David Bowie tribute car, a full-scale concept car produced entirely with 3D printing, will be exhibited at Festival Automobile International from January 31 to February 3. This 3D printed car continues along the lines of the first open-source, 3D printed vehicle manufactured by Local Motors, the Strati. The Strati was first publicly displayed in 2014 at IMTS.
Created in memory of the musical icon, the vehicle – reminiscent of a spaceship and with Union Jacks etched onto its rims – was devised by car designer Takumi Yamamoto and created by Massivit, a large-format 3D printing company from Israel, alongside Marie 3D, a French 3D print design company.
The car was constructed using the Massivit 1800 large format 3D printer. Yamamoto opted for a 3D printing technique because of its capability to "produce complex and creative geometry forms."
Meanwhile, Christian Knaapen of Utrecht University, is asking children for help with CAD programs.
According to Knaapen, there is a disconnect in CAD programs between the 3D object on its 2D screen and the final object. To tackle this, objects need to be tested in virtual reality (VR). Knaapen asked 35 children to design playground equipment using Google Blocks, then analyzed and 3D printed the models. The 3D structures were tested for strength and balance.
The study concluded that more research into VR and 3D printing that would benefit the industry – including research into what is necessary to analyze the strength of a printed object based on its virtual model.
Staying with the theme of games, a quirky nugget of information has arisen regarding the upcoming remake of the 1998 hit video game, Resident Evil 2, by games producer Capcom.
Producer Tsuyoshi Kanda has revealed that the joke "Tofu" character in the minigame Tofu Survivor – as seen in the launch livestream for the new game – was created by 3D scanning a real piece of tofu.
Since the foodstuff is famously soft and delicate, the Tofu is an extra vulnerable character.
Gamers can play as "Tofu" to increase the difficulty of the gameplay.
A member of the 3D printing enthusiast community has also also been playing around – with a 3D printer from the now closed company, Printrbot. YouTuber and 3D printing enthusiast Thomas Sanladerer converted a Printrbot Play into a battery powered, mobile 3D printer, and filmed the process.
The system is built with a Raspberry Pi inside and has WiFi access. The converted Printrbot has no LCD screen, and is operated via a mobile phone using OctoPrint, a web interface for 3D printers. Sanladerer filmed the whole reconstruction process and uploaded it to YouTube.
3D printed glasses, boats and bridges
In another development in the world of 3D glasses, American Spectacles, a Washington-based eyewear company, has launched three models of 3D printed of customizable spectacles. The glasses are modeled using Blender open-source 3D modeling software, then 3D printed using SLS.
American Spectacles has partnered with iMaterialise, a cloud-based 3D printing company from Belgium, and Shapeways, a New York-based 3D printing marketplace start-up. The customization software allows customers to design 3D-printed glasses or sunglasses frames that best suit their face shape.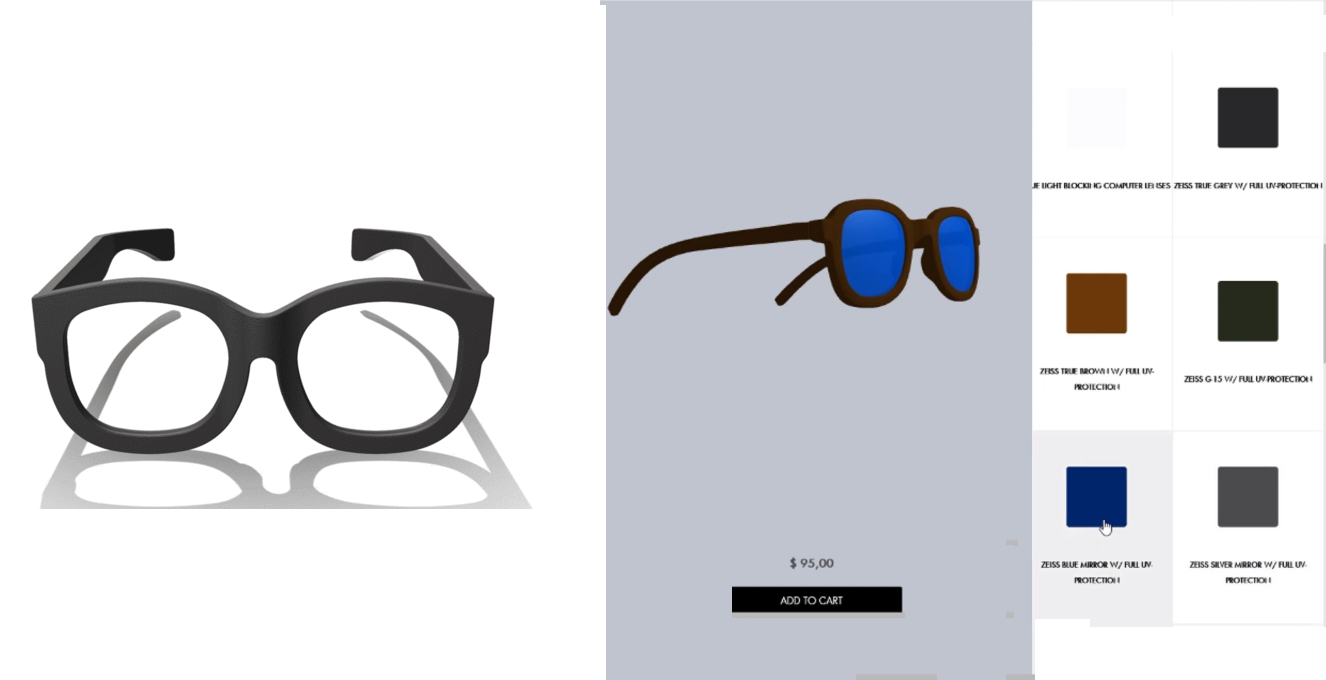 On the more niche end of applications, NATO militaries have tested a new line of suppressors for automatic weapons, made with a nickel-chromium-based superalloy and 3D printed by Delta P Design, an Oregon-based firearms accessories company.  
In developing the Brevis III suppressor, Delta P Design focused on the gas byproduct of shooting rounds. When firing rapidly, the gas builds up and blows back into the operator's face. The Brevis III suppressor can quickly process high volumes of gas – this technology can only be achieved with 3D printing, the company said.
In a durability test using a .50 caliber machine gun, evaluators shot 996 rounds, which burned out the barrel of the gun. The 3D printed suppressor, however, remained intact.
"That is way beyond what anybody can ask of a suppressor," said David Strong, Vice President for Business Development at Delta P Design.
"It's easy to suppress a rifle. It's easy to suppress a semi-automatic weapon, but to suppress an automatic weapon — the stresses, the temperatures, the pressures are extreme."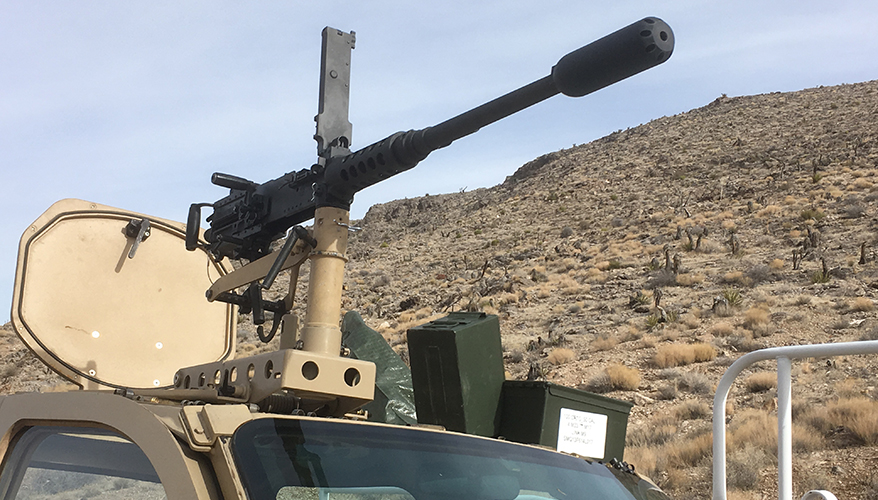 Meanwhile, TAHOE Boats, a Missouri boats manufacturer, has made its first hull mold using Thermwood LSAM 3D printing. Thermwood, a CNC machinery manufacturer from Indiana, assisted in building the TAHOE Boats T16 design, using its Large Scale Additive Manufacturing (LSAM) system to custom print the needed  tools and patterns.
The pattern was 3D printed in six sections from 20% carbon fiber-filled ABS. The full assembly of the boat took 10 days to complete. This is the first time 3D printing has been used on actual boat production at this scale, according to TAHOE Boats.
Last week in Sliced, we brought you news of the longest 3D printed pedestrian bridge, which was installed in Shanghai. The theme continues this week, as one of the largest 3D concrete bridges is completed and erected in the same city. Purportedly the largest in the world, the structure is 26.3 meters long and 3.6 metres wide. The concrete components were 3D printed in 450 hours.
The project was led by professor Xu Weiguo of Tsinghua University's School of Architecture and the Shanghai Wisdom Bay Investment Management Company.
Selling PEEK and challenging monopolies
In the latest on 3D printing business news, FDM Digital Solutions, a UK-based manufacturer of 3D printed parts, is now working with Roboze, an Italian 3D printer manufacturer, to bring PEEK high grade thermoplastic to the UK.
The development is part of a larger project, Xtreme3DParts, launched by Roboze. Xtreme3DParts provides a global network of additive manufacturing centers for the production of on-demand, high-performance materials, intended for the aerospace, automotive and industrial sectors.
"There is a requirement for materials such as PEEK," said Graeme Bond, CEO of FDM Digital Solutions.
"We believe we can develop a profitable market to deliver high end AM solutions to the UK and broader European markets."
Turning to legislative and regulatory news in the additive manufacturing world, a European Union Commission has granted conditional clearance for BASF, a German chemical company, to acquire the nylon business of Solvay, a Belgian advanced materials company.
The EU initially expressed concerns about a monopoly in the European Economic Area (EEA) over the supply of certain materials used in the 3D printing industry, including hexamethylene diamine, adipic acid and nylon 6/6 base polymer.
BASF and Solvay pledged to divest certain Solvay facilities producing these materials  to "a single suitable buyer."
On the other side of the world, NexGen3D, an 3D printer manufacturing and services company from Chennai, India, has unveiled the CoLiDo AMSS Metal 3D Printer, designed to reduce the cost of metal 3D printing. It features AMSS metal printing technology from Print-Rite, a Hong Kong printer consumables company, which uses special metal filament containing around 90% of the required metal particles.
3D printed like FDM, the non-metallic portions of the print are burned out in a furnace after 3D printing. The metallic particles fuse together to form a solid metallic object and the process is completed with regular sintering.
Remaining in Asia, Jumbo 3D Manufacturing, a UAE-based 3D printing community and part of Jumbo Group, has unveiled its 3D application development centre. It includes an HP 3D printer, a CAD station, a finishing area with a bead blasting machine, and a paint booth.
Electronics company Jumbo Group launched Jumbo 3D Manufacturing last month. The facility will allow entrepreneurs in UAE to adopt 3D printing technology for various applications, including dental and architectural.
<iframe width="934″ height="525″ src="https://www.youtube.com/embed/Mt1sXaGRkd4″ frameborder="0″ allow="accelerometer; autoplay; encrypted-media; gyroscope; picture-in-picture" allowfullscreen></iframe>
The Center for Hierarchical Materials Design (CHiMaD), based in Illinois, has received a $25 million grant from the National Institute of Standards and Technology (NIST), headquartered in Maryland. NIST funding will help CHiMaD develop new tools, databases and techniques to accelerate the design of novel materials for the next five years. This includes polymers and high-temperature metal alloys, such as those used in 3D printing.
3D printing developments in the sciences
Rocket Lab, a Californian aerospace manufacturer, will launch an experimental satellite for the Defense Advanced Research Projects Agency (DARPA) next month, from its site in New Zealand. This is the first of a dozen planned launches in 2019. In November, Rocket Lab closed a Series E financing round with a value of $140 million.
Rocket Lab Chief Executive Peter Beck said the second launch will take place 4-5 weeks after this mission, and by the end of the year, Rocket Lab expects to be launching one of its Electron expendable rockets every two weeks.
Meanwhile, down on earth, evolutionary biologist John Nyakatura of Humboldt University, Berlin, and robotics expert Kamilo Melo at the Swiss Federal Institute of Technology have created a life-size 3D printed replica of a prehistoric animal.
The "OroBOT" is made of motors connected by 3D-printed plastic and steel parts. 3D printing the creature allowed the researchers to observe how it might have moved when it was alive. First, the researchers scanned the animal's 300-million-year-old skeleton and a set of fossilised footprints. They tested the motion of the finished robot until its gait matched the ancient footprints. Below is an animation of the gait of the ancient animal.
With interesting implications for medicine, doctors from Washington State University have reconstructed a cat's skull, aided by 3D printing technologies. The cat was suffering from multiple brain tumors, which are difficult to safely operate on.
To prepare for the surgery, Radiologist Tom Wilkinson Jr. used 3D scanning on the cat's skull and brain, then made a 3D printed model, so the doctors could see how much the brain had swollen beyond the skull.
"The only way to create a skull template was to do it outside of surgery," said Neurologist Annie Chen-Allen, who performed the operation alongside Jessica Chavera, a second-year neurology resident.
"Without the 3D printing, there's no way you can mimic what happens in surgery outside of surgery."
Staying with medicine, Aether, a Californian technology startup and maker of bioprinters, will collaborate with researchers from University College London (UCL) and Loughborough University in the UK to develop a new approach to 3D printing nanotechnology.
The research will involve developing ink that contains nanoparticles, and delivering them using a custom Aether 3D bioprinter, featuring an integrated laser system.
These nanoparticles will act as a either a nanosurgical tool, a delivery system for pharmaceuticals, or a structural support system. They respond to specified wavelengths, allowing targeted release of the agent.
"Combining 3D printing with nanotechnology is the beginning of a new generation of medical research. The problem is that the few startups in this field are being incredibly greedy," said Ryan Franks, CEO and Founder of Aether.
"They don't care how powerful a tool this is in the fight against cancer, these companies won't let a researcher even dip a toe in the water unless they get paid well over a million dollars."
"We don't agree with holding a life-saving technology hostage so a few executives and investors can get rich, so we're fighting to democratize it."
The bioprinting world also has a new appointment. nScrypt, a Florida 3D printer manufacturer, has appointed Dr. Stuart Williams as its Chief Life Science Officer. Williams will lead nScrypt's Life Science vertical, based on its bioprinter, which will be launched to the International Space Station later this year.
Williams used 3D bioprinting technologies in his recent Bioficial Organs Program, where he used patients' cells to create human tissues and organs for clinical therapeutics and in vitro drug testing.
On the environment front, Filamentive, a UK-based 3D printing material startup, has declared recycled content in accordance with International Organization of Standards (ISO) guideline 1402.
The company states that sustainability is key to its business model and claims to use up to 90% recycled filament, free of foreign debris. Filamentive also use 100% recycled plastic spools as well as recyclable cardboard packaging.
"Due to FDM/FFF 3D printers using plastic materials as feedstock, unfortunately as 3D printing becomes more popular, plastic production and consumption will increase, causing the industry to exacerbate the global problem of plastic," aid Ravi Toor, Filmentive's founder and director.
"Filamentive was set-up to address the environmental concerns in 3D printing – committed to using recycled materials where possible, without compromising quality."
Last year, Filamentive was nominated for the 2018 3D Printing Industry Awards for "Material company of the year."
Do you have a nomination for this year's Material company of the year? Enter them on our nominations page for the 2019 Printing Industry Awards.
If you want to keep abreast off all the 3D printing industry latest news, do subscribe to our 3D Printing Industry newsletter. It's also a good idea to follow us on Twitter, and like us on Facebook.
Interested in working in additive manufacturing? 3D Printing Jobs await you on our 3D Printing Jobs web page, featuring positions ranging from engineering, sales, account management and more.
Featured image shows a 3D printed David Bowie tribute car by Takumi Yamamoto. Photo via Festival Automobile.