Today in Sliced: Additive Industries, Arcam, SHINING 3D, TechMed 3D, Haydon Kerk, TU Delft, Tim van Broekhoven, the Danish Technological Institute, Untika, TU Delft, Carnegie Mellon University, Optomec, Ethereal Machines, Porimy, Innoviz, the Air Force Research Laboratory, REGEMAT 3D, Austrian Space Forum, Neri Oxman, Iris Van Herpen,
Full-bodied 3D scanning
As full-body 3D scanners featured several times at CES 2018, Artec was also seen using the technology to bring visitor's selfies to life at the show.
SHINING 3D and Québec City based TechMed 3D have entered into a partnership to make 3D body scanning more accessible to medical and consumer markets.
And Untika Garments Technology Ltd. also revealed that it is using SMARTTECH solutions for 3D body scans to fit clothes.
Additive Industries, Arcam and Haydon Kerk update
Paul Simons, previously of Siemens Healthcare, has joined MetalFAB1 manufacturer Additive Industries as director of operations and supply chain as the company continues to grow.
As per the latest announcement from GE Additive, Arcam AB has officially applied for delisiting from the Stockholm Stock Exchange. The last day of trading for the company will be Friday 26 January 2018.
And Haydon Kerk, a leading manufacturer of motor and actuator components is now offering a 3D printed leadscrew-nut insert prototype service for its machine-building customers.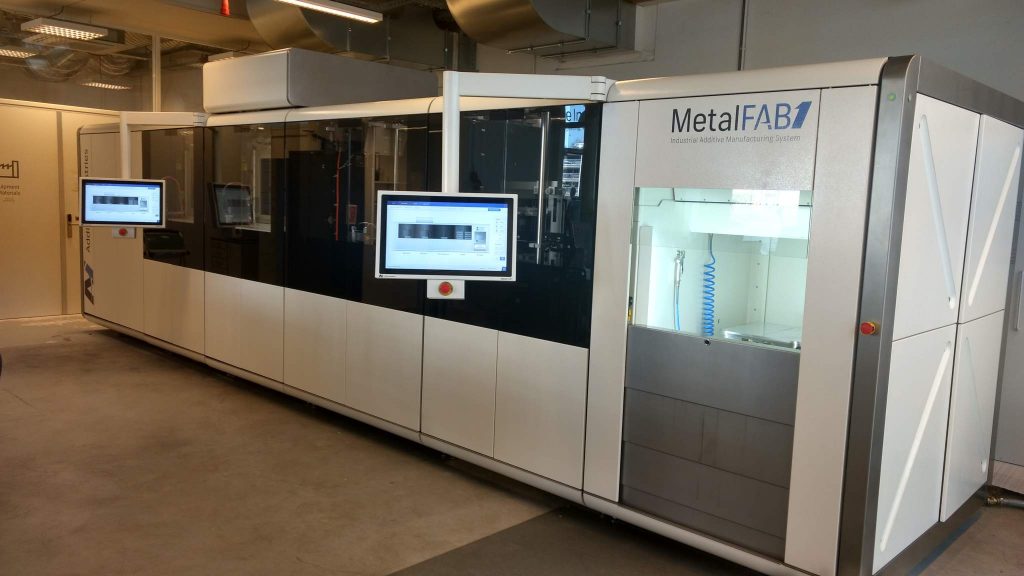 What's new in education?
Tim van Broekhoven, a postgraduate in Mechanical, Maritime and Materials Engineering at TU Delft, took inspiration from frogs legs to develop a 3D printed soft-tissue grip. van Broekhoven's master thesis, On the mimicking of geckos and tree frogs for adhering to soft substrates, can be read online here.
Denmark's Innovation Fund, the Danish Technological Institute, pump manufacturer Grundfos and Danfoss are contributing an estimated $14.6 million into development of 3D printing in a project titled "AM-Line 4.0."
And Optomec has announced that Carnegie Mellon University has been using its Aerosol Jet Printing (AJP) for electronic microfabrication. Dr. Rahul Panat, leader of the university's Advanced Manufacturing and Materials Laboratory (AMML), explains, "We employ an Optomec Aerosol Jet 3D print system to directly print nanoparticle inks and polymers over complex surfaces,"
"The Aerosol Jet system has enabled us to fully print 3D antennas at the sub 100um length scale and to conduct simulation studies to identify omnidirectional antenna designs. These fabrication methods are unique and can pave the way for several applications in the high-speed communication areas."
In collaboration with Washington State University and the University of Texas at El Paso, Dr. Panat's team have also used AJP to make strain gauges, that sense the deformation levels of a give object when in use, e.g. an airplane wing or energy turbine blade.
Hardware releases: from "5D printing" to car vision
Ethereal Machines' Halo hybrid manufacturing machine won the award for 'Best of Innovation' at CES 2018. The Indian company are calling there $25,000 machine a "5D printer" the system combines 5-axis FDM 3D printing with 5 axis CNC milling.
Chinese 3D printer provider Porimy has launched a new system capable of making zirconia ceramic dentures.
And Innoviz Technologies Ltd. has launched a low-cost MEMS-based scanning LiDAR system for autonomous vehicles.
Electronics, biotech and space
The Air Force Research Laboratory (AFRL) and American Semiconductor have 3D printed a flexible microchip with a memory reportedly "7,000 times larger than any other commercially available device."
In healthcare REGEMAT 3D, a Spanish biotech startup, has launched an initiative to help develop 3D bioprinting in the field of regenerative medicine. Based in Granada, the company hope to use the technology to develop treatments for illnesses such as Alzheimer's, Parkinson's and diabetes.
Astronauts from Austrian Space Forum (OeWF) are on a Mars simulation mission in the desert of Oman. According to Joao Lousada, OeWF Analog Astronaut and Deputy Field Commander, "Among the 19 experiments, [conducted in the desert] 3D printing will be crucial for future human missions to Mars. As part of our junior researchers program, 'A3DPT', it will allow us to print tools and parts during the mission."
Timeless design
The National Gallery of Victoria's first Triennial exhibition has opened in Australia with a host of 3D printed displays. Included in the exhibition is Neri Oxman's Vespers series, first seen at the re-opening of the London Design Museum in 2016, and shoes by legendary 3D printed fashion designer Iris Van Herpen.
And SCHAFFEN Watches has launched a Kickstarter campaign for timepieces including customizable, 3D printer rotors.
Nominate the best applications in the second annual 3D Printing Industry Awards here.
Subscribe to the 3D Printing Industry newsletter, follow us on Twitter, and like us on Facebook.
Featured image shows the Sliced logo over one of SCHAFFEN Watches proposed timepieces with custom 3D printer rotor. Original image via SCHAFFEN Watches on Kickstarter