Crossrail, a £14.8 billion project to expand London's underground train network, is using 3D printing in the construction of its tunnels.
Competing alongside leading contractors including SKANSKA, BAM Nuttall and Balfour Beatty Civil Engineering, UK privately owned construction company Laing O'Rourke is using the technology to get the edge on tunnel building.
Europe's largest construction project 
Spanning over 100km, and connecting 40 stations from east to west, Crossrail is the largest construction project in Europe. The new tunnel under construction is named The Elizabeth Line after the reigning Queen Elizabeth II.
Laing O'Rourke's current contracts for Crossrail includes stations at Liverpool Street, Tottenham Court Road (Western Ticket Hall) and Canary Wharf.
A concrete jigsaw
Tunneling of the Elizabeth line was completed in 2015 using 1,000 tonne boring machines provided by Bechtel, the company also responsible for extension of the Jubilee Line in 1999 and working with U.S. National Laboratories including Lawrence Livermore.
The next step for construction is to pave these channels with concrete blocks, a process due to be completed in 2018. The blocks are designed to fit perfectly with the shape of the stone tunnel, curving and interlocking to make a jigsaw-like wall.
To make the molds for these blocks, Laing O'Rourke are testing the FreeFab Wax method alongside the company's traditional approach.
The FreeFab method 
Invented by Australian engineer James Bruce Gardiner, FreeFab uses a robotic arm to 3D print a custom mold out of wax. For extra relief, the wax can be machined, and then concrete is added to set.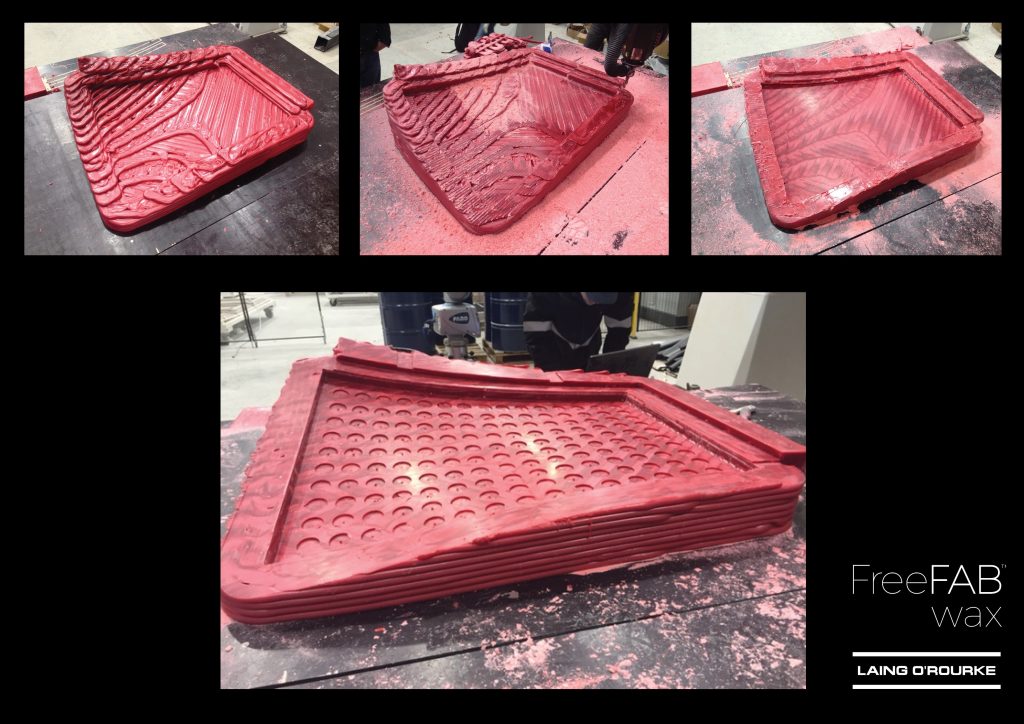 By using the FreeFab method, Crossrail is the first large commercial project in the world to use 3D printing for construction, though Dubai is currently on track to become a 3D printed capital by 2030.
If the wax method proves successful, Laing O'Rourke plans to rollout the FreeFab technique for construction in a spinoff company with Gardiner.
The first Crossrail services through central London will start late 2018. The annual rate of passengers to use the Elizabeth line is estimated at 200 million, increasing the rail network capacity 10%.
For all the latest 3D printing news, subscribe to the most widely read newsletter in the 3D printing industry, follow us on twitter and like us on Facebook.
Inspired to get involved in the 3D Printing Industry? Sign up to our 3D printing jobs site now to take your career to the next level.
Featured image: A 1,000 tonne tunnel-boring machine used to excavate Crossrail's Elizabeth Line. Photo via Bechtel.