Most 12-year-old children struggle to tidy their room, but Rowan Pritchard is clearly cut from a different cloth. This youngster is using GoFundMe to set up a 3D printing business in his home and he's getting close to his goal.
Pritchard lived in Petulama, Sonoma County, and goes to school in Cherry Valley. But schoolwork and video games clearly aren't enough for him to fill his days. After visiting the San Rafael Maker Fair with his uncle at the tender age of nine, Pritchard fell in love with 3D printing and has now decided to jump feet first into a business with the help of the popular crowdfunding site.
"Ever since then I have wanted to understand how to design and print my own ideas using 3D printers," he explained. "I have done LOTS of research and learned how to use the 3D printing software. The hard part for me is saving enough money to buy a printer. I have worked very hard doing chores and saving as much as I can, but I am now asking for your help. My hope is not to just print things for me. I want to start a business!"
Passionate and determined
Rowan's parents are impressed with his determination and said themselves that he has immersed himself in the world of 3D printing since that chance encounter with the equipment at the Maker Fair.
You can see the campaign here.
The youngster is determined to make products cheaper than they can be found in the local shops and thinks he can make pens, trinkets, tools, toys and other items that the local community would like to buy.  "You name it, I'll make it," he said confidently in his GoFundMe pitch.
GoFundMe is more accommodating than Kickstarter for this kind of pet project and it's not unheard of for children to launch businesses, especially when they have the support of their parents.
His dad, 42-year-old Scott Pritchard, said: "We talked to him about the concept of what a GoFundMe was, and he said, 'I'll do that!' We had him write his own message, we talked about the donors being investors. It was a great opportunity to teach him how to run a business."
A professional approach
So far he has taken a more professional approach than many of his adult counterparts on the site. He has issued two updates in two months, he is looking for $3300 to get started with basic gear and, at the time of writing, had $2200 in pledges.
One smart move his dad insisted on was Rowan joining up with the Mentor Me program. He has already received a lot of advice on running a business and part of the deal is that he will teach 3D printing to other kids in the area.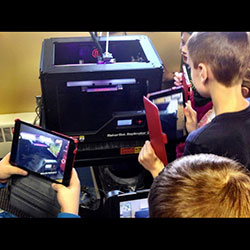 A social payoff for the business
His business will have a social payoff, too, as Rowan has already pledged 10% of the profits to his school and local charities that help children.
You never know how these will go. It could be another child with a dream or we could be looking at the next Elon Musk. We hope it's the second one! Whatever the case, it's great to see school age children getting involved with technology that will undoubtedly shape all of their lives.
Let's hope Rowan's 3D Printing Lab is the start of something great.