Watchmaking enthusiast Mechanistic has launched a crowdfunding campaign for a luxury 3D printed timepiece on leading 3D file marketplace MyMiniFactory.
The Tourbillon Mechanica Tri-Axial is a high-end, triple-axis timekeeping mechanism designed to be 3D printed on consumer-grade FDM systems. With the one-month campaign set to end on May 12, MyMiniFactory users have already pledged over $16,000 in a single day.
Comprising 230 individual components, the Tri-Axial is a functional mechanical clock that doesn't need a battery, although it isn't designed to be a long-term timekeeper. Due to limitations in 3D printed polymer materials, Mechanistic estimates that the assembly will run for around 90 minutes with a steel spring and 15 minutes with a PETG spring.
Mechanistic writes, "The Tri-Axial was designed with the intention of being a functional mechanical sculpture that gives users a first-hand understanding and experience in the assembly and construction of the luxury mechanism."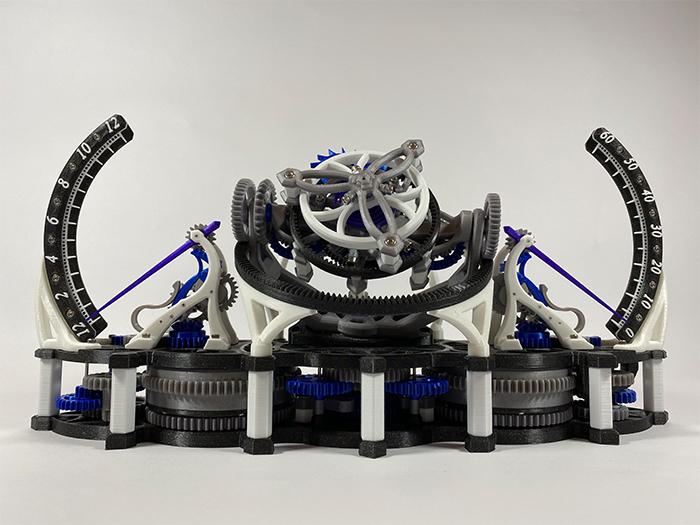 The triple-axis tourbillon
The triple-axis tourbillon is widely regarded as one of watchmaking's greatest technical challenges. These exclusive watches are equal parts engineering and art, and are very hard to come by in the real world. If you're in the market for one, expect to shell out something in the range of $200,000 – $500,000. With Mechanistic's Tourbillon Mechanica Tri-Axial, you can 3D print your own for less than $100.
So how does it work? The design is centered around a triple-axis tourbillon that rotates the escapement mechanism – the time-keeping mechanism – about three different axes to cancel out the effects of positional variation on the time regulation. It does this using a very cleverly-assembled set of bevel gears and a wind-up spring, meaning there are no electronics or batteries involved. With symmetry in mind, the hours are kept on the indicator on the left while the minutes are kept on the indicator on the right.
Explaining the motivation behind the work, Mechanistic adds, "I'm not a watchmaker, but as a mechanical engineer who is both a watch nerd and a 3D printing geek, I was greatly inspired by Christoph Laimer and Adam Wrigly's efforts in creating a fully functional 3D printed clock and triple-axis tourbillon respectively."
Designed to be printed in PLA and PETG, the Tourbillon Mechanica Tri-Axial should have a total print time of around 140 hours. As well as the polymer parts, users will need some screws, pins, and three ball bearings. The in-depth assembly guide can be downloaded for free.
How do I back the crowdfunding campaign?
The MyMiniFactory crowdfunding campaign has three different pledge tiers, depending on what you're looking to 3D print. The first pledge tier, Engineer ($24), grants access to two of Mechanistic's previously released mechanical designs: the Mini Mechanica and the Tourbillon Mechanica. Please note that this pledge tier does not grant access to the new flagship assembly, the Tourbillon Mechanica Tri-Axial.
The next pledge tier, Lead Engineer ($61), gives users the Tourbillon Mechanica Tri-Axial and the Mini Mechanica. Finally, the Chief Engineer pledge tier ($79) grants access to the STL files of all three designs. Early bird discounts on all three pledge tiers are set to run until April 15.
Click here to back the crowdfunding campaign on MyMiniFactory.
With the maker community so deeply ingrained in FDM 3D printing, the greatest innovations often come from individuals in their workshops. Late last year, open-source 3D printing enthusiast Johan Von Konow released his latest DIY project, a modular 3D printable MIDI synth. Dubbed the LEET Synthesizer, the fun project can be built for a grand total of $6, and requires only a few basic soldering and embedded electronics programming skills.
Elsewhere, Michigan Technological University's Joshua Pearce has previously released the open-source design plans for a low-cost, high-temperature FDM printer that can be built at home. Dubbed the 'Cerberus', the three-headed machine can be assembled for less than $1000 and is capable of printing a number of high-performance materials such as PEKK and Ultem/PEI.
Subscribe to the 3D Printing Industry newsletter for the latest news in additive manufacturing. You can also stay connected by following us on Twitter and liking us on Facebook.

Looking for a career in additive manufacturing? Visit 3D Printing Jobs for a selection of roles in the industry.

Featured image shows Mechanistic's Tourbillon Mechanica Tri-Axial. Photo via MyMiniFactory.