VoxelDance, a Shanghai-based Additive Manufacturing software company, has announced the upcoming release of VoxelDance Additive 4.0 (VDA 4.0).
VDA 4.0 is the latest version of VoxelDance's All-in-One AM build preparation software. "After listening to the needs of clients from nine plus verticals, including aerospace, medical, automotive, mold [making], footwear, dental, education, jewelry, prototyp[ing] … we introduced more exciting new features and further optimized the algorithm," said Chaoxin Zhang, CEO at VoxelDance.
Compared to previous versions, VDA 4.0 contains over thirty optimizations and features to ease the process of 3D printing for industrial applications. "VDA 4.0 fully supports SLM, SLA, and SLS printing technologies and is a milestone for industrial applications," said the VoxelDance CEO.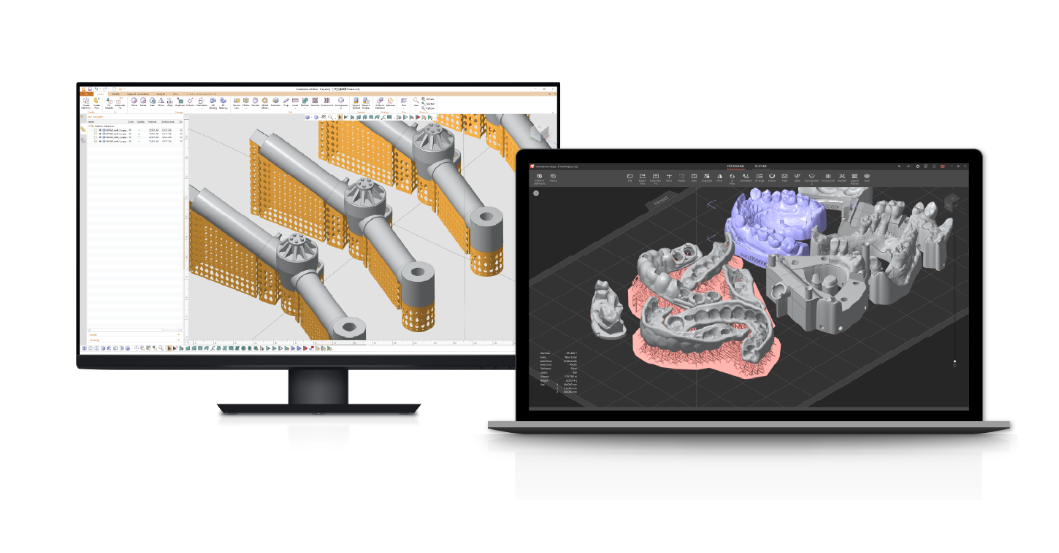 Breaking down the main features of VoxelDance Additive 4.0
VDA 4.0 features include: Shrink Wrap, Mesh Smooth, Tree Support, Web Support, Border Reinforcement, and BP Special Volume. These new features help enhance working with 3D printing applications, saving time on or fixing common problems. For example, Shrink Wrap accurately calculates and wraps a layer around the part while ignoring its inner structure. This feature is useful in verticals such as automotive, architecture, and dental.
Mesh Smooth can help when scan data or topology-based meshes are compromised with detail issues, causing poor 3D print quality and stress concentration. The mesh smooth feature can tackle such issues and provide a refined geometry for 3D printing.
Tree Support is a material-saving method designed to minimize the required support material. Web Support is intended for SLM 3D printing, and can counteract residual heat stresses that can cause shrinkage as parts cool. Likewise, Border Reinforcement is a feature for metal additives that adds additional stability to metal 3D prints that will undergo rigorous post-processing.
BP Special Volume can help with designs that feature thin walls, lattice structures, and sharp details. The result should be higher 3D print quality in detail-rich sections.
DfAM – Design for additive manufacturing
Design for Additive Manufacturing (DfAM) is the process of creating, adapting, or optimizing the shape and functioning of a part, or a product. This is a type of tool or design method wherein functional performance or several key product life-cycle considerations are optimized by subjecting them to the capabilities of AM technologies. The concept of DfAM emerged as a result of the immense design freedom given by AM technologies. DfAM tools or methods are required to take complete advantage of unique capacities achieved from AM processes. Mainstream DfAM tools or methods consist of topology optimization, mass customization, part consolidation, multi-material design, design for multiscale structures, and many design methods that can utilize AM features.
DfAM tools are enabling end-users to advance their adoption of industrial 3D printing, and also unlock its true potential. For example, nTopology, a US-based software developer, has multiple DfAM tools, these include solutions to tackle lightweighting parts, the thermal management of components and lattice optimization.
ETH Zurich, a university based in Switzerland also created a computational DfAM framework. This framework has the ability for automating the process of design automation of complex multi-flow nozzles. Serving as an alternative to conventional CAD software, this framework is utilized by engineers. The DfAM tool helps them create production parts and intricate shapes while simultaneously reducing weight and material consumption. It also enables non-specialist users to design complex geometries for AM tooling purposes, for instance, FDM nozzles.
In the words of Dr. Patrick Pradel, the Design for Additive Manufacturing (DfAM) Network is, "a wonderful opportunity to step up Design for AM research and development." Dr. Pradel is the Principal Investigator on the project, which was co-founded by Loughborough University. The network has over 150 members that include the University of Sheffield, and the University of Cambridge. The main aim is to bring the researchers working in different areas of DfAM together. It further allows for enhancing communication between the groups, providing a focus for innovation and collaboration. The DfAM network is accessible to anyone who is interested in AM technologies. 
Nominations for the 3D Printing Industry Awards 2022 have now commenced. Who do you think should make it to the shortlists for this year's show? Nominate now, the form closes at the end of the month.
To stay up to date with the latest 3D printing news, don't forget to subscribe to the 3D Printing Industry newsletter or follow us on Twitter, or liking our page on Facebook.
While you're here, why not subscribe to our Youtube channel? featuring discussion, debriefs, video shorts, and webinar replays.

Are you looking for a job in the additive manufacturing industry? Visit 3D Printing Jobs for a selection of roles in the industry.

Featured image shows Voxeldance Additive software. Image via Voxeldance.