Clever? Creepy? Or perhaps a healthy dose of both? American robotics company Boston Dynamics has just released a video demonstrating the latest abilities of its Atlas humanoid robot. In the clip, Atlas can be seen jogging, up an incline and on uneven ground, and jumping over a log, all for the purpose search and rescue.
Just days after posting, Atlas is already trending on YouTube, having accrued almost 6 million views. It has also been receiving mixed reviews, some concerned about its applications in defense, others remarking on just how lifelike it is.
Despite the feeling for this extremely realistic robot, Atlas is undeniably a feat of modern engineering, in many parts enabled by 3D printing.
The making of a running, jumping, back-flipping robot
Atlas made its first public appearance in July 2013. Then a DARPA prototype, Atlas had the abilities of the average toddler, just learning to walk.
The latest generation of Atlas, no capable of walking, running, picking itself up from a fall and performing back-flips, is 5.9 feet tall, and weighs 330 pounds (150 kg).
To be expected, the legs responsible for Atlas' convincing agility have been cited as one of the most challenging parts of its development. Each leg is actuated by hydraulic power, requiring the internal integration of multiple channels and actuator cylinders into a single part – a task that has been overcome with the use of 3D printing.
3D printing challenges
Speaking at the recent 11th International Fluid Power Conference in Aachen, Germany, Boston Dynamics VP of Engineering Aaron Saunders explained, "The leg was very challenging because there was a lot of stuff integrated into it. Just finding a company to hone an actuator cylinder in a 3D printed material that had never been qualified before is a massive challenge."
In addition, Boston Dynamics applied 3D printing to the production of the Atlas' Hydraulic Power Unit (HPU) that sits in the center of the robot. Though the method came with its own set of challenges, in the end, the advantages outweighed the effort that had to be taken to get the right components.
"It's approaching a kilowatt per kg of density, it's pretty scalable," said Saunders of the HPU, "All the homeostasis, sensing, filtration, dump valves, everything we need for the power plant is integrated into a printed part."
In addition, 3D printing made components lighter, with higher weight-strength ratio, and designs were made to occupy unused space within the robot.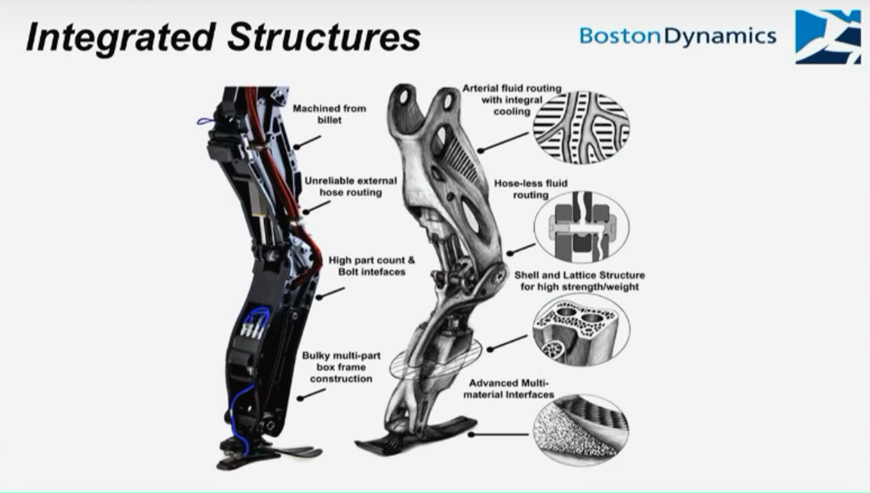 A robot reality
Soft robotics is another area of innovation applying 3D printing to give machines more life-like abilities. The US Military is currently running a soft robotic study inspired by cephalopods and, recent research Harvard University has proven the ability to make soft robots capable of  sensing movement, pressure, touch, and temperature.
The success of these projects and companies like Boston Dynamics is building a promising future for realistic robots. Eventually, such machines may be crucial to relief efforts in sites of disaster. They are also have the potential to change the face of defense.
Subscribe to the leading 3D Printing Industry newsletter, follow us on Twitter and like us on Facebook to stay up to date with the news.
Kick-start your career – sign up to 3D Printing Jobs here.
Featured image shows the Atlas robot jumping over a log. Clip via Boston Dynamics.