At 37.7 meters (123 ft, 8.25 inches) long, a beam 3D printed by Made In Space has made it into the Guinness Book of World Records as the "longest 3D printed non-assembled piece."
The beam, which runs the length of the Moffett Field facility at NASA's Ames Research Center, serves as a demonstration of the scale that may one day be possible by 3D printing in zero-gravity.
Andrew Rush, President & CEO of Made In Space comments, "We believe that this record is indicative of the transformational work we're doing in space today,"
"Guinness is the most recognized, ultimate global authority in record breaking, and our team couldn't be prouder to receive this recognition for their incredible work. They deserve it."
3D printing in space
The record breaking beam was initially 3D printed in August 2017 in a thermal vacuum chamber that simulated space-like conditions. It was made from ABS using Made In Space's Extended Structure Additive Manufacturing Machine (ESAMM), which serves at the core of its patented Archinaut satellite 3D printing system.
In concept drawings of the ESAMM, 3D printed beams are shown developing at the center of a satellite like spacecraft. The idea is that these beams can be assembled into larger structures, using the Archinaut's robotic arms, with little-to-no human input.
According to the official release from Made In Space, "Using the Archinaut technology, the company is now capable of manufacturing objects of complex geometry and indefinite size in space."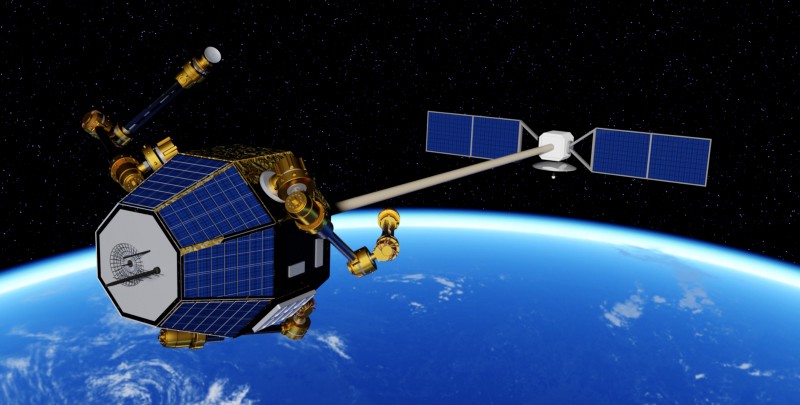 World record breaking 3D printing 
Oak Ridge National Laboratory (ORNL) and Boeing still hold the record for "Largest solid 3D-printed item", with the 3D printed wing trim tool that took 30 hours to make.
As yet, ORNL's 3D printed submarine, the largest 3D printed asset in the U.S. Navy is yet to be recognized by Guinness. At 9.14 meters long, the sub could be a contender for the largest object made by connecting 3D printed parts.
Most recently, Create Café 3D Printing Solutions Inc. in Canada sought to compete with ORNL in its single-piece 3D printed camper. According to Dustin Maki, CEO and founder of Create Café, "The Wave" camper is now complete and measures 3.9 meter longs, with space to fit people inside. As a hollow object, The Wave camper cannot surpass ORNL's record, and in length, it falls short of the Made In Space beam, however it may yet break record for area.
Another attempt for the world' largest 3D printed structure was made by SHoP Architects and Branch Technology in 2017 who together made the Design Miami Flotsam and Jetsam pavilion. The bamboo pavilion was completed by connecting a number of parts so fell short of the world record, despite spanning an area of 255 square meters.
Is Made In Space's Guinness Book World Record an award winning application? Make your nominations, before they close next week, in the 2018 3D Printing Industry Awards now.
For more innovative applications and interstellar 3D printing news subscribe to the most widely read newsletter in the industry, follow us on Twitter, and like us on Facebook.
Protolabs is sponsoring the 2018 3D Printing Industry Awards design competition. Submit your design and be in with a chance of attending this year's annual dinner and winning a 3D printer.
Featured image shows a camera tracking two thirds of the 3D printed beam. Original clip via Made In Space.