Private US aerospace firm Launcher has announced post-processing systems manufacturer Solukon as its preferred supplier for powder removal systems.
The firm has integrated Solukon's SFM-AT1000-S depowdering machine for the post-processing of large 3D printed rocket parts, including engines and combustion chambers.
"We see that automated powder removal is an essential step in the production process," said Tim Berry, Launcher's Head of Manufacturing. "For final heat treatment and Hot Isostatic Pressing all parts must be free of any powder, a special challenge for large and heavy parts with hard-to-access internal channels. The SFM-AT1000-S will help to further automize our production process as we achieve reliable and repeatable cleaning results.
"In addition, we benefit from Solukon's experience and support when optimizing our fast and forward-thinking production lines."
Launcher's 3D printed rocket engines
Founded in 2017, Launcher's mission is to create efficient, cost-efficient rockets capable of delivering small satellites to space. After receiving a $1.5 million US Space Force contract, the firm embarked on developing 3D printed components to enhance the performance of its E-2 engine.
So far, the E-2 engine is comprised of several 3D printed components, including a combustion chamber printed in a single piece which is reportedly the largest part of its kind, measuring 860mm tall. The engine's parts are 3D printed in high-performance copper alloy and are engineered to require less propellant to get into orbit.
Launcher conducted the first full-scale test-fire of its E-2 engine injector and combustion chamber in October 2020, followed by a series of tests of its 3D printed liquid oxygen (LOX) turbopump, created in partnership with metal 3D printer manufacturer Velo3D.
The firm reached another milestone in the testing of its 3D printed E-2 rocket engine last year, having successfully completed a thrust chamber assembly hot fire test in August at NASA's Stennis Space Center. The firm 3D prints its rocket components using its fleet of metal additive manufacturing platforms, which includes machines from Velo3D, EOS and AMCM.
Launcher's E-2 engine is set to power the company's Launcher Light vehicle, which aims to deliver payloads of up to 330 pounds to Low-Earth Orbit (LEO) by its first launch in 2024.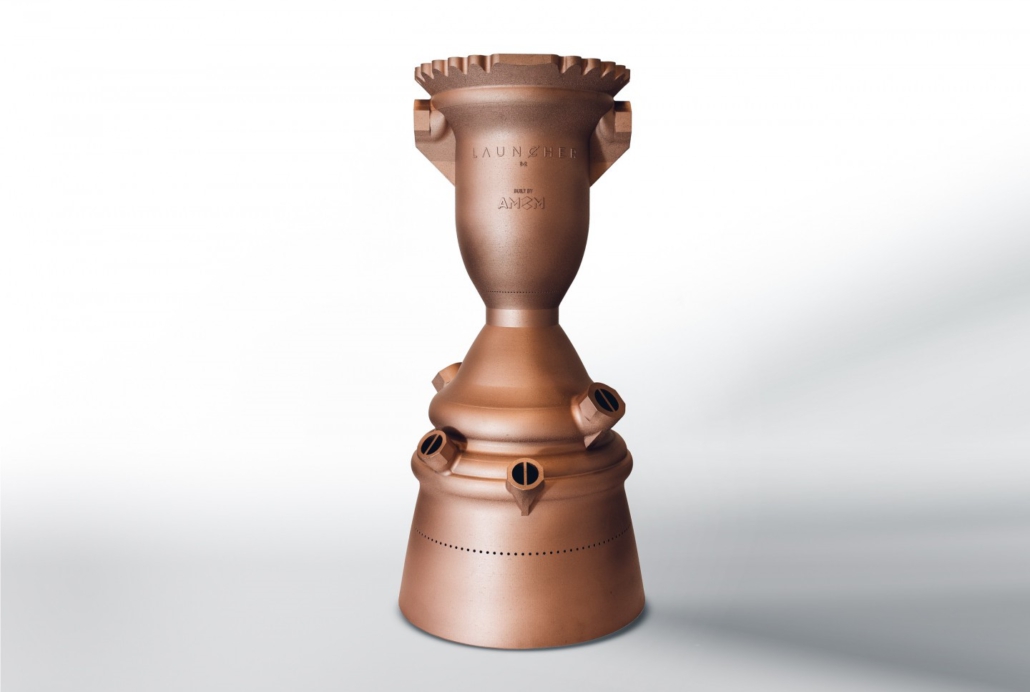 Post-processing rocket parts
While 3D printing its rocket engine components offers huge advantages in terms of geometric complexity, cost-efficiency, and lead times, the de-powdering of the components' cooling channels and internal structures can prove complicated and time-consuming.
The nature of the components can also make post-processing a hazardous process, with users faced with issues surrounding explosions, labor costs, powder recovery, and process repeatability among other things. In particular, 3D printing components in copper poses a particular depowdering challenge, as copper powder is susceptible to becoming sticky and clogging in a part's cavities.
To address some of these challenges, Launcher has selected Solukon's powder removal systems for the post-processing of its large and heavy rocket parts. The firm's depowdering systems are driven by its proprietary Smart Powder Recuperation (SPR) technology, which deploys adjustable two-axis part rotation and targeted vibration to automatically remove excess powder from 3D printed parts.
Of particular benefit to Launcher, SPR is capable of completely removing unfused metal build material from complex channels and geometries in order to increase efficiency, safety, and quality of part production while simultaneously keeping costs down. As part of its new partnership with Solukon, Launcher has installed an SFM-AT1000-S depowdering system to completely free its rocket engines and combustion chambers from excess powder.
The SFM-AT1000S is an advancement of Solukon's SFM-AT800-S system specifically designed for large and heavy parts. The system is capable of depowdering parts up to 600 x 600 x 1,000 mm in size and up to 800kg in weight, making it well-suited to the post-processing of aerospace parts and in particular, Launcher's one-meter-high E-2 engine
The system is equipped with two endless rotating axes with programmable servo-drives that move the part along any imaginable path. Components can also be moved in any direction at varying speeds by use of a joystick, while the system's optional Digital Factory Tool ensures quality assurance and automation integration of the depowdering process.
"Yet again, it's an honor to support a leading new space company with our SPR technology," said Andreas Hartmann, CEO and CTO of Solukon. "Shortly after the demand for a machine compatible with the AMCM M4K printer came up, we responded directly by developing the SFM-AT1000-S.
"I'm sure pioneers like Launcher will keep pushing the boundaries of what's possible in additive manufacturing. Likewise, I'm sure we'll always stand by their side with the ideal depowdering solution."
Launcher and Solukon will officially announce their partnership at the upcoming Rapid + TCT 2022 show in Detroit, taking place between 17-19th May. 
Subscribe to the 3D Printing Industry newsletter for the latest news in additive manufacturing. You can also stay connected by following us on Twitter and liking us on Facebook.
Looking for a career in additive manufacturing? Visit 3D Printing Jobs for a selection of roles in the industry.
Subscribe to our YouTube channel for the latest 3D printing video shorts, reviews, and webinar replays.
Featured image shows the SFM-AT1000-S handles large parts weighing up to 800 kg. Image via Solukon.