Voting shortlists for the 2021 3D Printing Industry Awards are now open. Who do you think should receive top honors this year? Have your say now.
French printing and coating firm ARMOR's additive manufacturing subsidiary KIMYA has helped local start-up CAPS ME to industrialize the production of a new eco-friendly brand of reusable coffee capsules.
Designed to simplify the coffee pod recycling process, each CAPS ME receptacle features a six-part 3D printed mechanism that automatically refills it once used. After a successful pre-order campaign for the product, CAPS ME has now turned to KIMYA for help meeting demand, finding that its partner's services allow it to rapidly iterate the capsule's design, and scale its production without sacrificing on quality.
"Additive manufacturing guarantees us great flexibility, by enabling us to continue to move forward in iterations even during the 3D printing of the parts," explains CAPS ME Co-founder Jean de Boisredon. "Yet this flexibility is not achieved at the expense of product quality and we have benefited from KIMYA's expertise in quality control throughout the project."
CAPS ME's coffee pod
Nantes-based CAPS ME's flagship product was created by two students during France's first COVID-19 lockdown last year, with the aim of offering consumers an easier way to recycle their coffee capsules. Designed to be slightly shorter than disposable alternatives, the firm's steel pods come pre-pierced to prevent damage to users' machines, and it's said that each one can be reused up to 1,000 times.
Describing the process of manually reloading capsules as "tedious and technical," the start-up's founders have also come up with a unique 3D printed refilling system. Once fitted to each pod, the mechanism is capable of repeatedly measuring out and refilling it with the correct coffee dosage. Based on this technology, the firm has now been able to launch an entire range including coffees, caps and custom lids.
In fact, since the capsule's pre-orders opened late last year, CAPS ME has been inundated with orders, thus not wanting to miss out on a growth opportunity, it reached out to KIMYA for support. However, according to company Co-founder Thibaut Louvet, its choice of partner was not just down to ensuring product quality or profitability, but also being able to produce the pods as ethically as possible.
"Jean and I were determined to develop a solution with real meaning," added Louvet. "This is why being able to rely on a production line in France was also a key criterion in our choice of partner. Printed directly in Nantes, the refilling mechanism is then assembled in the Paris region by workers with disabilities at an ESAT social inclusion establishment."
Industrializing via 3D printing
Launched initially on crowdfunding site Ulule, CAPS ME's pod almost immediately became one of the site's best-supported campaigns, gaining nearly 2,000 backers in just one month. After shipping its first batch of pre-orders, the firm began working with KIMYA earlier this year to produce larger volumes of refilling systems, with the ultimate aim of 3D printing 6,000 reloaders or 24,000 components.
Initially, KIMYA's engineers worked closely with CAPS ME to configure the files of the pod's original prototype, as well as the parameters of their systems for optimal results. Once this had been achieved, the firm progressively iterated on its product design, before producing enhanced models from a partially-recycled filament, in a manufacturing process that served to further the pod's eco-friendly credentials.
"AM means that the weight of the finished product is virtually identical to the weight of the material required for its production," explains Pierre-Antoine Pluvinage, Business Development Director of KIMYA's AM division. "This is why from the start of the design phase, by processing and upcycling materials from collected waste, the environmental impact of KIMYA is reduced."
Now on their fourth product iteration, the CAPS ME team continues to work with KIMYA to industrialize their processes and integrate user feedback into their capsule design. Using KIMYA materials, the firm has already been able to develop a food contact-safe product that's compatible with most post-2010 machines, and it's said to be developing a Dolce Gusto, Tassimo and Vertuo-compliant variant as well.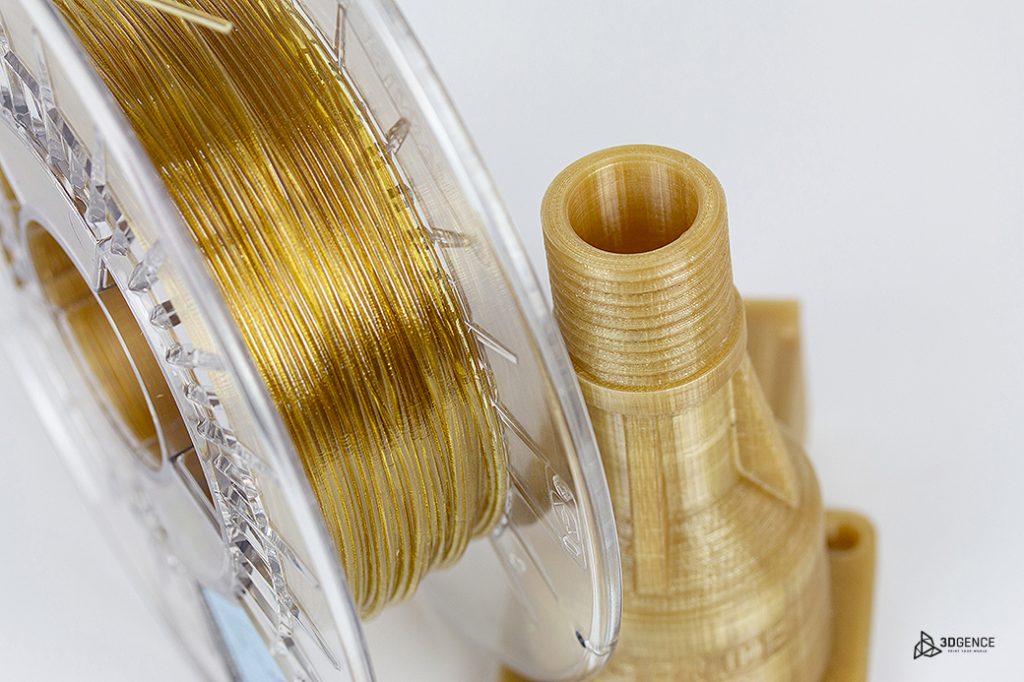 KIMYA's material expertise
Through its 'Lab,' 'Materials' and 'Factory' services, KIMYA offers to produce filaments, custom materials or low volumes of parts for clients in the automotive, aerospace, medical and jewelry sectors. In another recent use case, for instance, an unnamed railway supplier approached the company for help redesigning and 3D printing a small batch of polymer parts via its Factory manufacturing offering.
Using a PEKK filament developed in-house at KIMYA Lab, the firm's engineers are said to have been able to deliver industry-standard protective covers with cost savings and reduced lead times, that met exact resistance and flame retardancy specifications.
KIMYA's conventional filament range also continues to find new applications, and just last year, three of its materials were qualified for use with MakerBot's METHOD X 3D printer. By deploying its newly-qualified ABS Kevlar, ABS-ESD and ABS-EC alongside the METHOD X in this way, ARMOR is said to have made substantial savings at its facilities.
The system's parameters were optimized as part of MakerBot's wider Materials Development Program, in which KIMYA, Polymaker, Jabil and Mitsubishi Chemical are known partners. Since 2019, the firms have worked to make more of their engineering-grade materials compatible with MakerBot's machines, with the aim of opening up new applications to users in the process.
To stay up to date with the latest 3D printing news, don't forget to subscribe to the 3D Printing Industry newsletter or follow us on Twitter or liking our page on Facebook.
For a deeper dive into additive manufacturing, you can now subscribe to our Youtube channel, featuring discussion, debriefs, and shots of 3D printing in-action.
Are you looking for a job in the additive manufacturing industry? Visit 3D Printing Jobs for a selection of roles in the industry.
Featured image shows CAPS ME's coffee capsule product range. Image via CAPS ME.