Kimya, the additive manufacturing materials arm of technology company ARMOR, continues to provide 3D printing services for the railway industry with its latest project.
In need of a protective cover component developed back in 1982, an unnamed railway supplier recently turned to Kimya to 3D print a small batch of the polymer part via the Kimya Factory manufacturing service. Seeing as the mold for the cover no longer existed, the spare parts had to be redesigned from scratch prior to production. Using a PEKK filament developed in-house at the company's R&D center, Kimya Lab, the team was able to deliver the 3D printed protective covers with cost savings and reduced lead times.
Pierre-Antoine Pluvinage, Business Development Director at Kimya, explains, "Designing a traditional mold would have required a longer development time and generated costs that could only be covered by producing thousands of parts. The Kimya Factory offers our partners a fit-for-purpose finished product using our own materials, all in small runs."
From lab to factory
The project initially started off in the Kimya Lab, where ARMOR offered its customer a custom PEKK SC filament. The material was designed to resist high-temperatures up to 260°C while offering flame retardant capabilities, abrasion resistance, and even chemical resistance. As such, it was just the thing to meet the stringent quality criteria of the railway sector and crucially met the fire and smoke safety requirements of the EN45545 standard.
Pluvinage adds, "This collaboration required us to meet the certification standards of our customer's business sector. This is why we decided to put forward the PEKK SC, a filament directly emanating from the Kimya Lab, our R&D center, as it meets the smoke/fire standards specified by the customer."
Without a digital twin or mold to use as a reference, the Kimya Factory engineers were forced to work with a single paper plan they had at their disposal. Despite the original part being made of PVC, the team was able to 3D print a set of PEKK SC versions which successfully made it to end-use.
A spokesperson for the supplier said, "We compared several technologies for manufacturing these parts in small quantities and additive manufacturing proved to be the right choice from the economic, technical and lead time point of view. Assembly testing conducted by ARMOR and the submission of the FAI quality file led to successful completion of the entire quality acceptance process for these additive manufacturing parts. Only 3D printing was able to meet our demands with such efficiency."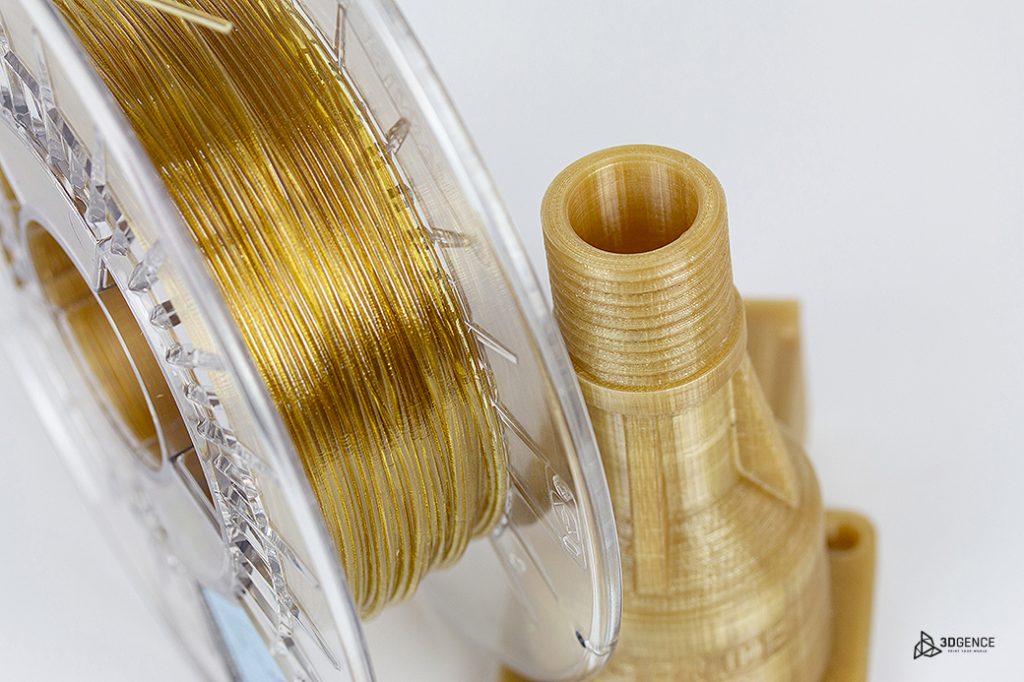 Spare part 3D printing in the transport sector
Due to the inherent complexity of the mechanical assemblies found on trains and trams, the need to source spare parts is all too common. Unfortunately, many of these faulty components go back decades, meaning their production lines may no longer be operational and the existence of a corresponding digital file isn't guaranteed. It's in these situations that 3D printing has proven to be a valuable asset for both maintenance and vehicle upgrades.
Just last month, public transport company Azienda Napoletana Mobilità (ANM) enlisted the help of Italian engineering firm 3DnA to re-design mechanical components for Naples' network of buses and trams. The company reverse engineered and 3D printed 'trolley heads', the parts that connect each tram to the network's aerial power supply lines. With none of the components available on the market, traditionally manufacturing the assemblies would have resulted in lead times of more than a year.
Elsewhere, technology firm Siemens Mobility Services has previously employed FDM 3D printing technology from OEM Stratasys to produce spare parts for the German and UK rail industries. Last year, the company also announced that it would be expanding its rail maintenance operations to Russia, where it has since been supporting the 13 additional high-speed Velaro trains it built for train company RZD.
Subscribe to the 3D Printing Industry newsletter for the latest news in additive manufacturing. You can also stay connected by following us on Twitter and liking us on Facebook.

Looking for a career in additive manufacturing? Visit 3D Printing Jobs for a selection of roles in the industry.

Featured image shows a close up of Kimya's PEKK filament next to a 3D printed PEKK object. Photo via 3DGence.