Berlin's 3YOURMIND will become the first company to integrate enhanced IP protection for industrial 3D printing from Identify3D. Based in New York, Identify3D is a developer of software for the digital supply chain.
Stephan Thomas, Chief Strategy Officer, Identify3D said,  "We have been working closely with 3YOURMIND to develop data standards that maintain the maximum level of data and Intellectual Property Security for the platform users while keeping all the benefits of AM workflow digitization."
The encryption protocols we have developed allow companies to work even more smoothly with both internal and external suppliers. The solutions we are developing together ensure that additive manufacturing is an option for any company, even those working in high-security environments.
As previously reported, Identify3D is already working with additive manufacturing enterprises including the UK's Renishaw to offer a secure end-to-end solution for digital manufacturing.

The new partnership will make Identify3D technology available within the Enterprise Platform for industrial 3D printing from 3YOURMIND. The 3YOURMIND product suite is scheduled for release this quarter.
Increasing additive manufacturing production
Philipp Stelzer, Head of Sales and Marketing, 3YOURMIND, commented, "All of our efforts go towards maintaining straight-forward, stable, and secure platforms for our customers who are rapidly increasing their AM production."
Identify3D Protect adds a second layer of Intellectual Property Security to 3D files. But equally as important for us is Identify3D Enforce which will enable us to securely encode production parameters.
The integration will take place in two phases. Initially, Identify3D Protect will be added to the file verification, ordering and management processes within the standard AM workflow.
The Protect tool is intended to add an additional layer of security to the existing encryption-in-transit protection already in place on 3YOURMIND platforms. Identify3D integration adds an "encryption-at-rest solution" providing security for data during the production stage.
This means that a 3D model uploaded to 3YOURMIND will be processed as an encrypted digital supply item (DSI). Identify3D Protect then "creates a private DSI section with fully encrypted intellectual property and a public DSI section, which includes the minimum effective data dose for being processed over the 3YOURMIND platforms."

In the second phase, the encrypted files are sent to the additive manufacturing unit tasked with production. These machines will use the Identify3D Enforce tool. Currently 3D printing industry leaders including EOS, SLM Solutions, Materialise and the afore mentioned Renishaw all have the option to run such protected files.
Protection can come in the form of a number of parameters, including quantity, time-frame, material, production-run size, or by placing a restriction on production to a single machine or specific location.
Security over digital assets was a frequently identified challenge identified in our trends in additive manufacturing survey.
The future of 3D printing for production

The software solution is intended to advance the use of industrial 3D printing for agile production, and is also available for other digital manufacturing technology including CNC. Specifically, CNC machines equipped with a Siemens controller Sinumerik 840D sl will be able to access the security tools.
3YOURMIND says the benefits for users include "centralized access to 3D printing resources, printability verification, and instant pricing."
At the point the order is placed with a selected vendor that has opted into enhanced security, the DSI data file would be securely processed based on the order parameters to create a machine-specific production file with an expiration date and quantity limit. The user has full control of how many of each part can be printed, in which material and at which location, thereby providing the digital "paper trail" required in enterprise-level production.
You can read more about Identify3D co-founder Stephan Thomas' vision for the future of 3D printing and the digital supply chain in this article for our thought leadership series.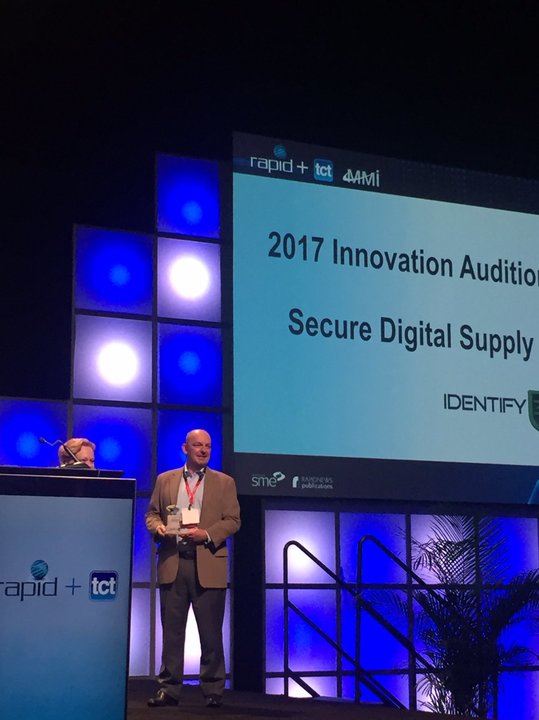 Other approaches to protecting intellectual property assets include America Makes challenge winner InfraTrac. The InfraTrac solution can be used to add tag 3D printed components that can be validated throughout the supply chain. Read more about anti-counterfeiting measures for additive manufacturing here.
For all the latest additive manufacturing news, subscribe to the 3D Printing Industry newsletter, follow us on Twitter, and like us on Facebook.
Find talent for a project, or advance your career in 3D printing. The 3D Printing Jobs board is live.
Featured image shows a 3YOURMIND prototype for Deutsche Bahn. Photo by Michael Petch.