HP has expanded its range of award-winning Multi Jet Fusion (MJF) 3D printers with a suite of lower-cost, full-color 3D printers.
The Jet Fusion 300 / 500 series was announced today at the SOLIDWORKS World exhibition in Los Angeles, where the company has also inked a partnership with SOLIDWORKS 3D design software developer Dassault Systèmes.
In a statement Stephen Nigro, President of 3D Printing at HP Inc., said "HP is committed to democratizing 3D design and manufacturing, unleashing new possibilities for millions of innovators around the world,"
"No matter your industry, no matter your design complexity, no matter what colors fit your business needs – black, white, or the full color spectrum – the new HP Jet Fusion 300 / 500 series gives you the freedom to create brilliant new parts liberated from the constraints of traditional production methods."
The Jet Fusion 300 / 500 series is designed to complement HP's existing range of industrial 3D printers that currently print, to quote Henry Ford, "any color so long as it is black."
By bringing color 3D printing to the table, the new range is clear competition for existing machines from Stratasys and 3D Systems. A reduced price-point will also enable HP to engage with more of its existing 2D printing network, reaching new potential areas of business.
Cost competitive color 3D printing 
In total, there are four new 3D printers in the 300 / 500 range, starting at prices around $50,000. At the lower end of the price bracket are the HP Jet Fusion 340, which prints only in black and white, and the HP Jet Fusion 380, which 3D prints in color.
The 340 / 380 models also have a slightly smaller build area for customers who don't require such a high throughput, e.g. design agencies, hospitals, research laboratories.
Pushing the $50,000 price tag is the slightly larger, black and white, HP Jet Fusion 540, and the full color HP Jet Fusion 580. These machines are designed for customers that require larger individual parts, or "heavier production demands," ideal for 3D printing bureaus, or functional prototyping for industries like automotive and aerospace.
Color 3D printing tests for HP's 3D printers are already underway with a number of existing partners including Youngstown State University, and Phoenix Children's Hospital, that has been using the technology to help plan delicate heart operations.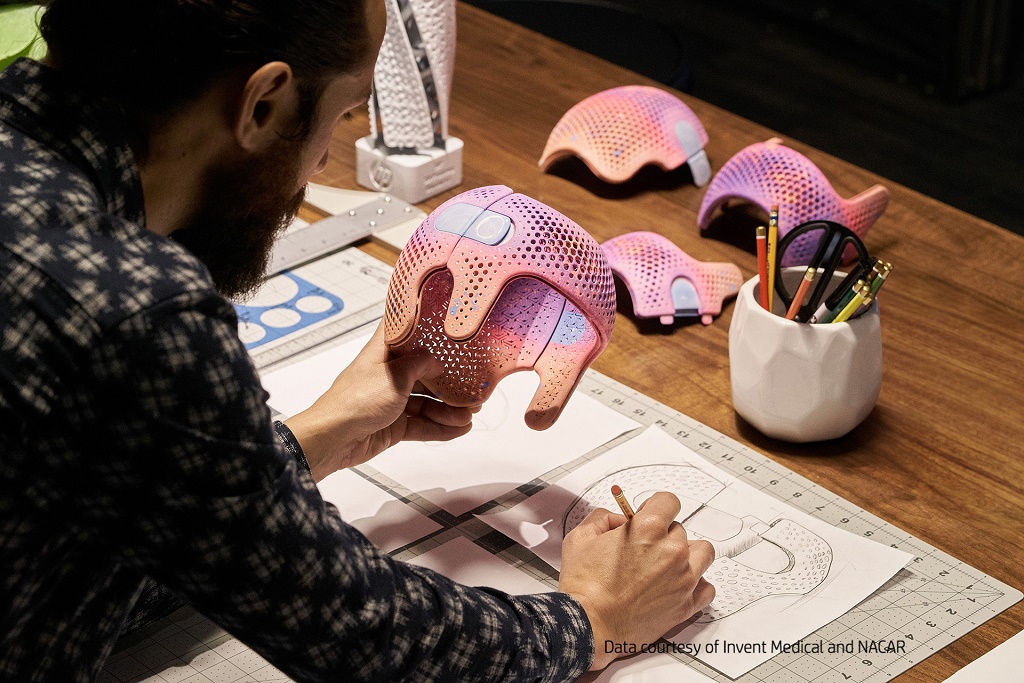 Comparison with the competition
Based on internal and third-party testing from HP, the new Jet Fusion 580 and 546 are also comparable to competitor systems within the $20,000 USD – $120,000 USD price range.
According to the official HP press release, "printing time [on the 580 and 546] is a fraction of the time of the printing times of comparable plastic fused deposition modeling (FDM), stereolithography (SLA), and material jetting solutions."
To help keep down running costs, the entire 300 / 500 range will be released with a new material – HP 3D High Reusability CB PA 12. Serving similar functions as the HP MJF industrial feedstock, the polymer is designed to be recycled for further use.

Dassault partnership & closing comments
At SOLIDWORKS World 2018, HP announced a new partnership with Dassault Systèmes. HP will be developing Dassault's SOLIDWORKS 3D design platform to "take advantage of the unique voxel-level capabilities" across Multi Jet Fusion 3D printers.
Asked for comment by HP Terry Wohlers, President of Wohlers Associates Inc. and author of the state-of-industry Wohlers Report, said "I'm excited about the range of applications for functional multi-color 3D printing,"
"It's good to see that HP is targeting this interesting and largely untapped opportunity. The possibilities are infinite."
Technical specifications
Build size 580/540 Printers: up to 7.5 x 13.1 x 9.8 inches (190 mm x 332 mm x 248 mm)
Build size 380/340 Printers: up to 7.5 x 10 x 9.8 inches (190 mm x 254 mm x 248 mm)
Minimum layer thickness: 0.08mm
Productivity: Full bucket with 52 parts in about 15 hours, as many as 5 parts in around four hours
Printer dimensions: 61.6 x 37.6 x 59.3 inches (1565mm x 955mm x 1,505mm) Rear module can be temporarily removed to fit through a 36-inch (900mm) door
For more of the latest 3D printer releases and technical specifications subscribe to the most widely read newsletter in the industry here, like 3D Printing Industry on Facebook and follow us on Twitter.
Can HP Multi Jet Fusion win an award for the second year running? Make your nomination for the 2018 3D Printing Industry Awards now.
Featured image shows the HP Jet Fusion 300/500 series 3D printer. Image via HP