Researchers at the Harbin Institute of Technology and Ministry of Education in China have released a paper demonstrating the use of graphene oxide in a 3D printable ink.
The material developed by the team in China exhibits a tensile strength putting it in the same performance range as high-strength concrete, and a level of electrical conductivity among the highest conductive ceramic nanocomposites.
Finding the flow
At its base, the 3D printable ink in this study is a geopolymer – a material first defined in the 1950s with heat resistant and insulating properties, and an ability to encapsulate waste material in its structure. Examples of geopolymers include high temperature ceramics, and concrete made from recycled materials, such as the géobéton created by Russian construction company Renca.
As a raw material, the geopolymer alone does not have the rheological properties to flow through a nozzle for 3D printing. And so, in order to change its rheology (flowability), researchers investigate the use of graphene oxide as an additive.
Materials in the mix
The base geopolymer is made from a mixture of alkaline-source particles, found in soil or clay, and aluminosilicates particles, which is a mineral consisting of aluminium, silicon, and oxygen. During stirring, graphene oxide (GO) particles are injected into the mixture to create four samples of the material with different GO to geopolymer ratios.
What happens in the molecular structure of the geopolymer is that the GO particles act as a kind of lubricant in between the alkaline-source particles and aluminosilicates. The study assumes that interaction between the particles creates a thick layer of water film between them and, as such, GO/Geopolymer inks with higher GO concentration are more fluid than the others.
Printing the un-printable
3D printing this ink is performed using a modified commercially available UP Plus2 3D printer. After direct writing the ink into a design, the structures are cured in a controlled chamber for 5 days. They are then sintered at 1000℃ to turn the graphene oxide particles of the mixture into graphene, giving extra strength and conductive properties.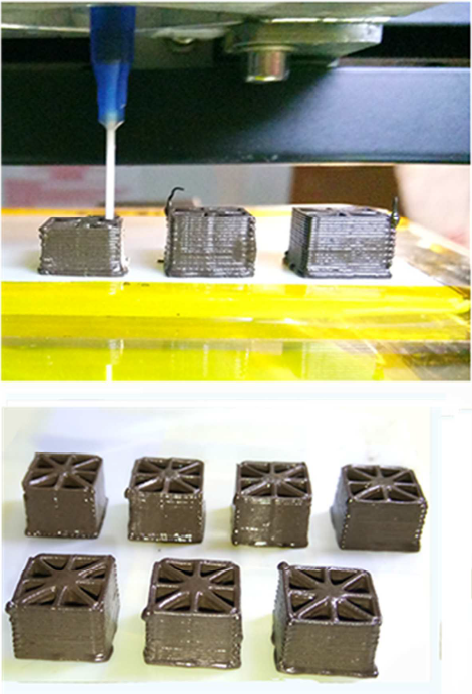 As a conclusion, authors state that
The unique properties of GO as we show in this study will further expand the range of applications where GO can be used. In particular, our strategy makes it possible to explore the employment of GO as rheology property modifier by encapsulation, and enable 3D printing materials that was un-printable previously, and thus offer opportunity to create new 3D printing materials
In the form of carbon nanotubes, graphene is gaining widespread popularity in the 3D printing industry. Award winning 3D printer company Markforged is a leader in the field of carbon fiber 3D printers, and fiber-reinforced materials have become a hot topic for applications in automotive and aerospace components.
Researchers at MIT have also taken a theoretical approach to 3D composition of graphene that, by nature, exists as a single-atom sheet.
3D printing strong and conductive geo-polymer nanocomposite structures modified by graphene oxide discussed in this article is published online in Carbon journal, Volume 117, June 2017. It is co-authored by Jing Zhong, Guo-Xiang Zhou, Pei-Gang He, Zhi-Hua Yang and De-Chang Jia.
Featured image: Molecular structure of 3D printable graphene oxide/geopolymer ink, developed by Harbin Institute of Technology and the Chinese Ministry of Education. Image via Zhong, Zhou, He, Yang and Jia.