Fictiv, a San Francisco based manufacturing platform, has announced closing of a $15M series B funding round led by Sinovation Ventures.
Founded in 2013, the company offers digital manufacturing services including 3D printing, CNC milling, injection molding and a range of post-processing options. Specifically Polyjet, SLS and FDM 3D printing are available.
When 3D Printing Industry spoke with co-founder and CEO Dave Evans for an earlier interview we heard how customers were using the online collaborative design tools available on the Fictiv platform. Evans also discussed how digital manufacturing methods were removing the barriers to entry to product development, much in the way less simplified coding languages and the availability of app development kits had aided the software industry.
Creating a new world order
Closing of this series B round brings total venture capital funding for Fictiv to $25M with participation from Accel, Intel Capital, Bill Gates, FJ Labs, Tandon Group and the Stanford-StartX Fund.
On the new financing round Evans said, "Fictiv is creating a new world order in which software is democratizing access to fast, high quality manufacturing. We are thrilled to have these global investors on board, helping us."
The capital will be used to expand Fictiv's manufacturer network, introduce new digital tools "geared towards automating and optimizing workflows for hardware teams and manufacturers" and support the newly opened offices in Guangzhou, China.
Onboarding new manufacturing service providers was a process that took approximately 2 weeks in 2018, and was designed to ensure all members of the network could provide a sufficiently high quality service.
Fictiv CXO and Co-Founder Nate Evans said, "By capturing and analyzing customer data, Fictiv is uniquely able to guide customers through the manufacturing process, remove inefficiencies, and help teams make better decisions. The intelligence built into the Fictiv system provides an unparalleled customer experience."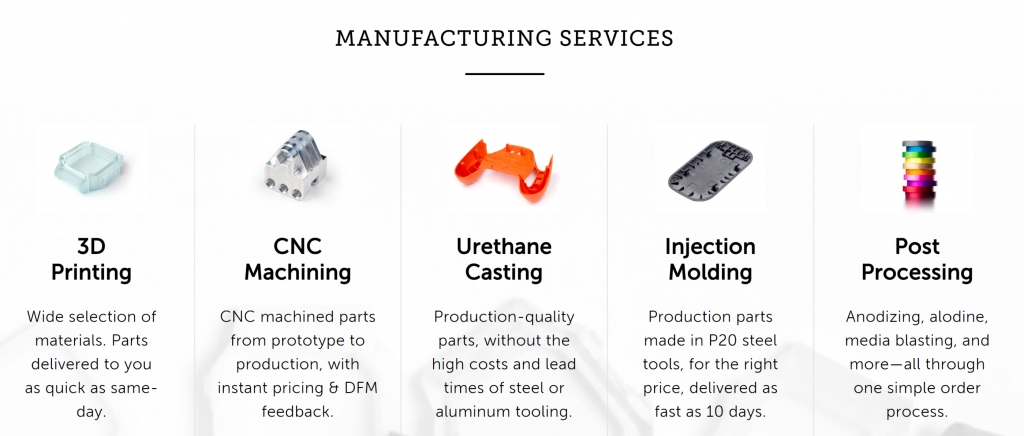 Software tools for digital manufacturing platforms
As frequently reported on these pages, software tools are vital to fully maximising manufacturing technology including additive manufacturing. To meet this demand companies such as Tech Soft 3D, based in Orgeon, US, are providing toolkits for visualization, CAD data access and 3D publishing.
Other on demand manufacturing start-ups have also successfully raised capital. In mid 2017, Xometry closed a $15M round, taking total funding to $38M. Xometry produces custom parts for customers including, "engineers at Fortune 500 companies like BMW and GE, and at Government Agencies like NASA and the U.S. Army, said Randy Altschuler, co-founder and CEO of Xometry in an earlier interview. We have also reported on newer entrants to this sector including the recently launched 3DCompare, a 3D printing service comparison site.
Low volume manufacturing and prototyping is also the core business of Protolabs, recognized as a leader in this sector. Protolabs (NYSE: PRLB) now has over 1,000 employees and with the company's stock gaining over 20% this year – the business model appears to be endorsed by the market.
We have also noted how companies like Wipro are beginning to explore blockchain platforms in the digital manufacturing sector. More recently LINK3D, New York based providers of a Digital Factory solution for additive manufacturing automation, has discussed the integration of blockchain technology for industrial 3D printing.
Fictiv lists the key features of their platform as follows
      

A private workspace where hardware teams collaborate on projects, provide design feedback, resolve issues, and manage file revisions;

      

Intelligent algorithms that power automated quoting and manufacturability feedback to shave weeks off a typical project schedule;

      

Smart matching system to instantly assess capacity and capabilities for the pairing of projects to manufacturers;

      

A thoroughly vetted network of over 200 worldwide manufacturers to support requests ranging from local rapid prototyping to overseas production projects;

      

A centralized online system for operations teams to track and manage orders, schedules, and shipments;

      

Quality control systems that test and review parts before delivery.
To date, "top performers have earned over $1M USD on the Fictiv platform."
More information about Fictiv is available online.
Who will be the leading 3D printing startup of the year? Make your vote in the 2018 3D Printing Industry Awards before the form closes on May 10th.
For all the latest additive manufacturing news, subscribe to the 3D Printing Industry newsletter, follow us on Twitter, and like us on Facebook.
Find talent for a project, or advance your career in 3D printing. The 3D Printing Jobs board is live.
Featured image shows collaborative design tools on the Fictiv platform. Image via Fictiv.