Scientists from the Dutch Wageningen University and University of Groningen have 3D printed a novel adhesive material with a microscopic mushroom-like design.
Using a combined 3D printing and molding approach, the team were able to create a soft, fungi-patterned adhesive, that's capable of being attached to other fabrics without causing noise or damage. With further research, the fastener could be deployed to help soft robots walk vertically, or even be utilized as a stealthy silent fastener by the military.
"It can be used in many applications such as for diapers or silent fasteners for military use," commented Preeti Sharma, one of the study's authors. "There is still a lot of research to be done, but the mushroom-shaped design worked quite well for soft mechanical fasteners."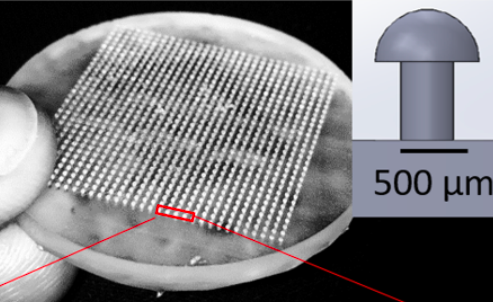 Nature-inspired interlocking devices
When examined up-close, the natural world features an abundance of mechanical interlocking mechanisms. Wasps and bees, for instance, have evolved to develop natural systems of securing their wings onto their bodies when they land, and many of the world's most popular adhesive products are based on such organic designs.
VELCRO was initially inspired by burdock seeds, while the similar "3M dual lock" system has been widely-used within the medical and textile sectors. However, as with many fastening materials, they feature rigid interlocking mechanisms that leave lasting damage when attached to certain fabrics, limiting their use within specific applications.
Although several alternatives have been designed in recent years, including those with pestle-shaped hooks, their stiffness still causes damage, which remains a critical flaw. To overcome these pitfalls, the Dutch team maintain that a new class of residue-free materials are required, hence they've opted to develop their own fungi-influenced adhesive.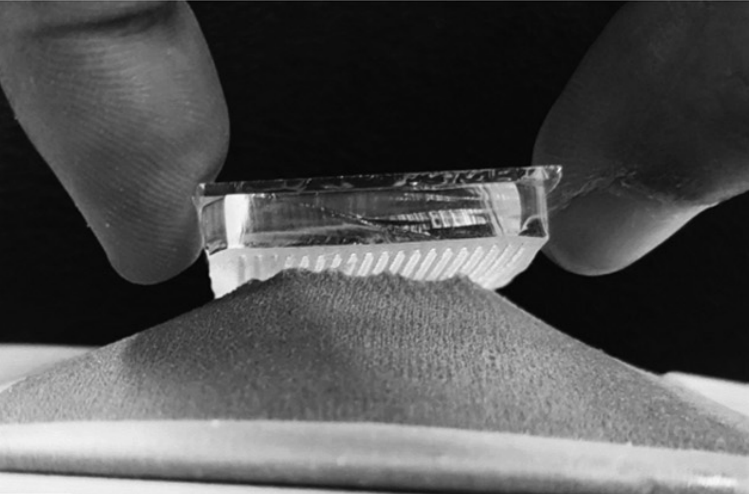 Printing the fungi-like structures
While lithography is often used to pattern soft elastomers, creating interlockable features requires a sub-millimeter level of accuracy. As a result, the scientists chose to SLA 3D print their adhesives out of a PDMS polymer instead, and once they had been molded, the materials exhibited fungi-like features as small as 200 μm.
In order to assess the efficacy of their design, the Dutch team then measured the force of different density samples being 'pulled-off' three nylon synthetic fabrics. Results showed that the PDMS outperformed a traditional 3M dual-lock material in every area, attaching to each fabric without causing any damage whatsoever.
However, using video analysis, the scientists later found that the pressure needed on the printed fastener to achieve interlocking, was a lot higher than the grip achieved. To counter this, the Dutch team theorized that future versions could feature shorter 'mushroom stems,' requiring less compression to attach onto fabric.
Similarly, samples with a higher feature density were found to achieve greater adhesion, as the presence of neighboring mushrooms seemingly stimulated greater nylon penetration. In total, the scientists' fastener attained a maximum attachment of 64mN/cm2, but while this is lower than in prior studies, they did so without damaging the host material.
Overall, the team consider the way in which they were able to actively tweak their fastener's properties throughout their research, to be their major breakthrough. Future iterations of the material could either be utilized as grippers for vertical soft robotics, or deployed within agricultural settings in end-use applications.
Precision in microfabrication
While the researchers managed to print their material with features as small as 200 μm, the recent rise of microfabrication technologies has enabled the precise production of parts that are even smaller, and more complex.
Microscale 3D printing specialist Boston Micro Fabrication (BMF), for instance, manufactures systems that can reportedly fabricate at a scale more than 100 times smaller than a human hair. The company markets its proprietary technology via its microArch machines, which it rebranded and rolled-out last year.
German manufacturer two-photon system manufacturer Nanoscribe, meanwhile, deploys its technology as a means of powering its Quantum X 3D printer. The firm's latest machine is capable of fabricating both nano-sized refractive and diffractive micro-optics, with details as small as 200 microns.
On a larger-scale, micro-dispensing specialist nScrypt secured a patent for a gantry-based precision 3D printer in April 2019. If it goes into production, the modular girder-based machine could feature multiple motion control systems, allowing users to print bigger objects with a greater degree of accuracy.
The researchers' findings are detailed in their paper titled "Hooked on mushrooms: Preparation and mechanics of a bioinspired soft probabilistic fastener." The research was co-authored by Preeti Sharm, Vittorio Saggiomo, Vincent van der Doef, Marleen Kamperman and Joshua A. Dijksman.
To stay up to date with the latest 3D printing news, don't forget to subscribe to the 3D Printing Industry newsletter or follow us on Twitter or liking our page on Facebook.
Are you looking for a job in the additive manufacturing industry? Visit 3D Printing Jobs for a selection of roles in the industry.
Featured image shows the researchers' 3D printed mushroom-inspired material. Photo via the Biointerphases journal.