Seeking to improve energy storage solutions, researchers from South Carolina's Clemson University, are developing a new 3D printing technique that converts electricity into hydrogen.
As part of the $1.6 million research venture, Jianhua "Joshua" Tong, an Associate Professor of the Department of Materials Science and Engineering at Clemson University and a team of engineers are using rapid laser processing to create "protonic ceramic electrolyzer stacks" that convert electricity to hydrogen as a way of storing energy.
An electrolyzer, also known as a proton exchange membrane (PEM), is a device that uses an electric current that is capable of splitting a water molecule into hydrogen and oxygen. Electrolyzers also have a positive and negative side, similar to a magnet or a battery.
"[This] technique could, for example, lead to high-density batteries that allow smartphones to maintain a charge for days at a time," explained Professor Tong.
"3D printing to the next level"
Earlier this year, the U.S. Department of Energy (DOE) awarded 28 projects with funding totaling $38 million to support early-stage research and development of new hydrogen and fuel cell technologies.
Within their research, Professor Tong and his team are focusing on ceramic materials to address the conventional challenges of manufacturing ceramics. This is because traditionally made ceramics have to be sintered in a furnace at high temperatures, often for several hours. In addition, different types of ceramics must be sintered at varying temperatures.
Furthermore, an electrolyzer requires four different types of ceramics, making the sintering a challenge. However, the researchers have developed a 3D printer that puts down a layer of ceramic while a laser simultaneously sinters it, eliminating the need for the furnace. Professor Tong added:
"Our success will mean we can provide sustainable, clean energy. That is the fantastic part. We are taking 3D printing to the next level."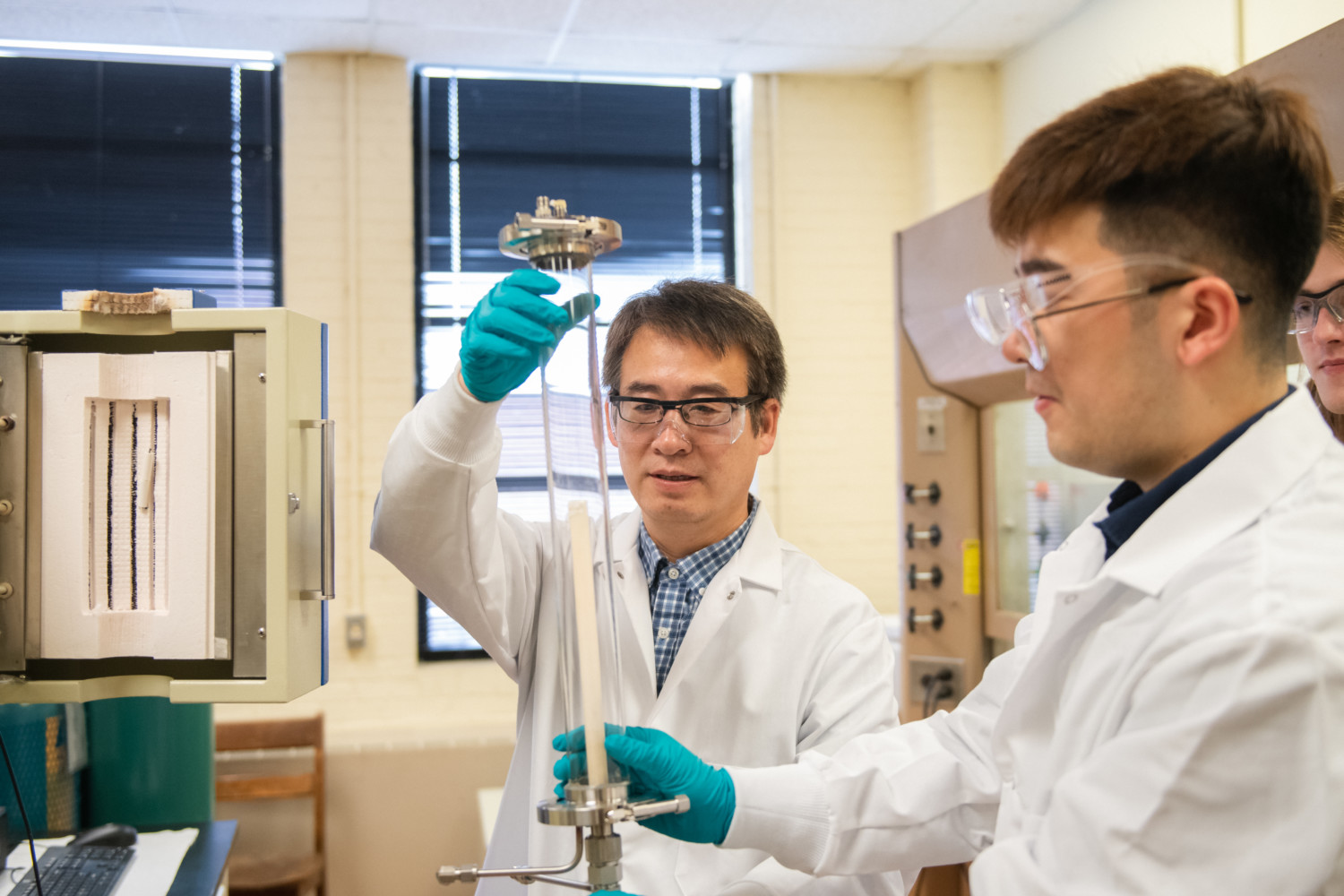 Additive manufacturing & energy storage devices
3D printing has proven useful in energy storage devices such as batteries and supercapacitors. For example, researchers at the University of California, Santa Cruz (UCSC) and Lawrence Livermore Laboratory (LLNL) have developed a 3D printing technique for graphene-based aerogel electrodes used within such devices.
Moreover, Scientists from Carnegie Mellon University (CMU) and Missouri University of Science and Technology have applied 3D nanostructures to produce high capacity lithium-ion batteries.
Similar academic breakthroughs have encouraged the Clemson University team to integrate additive manufacturing into sustainable energy solutions.
"[Our] technique could open 3D printing to new products and all the advantages that come with it. For example, a design for a car's fuel-cell stack could be emailed to a factory thousands of miles away, and it could be printed within hours rather than waiting for days for delivery," said Professor Tong.
Rajendra Bordia, Professor and Chair of the Materials Science and Engineering Department at Clemson University stated:
"The Department of Materials Science and Engineering is uniquely positioned to play a leading role in using electrolysis to create energy for transportation from renewable sources. The team working on this project represents world-class expertise in relevant areas, including ceramic materials and devices for energy conversion, laser processing, additive manufacturing, and ceramic processing."
Keep up with Clemson University project and the latest additive manufacturing developments by subscribing to our free newsletter. Also, follow us on Twitter and like us on Facebook.
Join 3D Printing Jobs now to search for the next step in your career.
Featured image shows Professor Tong, left, and Ph.D. student Shenglong Mu work in their lab on new technology that combines 3D printing and laser processing. Photo via Clemson University.