Additive manufacturing continues to aid in the production of medical-grade implants. From 3D printed cages built to support the spine to the development of biocompatible facial implants, 3D printed implants have displayed its functionalities over traditional medical procedures.
Taking a step further to improve spinal treatments, Centinel Spine, a Pennsylvania-based spinal device development company, has received 510(k) clearance from the U.S Food and Drug Administration (FDA) to market its 3D printed implantation devices.
Centinel Spine's FLX Platform consists of a series of 3D printed all-titanium fusion devices that will work to stabilize vertebrae from the front (anterior) of the spine in order to increase the healing process for patients after spinal surgeries.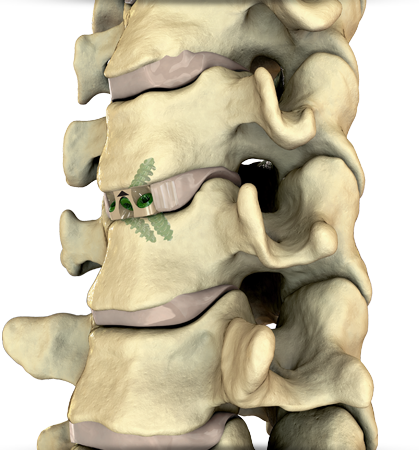 The FLX devices
Centinel Spine was founded through a merger-acquisition between surgical devices manufacturers, Raymedica and Surgicraft and has continued to lead the development of anterior spine technology with its latest development, the FLX devices.
These devices are made from a combination of solid and porous sections which are transparent to x-rays (radiolucent) – erasing the chance for image distortion. As a result of this composite material, the implant's visibility during surgery is increased as well as its flexibility when compared to the stiffness of solid titanium implants.
Centile Spine's innovative technology, STALIF (Stand Alone Lumbar Interbody Fusion), also enables its implants to have a biocompatible structure which permits tissue ingrowth within bones concerning the spine. This encourages a quicker fusion between the bone and implant, contributing to spinal support.
"The clearance of the FLX Platform represents the next evolution in STALIF technology," said John Viscogliosi, CEO and Chairman of Centinel Spine. "Utilizing 3D-printing, we are able to offer the proven benefits of the STALIF design in a truly novel, all-titanium lattice option,"
"This allows our surgeons the flexibility to use multiple implant material options through a single set of instruments to address each patient's unique pathology."
An increase in AM medical devices
Over the past few years, 3D printed devices within the healthcare sector have significantly increased. According to FDA Commissioner Scott Gottlieb, M.D, the FDA has reviewed and cleared over 100 3D printed medical devices that are currently on the market. This includes K2M, a medical device company based in Virginia, and its 3D printed spinal implant which can now be used inside the human body to help correct spinal defects as well as EIT's 3D printed titanium cellular implants.
Centinel Spine believes that the clearance of the FLX platform is the next step in its mission to become the worldwide leading spine company with the widest platform breadth and depth of technology.
Keep up with the latest advancements in additive manufacturing as they happen. Subscribe to the 3D Printing Industry newsletter, follow us on Twitter, and like us on Facebook.
Looking for a change of pace or seeking new talent? Search and post 3D Printing Jobs for opportunities and new talent across engineering, marketing, sales and more.
Featured image shows close-up graphic of the 3D printed all-titanium implant device. Image via Centinel Spine.