The University of Waterloo, Ontario Canada, has received a total of $27 million CAD ($20 million USD) in funding to set up a "world-class" additive manufacturing laboratory. According to the university, when fully equipped, its MSAM lab will be "one of the 10 largest university-based AM facilities in the world."
The Multi-Scale Additive Manufacturing Lab (MSAM) has most recently received $8.9 million (CAD) from the Federal Economic Development Agency for Southern Ontario. This is added to a $6.2 million (CAD) investment from the Government of Ontario meaning it is the largest-ever government investment into additive manufacturing at a University.
What's cooking 
With the investment, the MSAM will continue its focus "on the development of next-generation AM to process metals through the use of new sensors, quality assurance software and machine intelligence. A major patented innovation is the fabrication of smart components by 3D printing of sensors and then embedding them into metal parts."
Currently, the MSAM lab holds a number of additive manufacturing machines including metal 3D printers from EOS and Renishaw. The facility also houses machines from Stratasys, 3D Systems and Optomec. Additionally, the lab has developed a number of novel 3D printers as well as professional scanning equipment including CT scanners. The MSAM has a number of industrial partners including two of the largest players in the additive manufacturing industry in GE Aviation and Siemens.
Encouraging additive manufacturing adoption
According to Pearl Sullivan, dean of engineering at Waterloo, the MSAM will increase adoption of the technology,
From machine design to the additive manufacturing process to final part quality, Canadian manufacturers now have a research hub to help them adopt end-to-end process innovation on their shop floors.
The concept is similar to that of the UK's Manufacturing Technology Centre (MTC), as it attempts to expand additive manufacturing by developing the process through extensive research. The MSAM will also collaborate with other institutions in Germany, the United States, England and Singapore.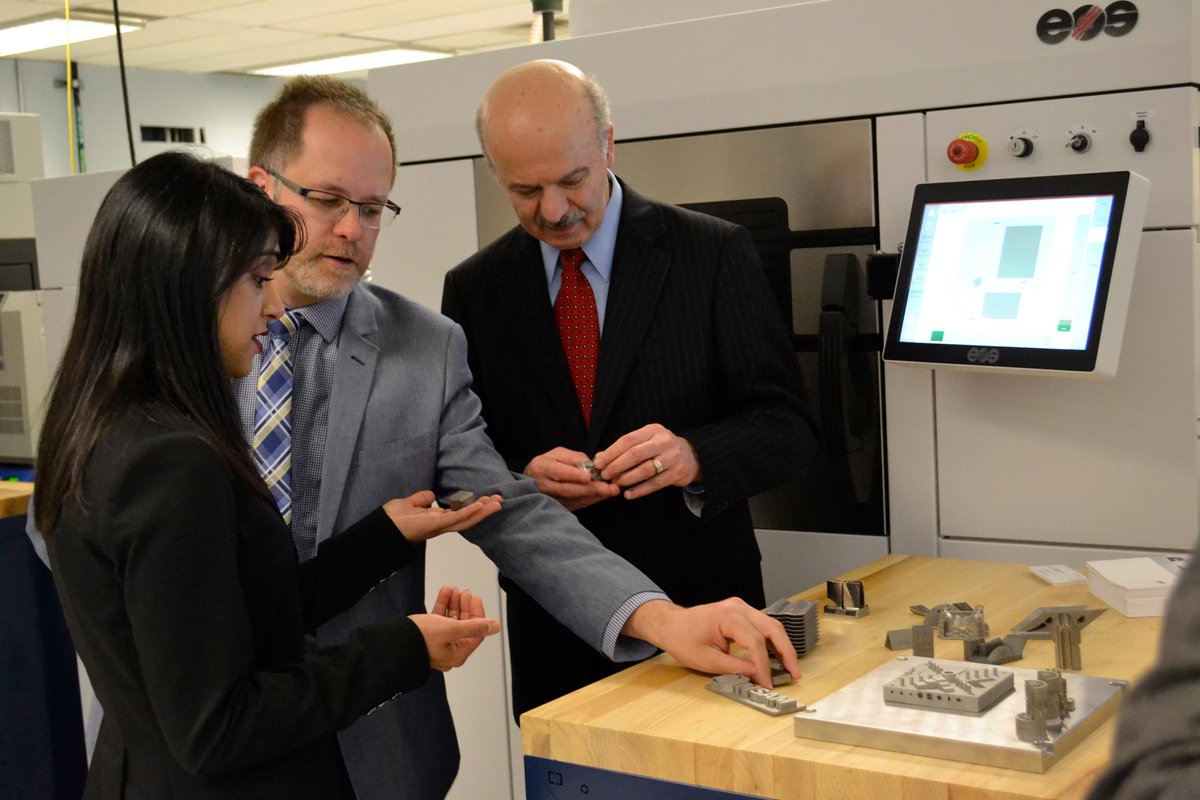 Ontario 3D printing
The continued investment into the University of Waterloo's MSAM will add to Ontario's recent additive manufacturing exploration. Nearby Western University is developing a $5 million medical 3D printing center following a collaboration with British manufacturing company Renishaw. While in Kitchener, Ontario, Renishaw just developed its first additive manufacturing solutions center in North America.
It is hoped these additive manufacturing initiatives will create more jobs in the area of Ontario for skilled workers. In another bid to increase manufacturing jobs in the area, an academic partnership has been created known as the Southern Ontario Network for Advanced Manufacturing and Innovation (SONAMI). Following a $7.3 million investment, the network expects to create 186 jobs and includes Niagara College, Mohawk College, Sheridan College, and McMaster University.
For all the latest additive manufacturing news, subscribe to our newsletter, follow us on twitter and like us on Facebook. 
Featured image shows metal 3D printed parts at the MSAM. Photo via Reza Moridi.