German start-up iFactory3D has commissioned and overseen a bachelor's thesis on the "Economic viability and applicability of 3D belt printers for serial production in manufacturing firms."
In August 2022, the thesis was forwarded to the Industrial Engineering and Management WIM degree program at Düsseldorf University of Applied Sciences. The thesis investigates the economic profitability and viability of 3D belt printers in comparison to traditional Cartesian FFF/FDM 3D printers. An economic efficiency calculation was performed to determine the machine hour rate utilizing five sample components to be incorporated (a motor angle, a housing, a cable duct, a ring, and an insole).
"Due to the automation associated with it, a 3D belt printer can significantly reduce manufacturing costs and compete with injection molding technology. So, for SMEs and individual entrepreneurs, using 3D printing technology in batch production is worthwhile. iFactory3D brings automated serial production to additive manufacturing," said Artur Steffen, CEO of iFactory3D.
What results were obtained from the thesis?
The thesis found that variable expenses for the 3D belt printer (iFactory3D One Pro) were discovered to be cheaper in all cases compared to a standard FDM/FFF 3D printer (Ultimaker S3 / S5). All five sample components can be developed at a lower unit price by employing a 3D belt printer. Because of the 45° printing angle, 3D belt printing requires minimal material, and complex structures can be printed without needing support structures. The unrestrained length of the installation space is an additional benefit of the 3D belt printer. Whereas two Cartesian models were required to print the components, the 3D belt printer was capable of handling all selected component dimensions and producing parts in one piece, nonstop. Since the 3D belt printer can operate for weeks and produce continuously, it reduces extra staff expenses and long waits – notes the thesis.
The high savings per component for a larger piece such as the cable duct are caused by the fact that, unlike the S3 or even the larger S5 from Ultimaker, the requisite 1.50 m could be printed constantly in one piece with the One Pro. Because a conveyor belt is used in place of a rigid and thus limited print bed, there is no restriction to the dimensions in the z-axis. The cable duct, on the other hand, was split into eight parts for the S3 assembly space and needed to be printed in two print runs because only four at a time can accommodate the print area. As a result, the S3 takes 66% longer to print. The requisite restart of the printing process increases the cost of production by working hours. Overall, the unit cost for the larger piece printed on the S3 is about 3.5 times that of the One Pro 3D belt printer.
When generating larger amounts of small printed components on a Cartesian printer, like a ring (spacer) or motor angle, the objects must be removed manually from the build platform after 30 or 50 printed parts, respectively, when the construction panel is at full capacity. With the constantly running 3D belt printer, this step is excluded, saving staff costs. Because of the variable cost savings, the One Pro always reaches a level where the total output costs with it are lower. The overall fixed costs were about 9% lower with the Ultimaker S3, which meets the small price gap in acquisition costs. However, because of reduced operating expenses – both for employees and electricity – and lower material consumption, using a belt printer pays for itself sooner or later, based on the component, said the study.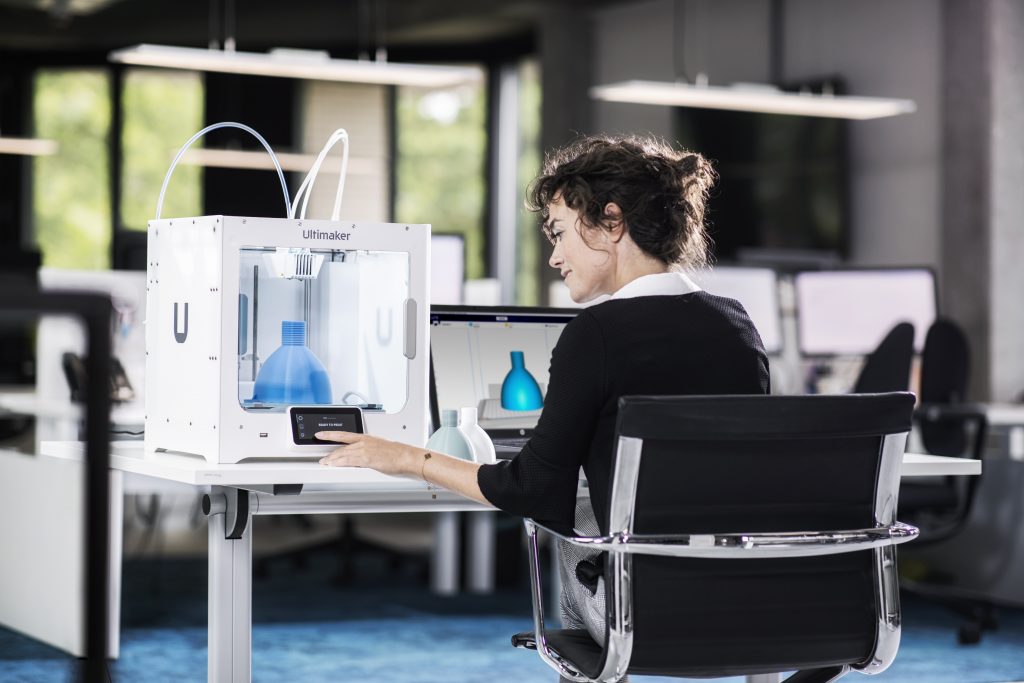 Technical information and costings differentiation between the employed 3D printers
Printed part
One Pro 3D printer
Variable unit cost
Ultimaker S3 3D printer
Variable unit cost
Ring
€0.01
€0.11
Motor angle
€0.13
€0.30
Insole
€2.15
€5.87
Housing
€2.17
€7.49
Cable duct
€5.33
€19.24
| | | | | | |
| --- | --- | --- | --- | --- | --- |
| Printed part | Ring | Motor angle | Shoe Insole | Housing | Cable duct |
| Break-even point | 1.708 pcs. | 1.005 pcs. | No break-even point. | 33 pcs. | 13 pcs. |
| Advantageous procedure as of break-even point | One Pro | One Pro | One Pro from piece 1 | One Pro | One Pro |
What does the future of 3D printing for the next ten years hold?
What engineering challenges will need to be tackled in the additive manufacturing sector in the coming decade?
To stay up to date with the latest 3D printing news, don't forget to subscribe to the 3D Printing Industry newsletter or follow us on Twitter, or like our page on Facebook.
While you're here, why not subscribe to our Youtube channel? Featuring discussion, debriefs, video shorts, and webinar replays.
Are you looking for a job in the additive manufacturing industry? Visit 3D Printing Jobs for a selection of roles in the industry.
Feature image shows iFactory3D One Pro 3D printer. Image via iFactory3D.