3D printer manufacturer AON3D has announced the closure of an $11.5 million funding round, alongside plans to become the first to land an end-use 3D printed part on the Moon.
Led by SineWave Ventures, and supported by AlleyCorp, Y Combinator Continuity, BDC, EDC, Panache Ventures and MANA Ventures, as well as influencers Josh Richards and Griffin Johnson, the round takes the firm's total raised to $14.2 million.
According to AON3D's CEO Kevin Han, the extra capital will help fund its ambitions to make end-use 3D printing accessible to all, including space-faring firms like Astrobotic, which is using an AON M2+ 3D printer to create parts for a lander that could be the first U.S. vehicle of its kind to soft land on the Moon since Apollo 17, known as the 'Peregrine Lander.'
"We believe the 3D printing future is more open-source and financially accessible so all businesses have access to the same hardware as top firms," explained Han. "That's exactly how we modeled AON3D and constructed our AON M2+ printer. We have investors that believe in our vision, and partners like Astrobotic that place the highest trust in our hardware."
"Our printers' ability to 3D print the lightest and strongest end-use parts is what makes AON3D able to manufacture critical components for the most extreme use cases."
An accessible lunar lander?
Founded in 2007, Astrobotic is a firm that specializes in driving lunar research, exploration and commerce by making the process of firing payloads to the Moon as accessible as possible. One of the ways the company is seeking to achieve this, is with its Peregrine Lander, a vehicle that's currently being purpose-built to either transport goods into orbit, or directly onto the Moon's surface.
Early in the lander's construction process, Astrobotic considered adopting 3D printing, due to its potential cost and lightweighting benefits, but found that few machines could meet its lofty requirements. That's why the firm eventually turned to AON3D and the AON M2+, which it's now using to 3D print upwards of 300 parts for the vehicle, with the aim of making it more compact without sacrificing durability.
Given that the resulting components also need to be capable of operating in a vacuum, they can't allow 'outgassing' to happen either, a process in which the cold temperatures of space cause condensation to occur. In missions to detect lunar moisture, for instance, such parts could be contaminated en-route to the Moon, thus Astrobotic has begun 3D printing them from specific plastics that prevent this.
"There is no environment as demanding as the vacuum of space, and we need parts that are able to withstand the immense challenges of launch and spaceflight," explains Astrobotic Mechanical Engineer Clay Inman. "Being able to go from full-scale, economical prototypes to space-ready parts—using PEEK, PEKK, and ULTEM on one machine—was huge for achieving our ambitious goals."
"Now, we can rigorously test our parts, create custom tooling, and then go right into printing proprietary, mission-ready components with engineering-grade materials."
In other respects, like build volume and its dual extrusion, high-temperature and multi-material printing capabilities, AON3D's M2+ system has also proven uniquely-suited to Astrobotic's needs. The system's thermal flexibility, for example, now allows the firm to switch seamlessly between prototyping and printing end-use parts, as well as enabling it to in-source the former and shorten its design workflow.
In its final form, the Peregrine Lander itself measures 2.5 x 1.9 meters, and features configurable decks, enabling it to carry payloads of much-varying geometries. The vehicle's underside is also built as a disembarking point for rover-based missions, while its flight heritage transponder and gain antennas allow it to rapidly relay data between the lunar surface and Astrobotic's Mission Control Center.
In keeping with the company's accessibility agenda, its lander is now being made available to all, from private firms and individuals to governments and universities, and Astrobotic has already been contracted by the German Aerospace Center to fire a radiation instrument to the Moon later in 2021, as part of a lunar experiment.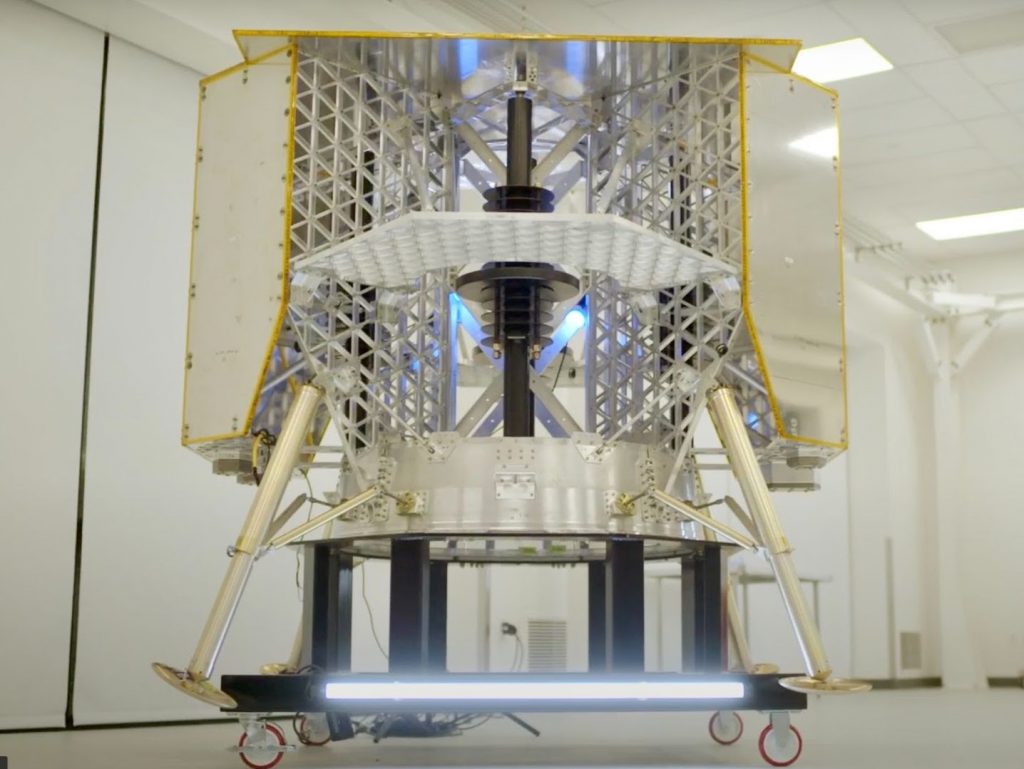 AON3D's high-end ambitions
Based in Montreal, Canada, AON3D was established by a team of engineers from McGill University in 2015, with the aim of developing a system that's open, yet remains capable of processing high-end materials. Following the first two iterations of its AON-M machine, the firm went on to launch the AON-M2 in 2018, a large-format unit that was designed to address the automotive and aerospace sectors.
Two years later, this was succeeded by the AON-M2 2020, which AON3D built with a renewed focus on part accuracy, repeatability, and ultimately creating large ultra-robust parts. Not only was the system compatible with performance polymers like PEEK, PEKK, ULTEM and polycarbonate, but it was also specifically designed to yield chemical, thermal and stress-resistant components.
Now taking these features to the max, the company has released its most capable machine to date, with the AON M2+. Packing the industry's largest sub-$100K actively heated build chamber, an IDEX extrusion setup and even broader material compatibility, AON3D's backers believe that its latest unit has what it takes to "continue making history," long after the Peregrine has gone to the Moon and back.
"AON3D is on a mission to 3D print the future by creating solutions that positively affect more business while addressing the pain points in global manufacturing," added Vivek Ladsariya, a General Partner at SineWave Ventures. "With their printers' ability to use the best available materials, the sky's the limit for AON3D—exemplified by their 3D parts going to the moon."
3D printing's lunar race
Astrobotic's lander could well become the first featuring 3D printed parts to land on the Moon, but it'll need to launch soon if it's to beat the 'Tuskegee' there. Named after the place in which it was developed, Tuskegee University, the 3D printing-enhanced lunar lander is currently undergoing testing ahead of its deployment as part of NASA's Artemis mission.
Likewise, 3D printing is increasingly being adopted in the construction of planetary exploration vehicles such as the Perseverance rover, which landed on Mars in February 2021. Specifically, the rover's 'MOXIE' and 'PIXL' oxygen and navigational systems now operate using eleven 3D printed parts on the red planet.
Earlier this year, Markforged also began contributing to a similar project as part of DARPA's Subterranean Challenge, through which it aims to help develop autonomous robotic systems for planetary exploration. Using the firm's machines, 'CoSTAR,' a team of 60 engineers from around the world, has already been able to 3D print functional parts that outperform more conventional aluminum alternatives.
To stay up to date with the latest 3D printing news, don't forget to subscribe to the 3D Printing Industry newsletter or follow us on Twitter or liking our page on Facebook.
For a deeper dive into additive manufacturing, you can now subscribe to our Youtube channel, featuring discussion, debriefs, and shots of 3D printing in-action.
Are you looking for a job in the additive manufacturing industry? Visit 3D Printing Jobs for a selection of roles in the industry.
Featured image shows Astrobotic's Peregrine Moon Lander. Photo via AON3D.