3D Printing Industry first took a look at Canadian 3D printing company, AON3D in 2015. At the time they were raising funds for a successful Kickstarter. With a few years under their belts plus the validation of commercial success the company is now back on our radar.
With their AON-M 3D printer, the company is specifically targeting users who want to create quality industrial prints but without the need to use a specialized bureau or own an expensive industrial machine.
Opening up engineering plastics
With the ability to print advanced materials such as PEEK. AON-M bridges the gap between desktop FDM machines and industrial models such as the Stratasys' Fortus.
The use of materials such as PEEK and ULTEM, is something we expect to be a big trend for this year. Particularly with more affordable machines being capable to print advanced materials such as the AON-M.
We asked some users of the AON-M 3D printer about how they see the possibilities. Matt Howlett of 3D printing filament suppliers 3DXTech said,
The future of 3D printing lies with advanced materials and the possibilities they enable. AON3D lets me print with engineering grade thermoplastics such as carbon-fiber reinforced PEEK at an order of magnitude less cost than was previously possible.
Additionally, the AON-M can produce warp-free, large volume 3D prints. This is possible due to the 3D printers' heated build plate which ensures a consistent printing process. Particularly important when attempting to work with advanced materials. The heated build plate is coupled with dual forced-air chamber heaters to eliminate the effects of warping and cracking.
In-house production
The AON-M brings the power of batch production at a lower cost and enables in-house production. AON3D hope to provide an alternative to outsourcing 3D printing production to a bureau with expensive machines.  
The AON-M facilitates batch production with its dual independently controlled tool-heads.
When coupled with a duplication mode function this allows the faster production of batch 3D prints. Having double the tool-heads means double the parts and speed.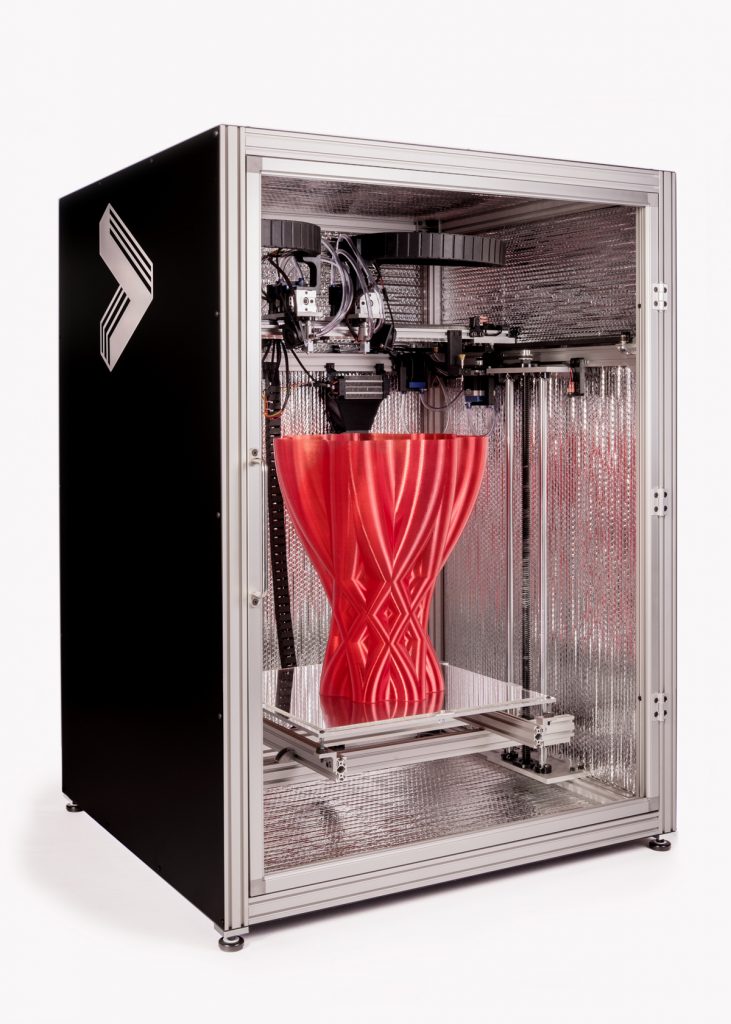 Jay Evanovich, CEO and Co-Founder of Performance 3-d, explains how these features put AON3D above the rest,
We recently used our AON3D printer to print 300 electrical enclosures out of ABS, as part of a contract manufacturing job for a high-end audio corporation. On a "large" desktop printer we could barely fit 4 parts at a time – with the AON-M we were doing 12+ at once using the dual heads and the large build plate. Outsourcing this to a shop with a Stratasys machine would have cost a fortune, taken longer, and would not have yielded any improvement in part quality.
The AON-M 3D printer is available here.
Technical Specifications
Printing
Technology FFF (Fused Filament Fabrication)
Build Volume (mm) 454 x 454 x 640
Max Speed 500mm/s
Z Layer Height ≥0.05mm
Max. Temperatures
Hot End 450°C+
Heated Bed 150°C+
Build Chamber 70°C
Nozzle Sizes (mm) 0.6 by default – 0.4, 0.8, 1.0, 1.2 also available
Filament Size (mm) 1.75
Materials ABS, ASA, PLA, HIPS, Nylon, PETx, Polycarbonate, ABS-PC,
Ultem, various Glass, Carbon Fibre, ESD, Wood, and Metal Composites.
Software & Connectivity
Slicer 1 Simplify3D License (up to 2 devices/license)
Control Interface Wi-fi Enabled – LAN or Remote Access
Mechanical
Build Plate Removable Borosilicate Glass on MIC6 Al Plate, PEI Surface
Optional
Drivetrain
XY Resolution (mm) 0.025 (theoretical)
Z Resolution (mm) 0.001mm (theoretical)
Physical
Footprint (mm) 800 x 900 x 1250
Weight (kg) 150
Electrical
Supply Voltage 110V (220V available on request)
Power Consumption 80W/1200W/2000W (Idle/Average/Peak Theoretical)
For more information and to view the AON-M brochure click here.