Insiders and analysts have made their predictions on the 3D printing trends to watch out for. Find out more in our series focused on the future of 3D printing.
US national 3D printing accelerator America Makes has made a fresh batch of funding available to those developing technologies which address the additive manufacturing of parts with 'high-velocity' applications.
Specifically, as part of its Leveraging Additive for High Velocity Applications or 'LAVA' program, the institute has issued a $500,000 call for model-based projects with the potential to help mitigate the variances seen in the properties of some 3D printed components built for mach-speed usage, which can prevent their deployment.
"This is an excellent opportunity to collaborate and learn how model-based methods can promote product conformance," explains Dr. Brand Ribic, America Makes' Technology Director.
"The scope of the project call provides our membership a wide range of potential opportunities to evaluate various additive manufacturing (AM) processes and material systems, and we are excited to continue to address the needs of the US Department of Defense (DoD) and the domestic AM supply chain," he added.
"We are excited for this opportunity to address these important issues that influence our ability to improve AM product yield."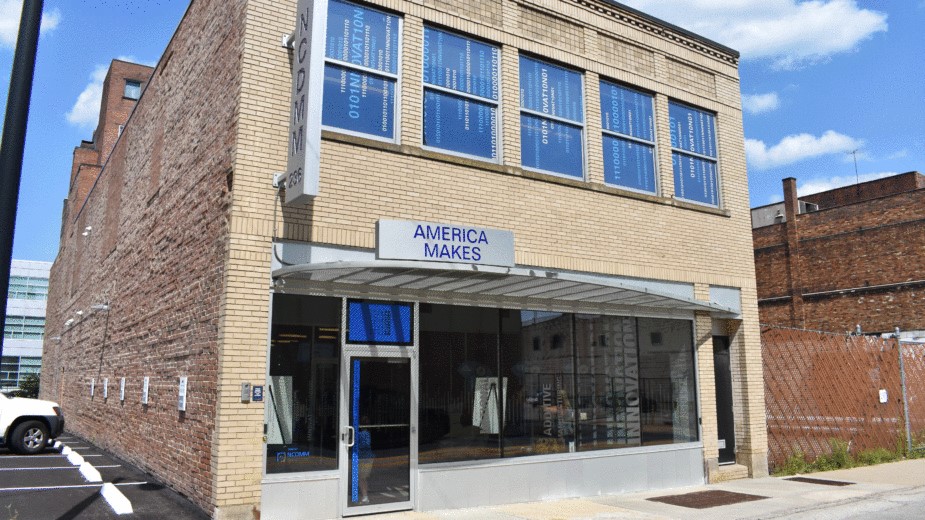 Unpacking the $500k 'LAVA' project
Funded by the Air Force Research Laboratory (AFRL), America Makes' LAVA project is broadly designed to attract innovative proposals that meet the cost and energy needs of US defense and commercial applications, and in particular, those that advance the country's competitiveness in the 3D printing of parts for what it calls 'high-mach' usage.
While America Makes hasn't specified exactly which of these parts it's seeking to optimize, the AFRL's involvement does at least shine some light on the program's objectives. In previous projects, the lab has used a Clemson University-developed AI 'digital lifecycle platform' to assess prototypes prior to building them, and worked with 3D Systems to create topologically-optimized heat exchangers.
According to America Makes, 3D printing has made "immense progress" within such demanding applications in recent years, but it still faces several "design, material and manufacturing challenges." Using emerging modeling and geometric analysis techniques, however, the institute believes that it could be possible to drastically improve the probability of 3D printed parts staying design-compliant.
As part of the LAVA initiative, America Makes is therefore welcoming project submissions from researchers, which propose fresh approaches to the design and production of those parts most vulnerable to high-speed distortion.
Among a host of requirements that applications need to meet, top of America Make's list, is that they must relate to 3D printing metals (but not with DED), fiber-reinforced materials or ceramic matrix composites. Prior to submission, these entries will also have to be tested in at least one way, whether it be via cost analysis and metrology, or demoing things like risk mitigation and geometric tolerancing.
Likewise, once ready for submission, researchers' technologies must at least reach America Makes' 'level 4' manufacturing readiness level, meaning that they've been costed, any risks have been identified and they're demonstrable within a lab environment, as well as being compliant with the requirements outlined in its wider AM Technology Roadmap.
In terms of the criteria that will be used to decide which single project will be awarded the full $500,000 funding package, America Makes says that entries must be able to achieve "measurable success" within a set time frame, and successfully illustrate how this could help the US Air Force address the design issues it faces.
Applicants are encouraged to bear in mind that award winners will be expected to deliver monthly feedback on their progress, as well as a written report on their findings, and present these to America Makes members. Eligibility-wise, the institute also maintains that only entries in which the lead proposer is in "good standing" and a member of the US System for Award Management, will be considered.
The submission deadline for LAVA program applications is March 4th, 2022, although project leads will need to have become America Makes members by February 18th 2022, in order to be eligible for participation. Those interested in submitting an entry for the project call, can find out more information about how the funding will be awarded here.
America Makes' innovation drive
In its efforts to not only identify new ways of bolstering the US military's production capabilities, but reinforce the country's domestic supply chain, America Makes has made multiple 3D printing project calls in the last 12 months alone.
As part of its most recent Rapid Innovation Call (RIC), issued in August 2021, the institute committed to award another $500,000 worth of funding to projects aiming to advance the maturation of 3D printing. Unlike its latest project call, its RIC was set up to find solutions across six different topics, ranging from in-situ monitoring and part qualification, to defect detection and lightweighting methods.
Earlier last year, the organization also committed to backing a $1.6 million Open Project Call, targeting 3D printing pain points like part defects, quality assurance, high-temperature resilience and material qualification. At the time, the news coincided with a very similar move by Enterprise Singapore (ESG) and NAMIC, which launched an open grant call themselves focused on part analysis and DfAM.
Likewise, several other international groups such as the European Welding Federation (EWF) have sought to boost the number of SMEs able to adopt 3D printing, by issuing project calls of their own. The EWF has launched a number of these initiatives as part of the AMable project, a European Commission-backed group, that aims to upskill businesses as well as support product innovation.
To stay up to date with the latest 3D printing news, don't forget to subscribe to the 3D Printing Industry newsletter or follow us on Twitter or liking our page on Facebook.
For a deeper dive into additive manufacturing, you can now subscribe to our Youtube channel, featuring discussion, debriefs, and shots of 3D printing in-action.
Are you looking for a job in the additive manufacturing industry? Visit 3D Printing Jobs for a selection of roles in the industry.
Featured image shows the America Makes building in Youngstown, Ohio. Photo via America Makes.