Robert Smith, an iron worker from St. Petersburg, Florida, has become the first person to receive a 3D printed finger bone implant in the U.S.
Dr. Daniel Penello from Alexander Orthopedic Associates and a team from Additive Orthopedics, a New Jersey-based medical technology company, worked to create the custom 3D printed bone replacement. The alternative for Smith's injury would have been amputation. Dr. Penello states, "No implant like this was ever conceived or created and I wanted to make sure that this was going to be the one and only procedure he needed."
3D printed patient-specific implants
In 2017, Smith crushed the middle finger on his left-hand's at work. Completely shattering the bone, the injury drastically hindered his ability to grab, grip, or clasp. Initially, as an operation would have been too complicated, Smith was given the option to either live with the broken finger or have it amputated, which stopped him from returning to work. Thankfully Dr. Penello offered a third option through additive manufacturing.
In partnership with Additive Orthopedics a 3D printed finger implant was created to fit Smith's left hand and return its mobility.
Additive Orthopedics, recently won FDA clearance for its patient-specific 3D printed locking lattice plates which align, stabilize and fuse fractures and other problems found in small bones. This technology has been previously used to create 3D printed titanium hammertoe implants, treating a series foot and ankle injuries.
This lattice design, which was incorporated into the 3D printed finger implant, has smaller external pores and larger internal pores, enabling for the more efficient healing.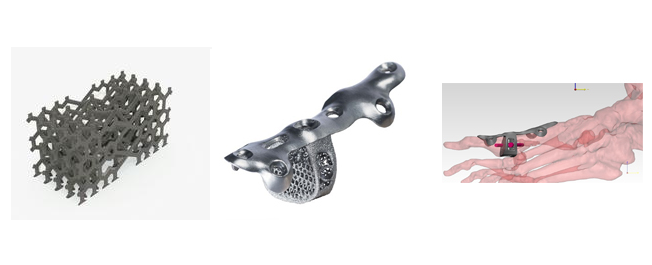 "Artificial meets the biological"
Two months after the FDA approved surgery, Smith has regained some movement in his finger that was previously not possible. Nonetheless, Dr Penello recognises the risk and rewards of the unique procedure.
"There's always a risk of fracturing or loosening where the artificial meets the biological [however] to be able to have full use and function of the finger, just like it never happened, is absolutely incredible," Dr. Penello told Fox 5.
Dr. Penello hopes this surgery will aid others with similar injuries in the future.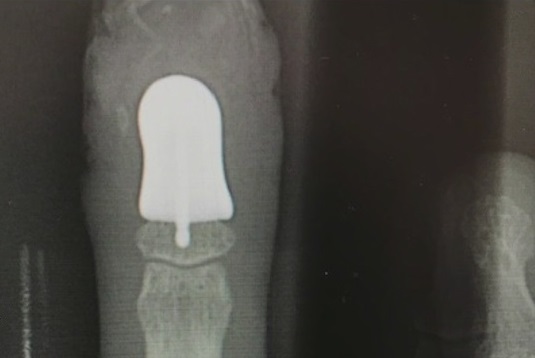 Follow the latest medical developments in 3D printing as they happen. Subscribe to the 3D Printing Industry newsletter, follow us on Twitter and like us on Facebook.
Our 3D Printing Jobs service is now live. Post a job or advance your career in 3D printing now.
Featured image shows an X-ray of the 3D printed finger implant. Image via Fox 13.