3devo, the Netherlands based makers of the NEXT 1.0 Industrial Desktop Filament Extruder has announced their latest innovation: the SHR3D IT. The SHR3D IT system is a high-end shredder and granulator used to recycle 3D printed plastics.
The SHR3D IT is on display at the RapidPro 3D printing conference in Veldhoven this week. The event runs until the 9th March and visitors can also see 3devo's filament making NEXT 1.0 machine.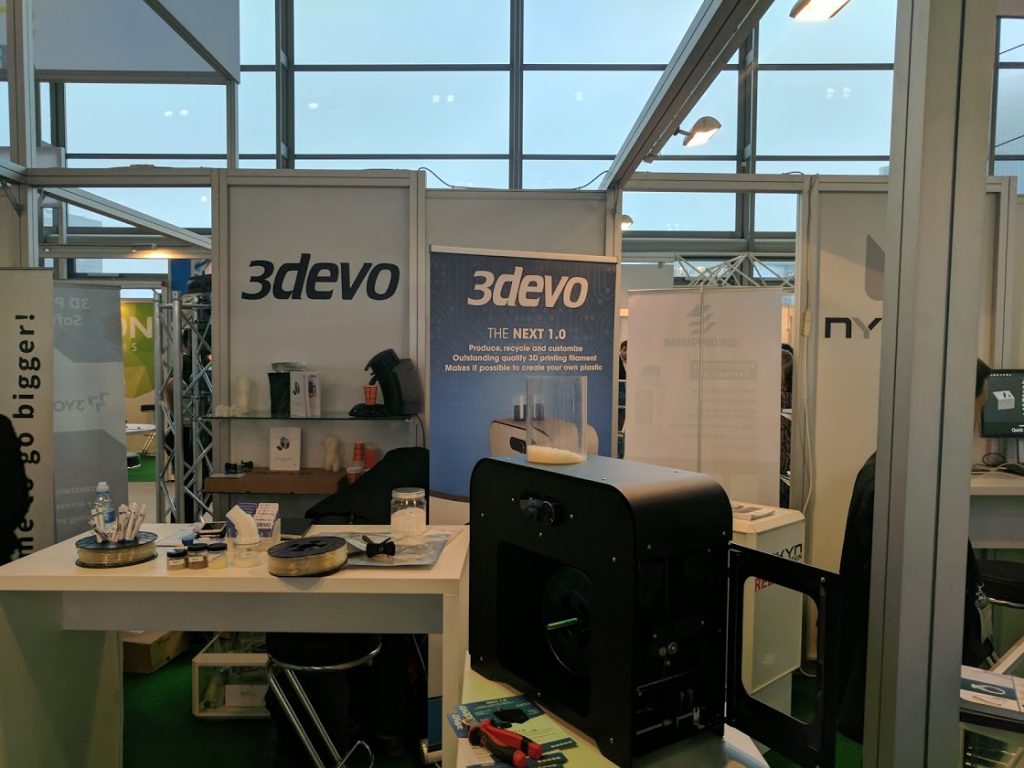 The missing link for 3D printing
The SHR3D IT is capable of granulating up to 5kg of material per hour. The granules created by the system can then be used in 3D printers that work with pelletized feedstock, or extruded into a wire filament using the NEXT 1.0 Desktop Filament Extruder.
The whole system is designed to be portable, lightweight and easy to clean. It also has replaceable cutters and knives to ensure the longevity of the machine.
"Make filament out of almost anything"
3D Printing Industry editor-in-chief Michael Petch spoke to 3devo during Formnext 2016. At that event, the company gave details about the NEXT 1.0 Desktop Filament Extruder and more recently announced the results of a study demonstrating how the NEXT 1.0 can turn both PLA and PEEK into 3D printable filaments,
Switching from PLA to PEEK presented an unique challenge: building up the temperature inside the Advanced Level extruder to PEEK's high melting point of 343 degrees. First, we slowly raised the temperature from 170 to 300 degrees with the first transition material. Once temperatures had crossed 300 degrees, we switched to the second transition material, and worked on reaching 390 degrees.
Making use of unwanted plastic objects is key to creating a more sustainable ecosystem for 3D printing materials, and simultaneously cutting down on costs from both a monetary and a waste perspective.
3devo are accepting pre-orders for the SHR3D IT system. The current price estimate comes in below €3,000 excluding VAT. More information is available on the 3devo site here.
Technical Specifications

Dimension (excluding hopper) – 550 x 310 x 260 (L x W x H)
Color – Black Powder Coated
Input material – Polymer / Plastics
Granulator knife specs / speed – 3 knives / 900 RPM
Shredder knife specs / speed – 6 blades / 9 RPM
Material knife specs – High carbon, high chromium and air hardened
Filter screen hole size – 3 mm (replaceable)
Capacity – 5,1 kg per hour / 4 liter per hour
Energy consumption – 1100 Watt = 1.1 kWh
Voltage – 220 Volt / 230 Volt
Additional information –  Replaceable knives / Easy accessible shredder, accessible granulator compartment, shredder rotation reversible
To stay up to date with developments in sustainability for 3D printing, sign up to the 3D Printing Industry newsletter, and follow our active social media channels. Any thoughts on recycled plastics, let us know in the comments below.
Featured image shows the plastic processing lifecycle made possible by the 3devo SHR3D IT.