The nominations for the 2021 3D Printing Industry Awards are now open. Who do you think should make the shortlists for this year's show? Have your say now.
U.S. 3D printer manufacturer 3D Systems (DDD) has revealed that its divestiture drive over the last year has helped boost its balance sheet to the point that it anticipates having $500 million in cash by the end of Q3 2021.
Since August 2020, the firm has sought to refocus on its Medical and Industrial verticals and sold off any elements of its business that don't align with its new strategy. Following its $305 million sale of Simbionix in July 2021, the company has now confirmed the completion of this resizing, and says that it has earmarked some of the cash or "dry powder" raised for "additional growth investments." 
3D Systems unveiled its new war chest as part of its Q2 2021 financials, which also showed that it generated $163 million in revenue, 46% more than in Q2 2020. This figure, which represents a 4% increase on the $157 million reported in the pre-pandemic Q2 2019 as well, was primarily driven by a 16% rise in the firm's Product sales over the same period. 
Following the publication of the company's results, its shares have risen 11% in pre-market trading, and look set to jump from $28.35 to $31.43 once markets open.
"We've worked so hard on executing our business plan, which has successfully reinforced our leadership position over what's been an extremely challenging 12 months," explained Dr. Jeffrey Graves, CEO of 3D Systems. "As we near the completion of our divestiture efforts, we turn to the future, and we have begun making investments for continued growth and profitability."
"The sale of these assets, combined with our cash generation from operations will leave us with a very strong balance sheet, with roughly $500 million in cash and no debt."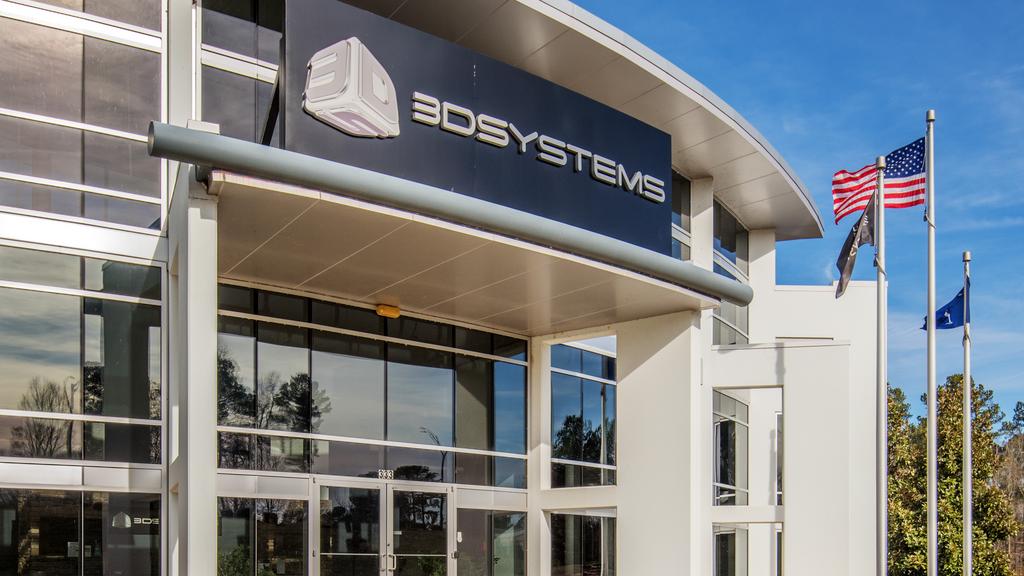 3D Systems' Q2 2021 financials
Broadly speaking, 3D Systems reports its revenue across two main segments: Products, which includes any sales generated by its 3D printers, software and materials, and Services, a division that accounts for any income earned via its modeling, rapid prototyping, and low-volume production offerings. 
During Q2 2021, the fortunes of the company's segments varied wildly, reflecting its wider change of strategy. 3D Systems' Products business remained its best performer over the course of Q2 2021, generating $109 million, which represents a 79% increase on the $61 million reported in Q2 2020, and an impressive 16% rise on the $94 million it brought in during the pre-COVID period of Q2 2019.
By contrast, the firm's Services division revenue rose by just 6% between Q2 2020 and Q2 2021 from $51 million to $54 million and fell 16% when compared to the $64 million it raised in Q2 2019. This decline was no doubt worsened by 3D Systems' sale of its on-demand manufacturing arm in June 2021, but it will also have had roots in the dip in demand from clients seen within the wider industry, due to the pandemic.
| | | | | | | |
| --- | --- | --- | --- | --- | --- | --- |
| Revenue ($) | Q2 2020 | Q2 2021 | Difference (%) | Q2 2019 | Q2 2021 | Difference (%) |
| Products | 61m | 109m | +79 | 94m | 109m | +16 |
| Services | 51m | 54m | +6 | 64m | 54m | -16 |
| Total | 112m | 163m | +46 | 157m | 163m | +4 |
| Cost of Sales | 77m | 94m | +22 | 84m | 94m | +12 |
| Gross Profit | 35m | 69m | +97 | 73m | 69m | -5 |
However, when divestitures are taken out of the equation, the company says that its overall revenue was 11% higher in Q2 2021 than it was in Q2 2019, "reflecting acceleration beyond pre-pandemic performance levels," and marking the first time that the firm has managed to outperform its revenue figures from immediately prior to the outbreak of COVID-19.
Elsewhere, 3D Systems' efficiency savings, which initially involved a 20% staff cut, have also proved effective and helped reduce its operating loss from $34 million in Q2 2020 to $10 million in Q2 2021. According to Graves, the company's strategic realignment has therefore allowed it to achieve a "dramatic improvement in profitability," and positioned it to continue this trend during the rest of the year.
"Today, after perhaps the most challenging 12 months that any of us has experienced, our world has changed for the better in several ways," added Graves. "Not only is the global economy rebounding, but AM is being implemented at an increasing rate in production as companies seek a more capable and flexible supply chain for critical components."
"This performance is the result of our exclusive focus on AM, bringing together our technologies to solve key customer applications that drive adoption in both the Healthcare and Industrial markets."
A Q2 of medical-industrial moves
3D Systems' divestiture drive aside, the company also launched a number of new products during Q2 2021, with the aim of better addressing its core Healthcare and Industrial clientele. On the medical front, the firm unveiled a novel line of Hybrid VSP surgical guides, and announced its intention to co-develop novel bioprinted tissues for treating breast cancer survivors alongside CollPlant.
To meet the needs of its industrial users, 3D Systems also brought out its new Figure 4 Rigid White resin as part of a new line of Figure 4 materials, which it has designed to "revolutionize advanced production." Alongside its rejuvenated Figure 4 range, the firm launched its Accura Composite PIV for wind-tunnel testing later in the period, although its late release means it is likely to generate more sales during Q3.
Thanks to its widened range of materials, the company was even able to address new applications in Q2 2021, by partnering with Toyota Gazoo Racing. Working together, the firms have not only been able to 3D print vehicle parts, but they've developed an 'Acura AMX Rigid Black' material, which is capable of yielding large-format SLA parts, making it ideal for consumer and service bureau clients.
More broadly, using some of the capital raised via its restructuring, the company has also been able to acquire 3D bioprinting specialist Allevi along with software developer Additive Works. The moves are set to boost its regenerative medicine and industrialization efforts, and given its newly-unveiled $500 million war chest, they could yet be followed by similar deals in the future. 
Projecting profits in FY 2021
While 3D Systems hasn't provided an overall revenue outlook for Q3, it has projected its non-GAAP gross profit margins to be between 40% and 44% for FY 2021. The company says that it successfully addressed the growing semiconductor market and sold three Factory 500 machines to aerospace clients during Q2 2021, and if continued, these advances could help the firm reach its expectations.  
In terms of liquidity, 3D Systems is also in a strong position, as it had cash on hand of $132 million as of June 30, 2021, with a $100 million unused revolving credit facility, and further capital to come via its divestitures, thus Graves believes that its "intense organizational and operational focus… has positioned it for a very exciting future."
"Using this approach, we are successfully bringing together the hardware, materials, and software technologies that our customers need for the successful adoption of additive manufacturing," said Graves. "This is translating each quarter into exciting growth and profitability, creating value for all of our stakeholders."
The nominations for the 2021 3D Printing Industry Awards are now open. Who do you think should make the shortlists for this year's show? Have your say now.
To stay up to date with the latest 3D printing news, don't forget to subscribe to the 3D Printing Industry newsletter or follow us on Twitter or liking our page on Facebook.
For a deeper-dive into additive manufacturing, you can now subscribe to our Youtube channel, featuring discussion, de-briefs and shots of 3D printing in-action.
Are you looking for a job in the additive manufacturing industry? Visit 3D Printing Jobs for a selection of roles in the industry.
Featured image shows 3D Systems' headquarters in Rock Hill, South Carolina. Photo via the CBRE Group.