3D Systems has announced that aerospace manufacturer Airbus has contracted it to produce "critical components" of the upcoming OneSat satellite.
Unlike traditional satellites, which are designed for specifically-defined missions, Airbus says the OneSat will be fully-reconfigurable in-orbit, enabling it to change coverage area, capacity and frequency "on the fly." Having been selected to help build the device, 3D Systems will now deploy its DMP Factory 500 platform to serially produce parts of its antenna arrays, in a way that could enhance its performance.
"Our company has a strong partnership with 3D Systems and has relied on its team of application engineers to help us bring our most advanced designs to life," said Stephen Phipps, OneSat antenna program manager at Airbus Defence and Space. "Everything from the quality of the parts produced using their printers, through to parts qualification, quality management, and overall project management have helped Airbus Defence and Space maintain its position as an industry leader."
"OneSat is a truly disruptive product, and we wanted our design and manufacturing process to possess that same level of innovation."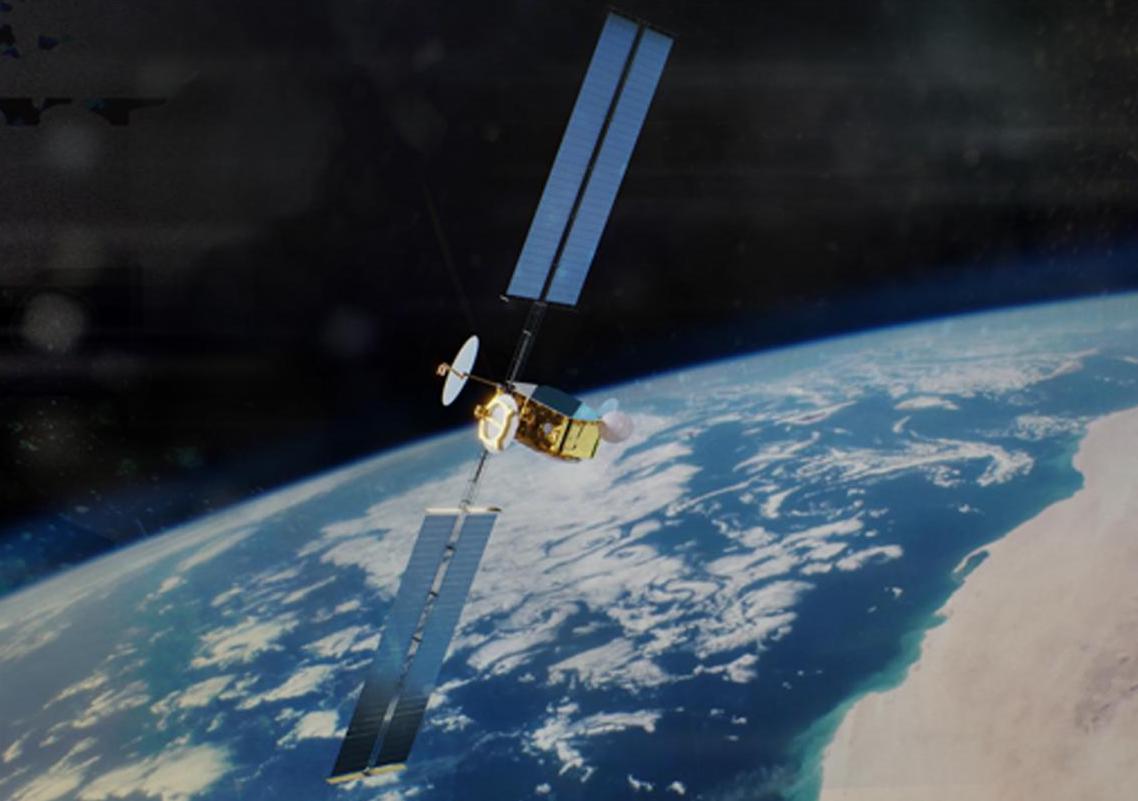 Airbus' continued 3D printing adoption
As you'd expect from the self-professed largest aeronautics and space firm in Europe, Airbus constantly involves itself in cutting edge R&D, with the aim of identifying tech innovations that unlock aerospace manufacturing advances.
This approach has often led Airbus to experiment with 3D printing, particularly on the aviation side of its business. As recently as June last year, Materialise and EOS became the first qualified to SLS 3D print flight-ready Airbus parts. At the time, this development was expected to allow the former's technology to be used in the production of aircraft elements for planes like the A320, A330, and A340.
In the past, the company has also worked with the likes of Sigma Labs to assess PrintRite3D's aerospace potential and Farsoon Technologies to develop 3D printing polymers for civil aviation applications. The latter, which marked Airbus' first collaboration of its kind with a Chinese partner, essentially focused on the R&D of a material which Farsoon could use to make aerospace-grade parts.
Elsewhere, on the space side of its business, Airbus has steadily ramped up its satellite part additive manufacturing capabilities as well. Since 3D printing its first radio frequency (RF) filter in 2017, the firm has stepped up its activities in this area dramatically, culminating in a project in 2021 that saw it integrate 500 3D printed parts into the Eurostar Neo, a series of broadcast relay satellites made for Eutelsat.
3D Systems' OneSat realization role
Following the conclusion of its design review in April 2021, Airbus has now begun to manufacture the OneSat, with the likes of Optus, Intelsat and the SKY Perfect JSAT Corporation having already placed orders. In the process of doing so, the firm has turned to 3D Systems' Application Innovation Group (AIG), which has come up with a way of 3D printing the satellite's large antenna arrays.
3D Systems' contribution to the build will see it leverage the seven years' experience it has accrued while 3D printing alongside Airbus, to provide its partner with an end-to-end solution to creating the parts, including materials, machines and software.
Specifically, the OneSat's two arrays, one designed to transmit and the other to receive signals, are set to be made from LaserForm AlSi10Mg. 3D printing these using parameters developed by the company's AIG, is expected to result in parts with the required 30µm layer thickness, while deploying the DMP Factory 500 and its vacuum chamber to do so, should provide them with surface homogeneity.
Throughout the project, it's also anticipated that the AIG team will act in a 'project manager' capacity. This will see 3D Systems' engineers identify post-processing and quality inspection subcontractors, capable of mitigating risk and reducing these parts' time to market. The AIG is leading a technology transfer process as well, in which another tier 1 supplier is expected to help ramp-up component production.
The unnamed supplier is said to be buying another DMP Factory 500, both to complement its existing fleet, and allow it to meet the quality levels required by Airbus. However, Dr. Michael Shepard, VP of 3D Systems' aerospace & defense segment, has emphasized that 3D Systems' role in the project goes beyond simply gaining another sale.
"As with our earliest work with Airbus on the first additively manufactured RF filter, we have the opportunity to bring another 'first' to the industry that is changing telecommunications," adds Shepard. "Our AIG has laid the groundwork for developing the application for this component, and we're proud that 3D Systems' technology can help lay the foundation for Airbus to build a strong supply chain for serial production of passive RF hardware."
"We value our long-standing partnership with Airbus Defence and Space, and are pleased with how our collective work continues to make its mark in telecommunications satellites."
High-throughput satellite 3D printing
While the 3D printing of satellite parts has been going on for a number of years now, the speed and complexity of this process has continued to accelerate. Earlier this year, Boeing unveiled a new high-throughput satellite 3D printing facility, designed to unlock rapid delivery timelines for its smaller devices.
Similarly, Australian satellite developer Fleet Space revealed plans in December 2021 to launch a next-gen series of 3D printed small satellites. Reportedly the world's first entirely additive manufactured satellite, the Alpha is set to take advantage of the firm's advanced beamforming technology and patented antennas, to unlock greater connectivity more quickly across a larger number of locations.
At Alba Orbital, meanwhile, engineers have managed to develop 3D printed AlbaPods, that have already launched multiple satellites into orbit. During February 2022, the Scottish firm revealed that its latest cluster of AlbaPods had been fired into space by SpaceX, before going on to deploy thirteen PocketQube devices designed for space research missions.
To stay up to date with the latest 3D printing news, don't forget to subscribe to the 3D Printing Industry newsletter or follow us on Twitter or liking our page on Facebook.
For a deeper dive into additive manufacturing, you can now subscribe to our Youtube channel, featuring discussion, debriefs, and shots of 3D printing in-action.
Are you looking for a job in the additive manufacturing industry? Visit 3D Printing Jobs for a selection of roles in the industry.
Featured image shows an artist's impression of what the OneSat satellite will look like. Image via Airbus.