Today in Sliced we have an update on the latest 3D printing developments in research,  business, engineering, medicine and design.
This features: NASA, NURBS, RangeVision 3D scanners, the University of Southern Denmark, MVJ College of Engineering, Fracktal Works, EOS, North Carolina State University, Shiro Studio, Gloria Material Technology Corp, Thermal Technology LLC, JJ Churchill, HK3D, Sintavia, Chris DePrisco and the solar eclipse.
Research developments – asteroids and NURBS
Following a trend using 3D modeling to perform fluid and aero dynamic analysis, researchers at NASA have developed a system for predicting asteroid impact.
According to Asteroid Threat Assessment Project (ATAP) project lead Michael Aftosmis, "These are some of the world's most detailed simulations of this event,"
"We were able to produce many scenarios quickly because Cart3D, normally used for aerodynamics analysis, is dozens of times faster than most hydrocodes used for 3D numerical modeling of the fluid flow that occurs when asteroids melt and vaporize as they break up in the atmosphere."
RangeVision 3D scanners have also given a detailed review of the advantages of using NURBS form for organic 3D modeling and reverse engineering.
After 3D scanning a sneaker sole, RangeVision used NURBS to create a 3D model of a shoe suitable for making new iterations based on the original design.
The task was completed within one working day, about a quarter of the time it would take if modelling the shoe from scratch.
Business news – Taiwan and Florida
Gloria Material Technology Corp., the only specialty alloys professional manufacturer in Taiwan, has entered into a partnership with high temperature processing expert Thermal Technology LLC.
A signed memorandum of understanding (MoU) between the two companies confirms that they will be working together to produce metal powders to be used in additive manufacturing.
Metal 3D printing bureau Sintavia, headquartered in Davie, Florida, has appointed two new members to its leadership team. J Louis Schlegel IV takes on the role as Global Vice President of Sales, and Rick Clark is the new Vice President of Operations.
Doug Hedges, Sintavia President and COO comments, "Rick and J's experience with OEMs and advanced manufacturing technologies has made these appointments a crucial addition to the future of Sintavia."
The appointments follow the announcement of a new 55,000 square foot facility coming soon to Hollywood, and the receipt of $15 million in equity financing.
Engineering – end-user parts
Precision engineering firm JJ Churchill, based in Nuneaton, UK, has used 3D printing to cut the cost of fixtures by 70%.
Working with HK3D, a service provider of 3D Systems and Markforged systems, the company made the parts for an aerospace OEM, delivering a single part in 3 days instead of two weeks.
Machining and hacking YouTuber Chris DePrisco has posted a tutorial showing how to perform low temperature metal casting using 3D printed parts.
Using an air compressor and a pressure vessel, DePricso makes a silicone mold for a 3D printed falcon, then casts it in metal by pouring in bismuth alloy melted at 138°C.
Don't try this at home (NB: unless you're a tinkerer with a good H&S ethic) Clip via Chris DePrisco on YouTube
Medical advances – playing cat and mouse

Research led by Professor Morten Østergaard Andersen at the University of Southern Denmark has successfully implanted a 3D printed bone in the body a mouse, building on previous research into additive manufacturing of ceramics.
Students at MVJ College of Engineering have engaged the help of Bengaluru 3D printer developer Fracktal Works to make a robotic arm prosthesis.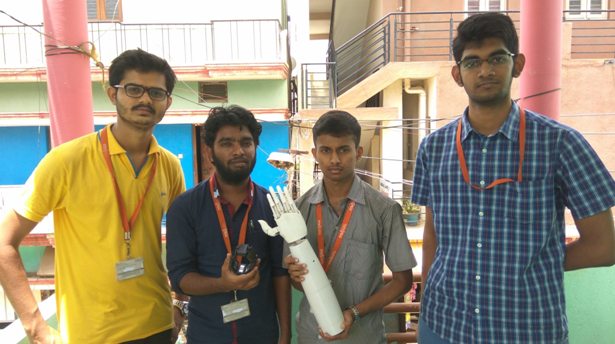 The veterinary facility at North Carolina State University used EOS DMLS machines to give Cyrano the cat, full name Mr. Cyrano L. Catte II, full use of his hind legs.
The metal 3D printing technique was used to make custom implants for Mr. Catte's knees and, thanks to the first of its kind procedure, he can walk again – albeit with a little limp.
And London based design firm Shiro Studio has applied 3D printing to create a stylish walking stick.
The three-pronged porous design was created by Andrea Morgante to alleviate the stigma surrounding walking aids, and you can tell us this doesn't look strong.
Bonus .stls
The total solar eclipse is crossing America this August 21. View it safely with 3D printable pinhole projectors from NASA.
Receive the latest Sliced 3D printing news updates by signing up to our newsletter. You can find us on Facebook and Twitter, and check out 3D printing events here.
Featured image: Sliced logo over a screengrab of the simulated burnout of an asteroid. Image via nas.nasa.gov