Are graphene seal whiskers the future of smart sensors? How can you make new 3D printer materials using light? What can you do to improve the strength and appearance of low-cost 3D printed parts?
All these questions and more, from adidas, Siemens, CollPlant, Proto Labs and South Korea, answered in today's edition of Sliced 3D printing news digest.
Material reinforcement
Nanoparticle experiments at the Institute for Basic Science in Ulsan, South Korea, has yielded some "cool" results in the way materials are made. Using light, magnetism and electrostatics, the team were able to make combination molecules that could lead to a new breed of tunable 3D printer inks – following a  "Depending on what you make the nanoparticles from the surfactants can be responsive to a range of fields – magnetic, light, electrostatic," explains Bartosz Grzybowski.
"I am not sure how all these properties could be combined into one molecule by traditional syntheses. With nanoscience this becomes relatively trivial – we initially just toyed with stuff and it turned out something cool emerged."
The supporting paper, "Systems of mechanized and reactive droplets powered by multi-responsive surfactants" can be read online in nature. Also see our article on colloidal self-assembly for more research related to this field.
In another, larger-scale, material development Proto Labs has launched metal plating services for SLA and SLS 3D printed parts.The service is intended to improve the finish aesthetic and strength of low-cost 3D printed parts.
Daniel Cohn, General Manager of Proto Labs Germany, comments, "We are continually evolving our capabilities to ensure we meet the demands of our customers […] Now, with plating technology and operational expertise in-house, we can manufacture plated parts with increased capabilities that will support product testing and project progression even further."
Planting the seeds of development – CollPlant, Siemens, Nano Dimension, HP, GE, Carbon
David Tsur has been appointed the position of chairman of the board at 3D bioprinter materials producer CollPlant. Predating his position at CollPlant, Tsur was Founder and CEO of Kamada Ltd. (TLV:KMDA), a developer of biopharmaceutical treatments for rare, orphan diseases. In this role, Tsur promises to "continue to pursue strategic joint ventures" for the company in the 2018-2019 period.
Adding to an existing workforce of around 4,500 scientists and engineers in China, Siemens PLM Software Company has unveiled plans to build an "Industry 4.0" intelligent manufacturing innovation center in Taiyuan.
A "leading research institute from Hong Kong" has become the latest customer of the Nano Dimension DragonFly 2020 Pro PCB 3D printer. Of the territory's listed institutes, the system is most likely in use at either a medical research facility, or the Hong Kong Applied Science and Technology Research Institute (ASTRI).
HP has made two new commitments to advance the adoption of Multi Jet Fusion (MJF) is South, and South East Asia. HP MJF 3D printing solutions are now commercially available in India and, at a conference earlier this week, the company confirmed that it will leverage its 3D printing expertise to help shape the digital future of Vietnam.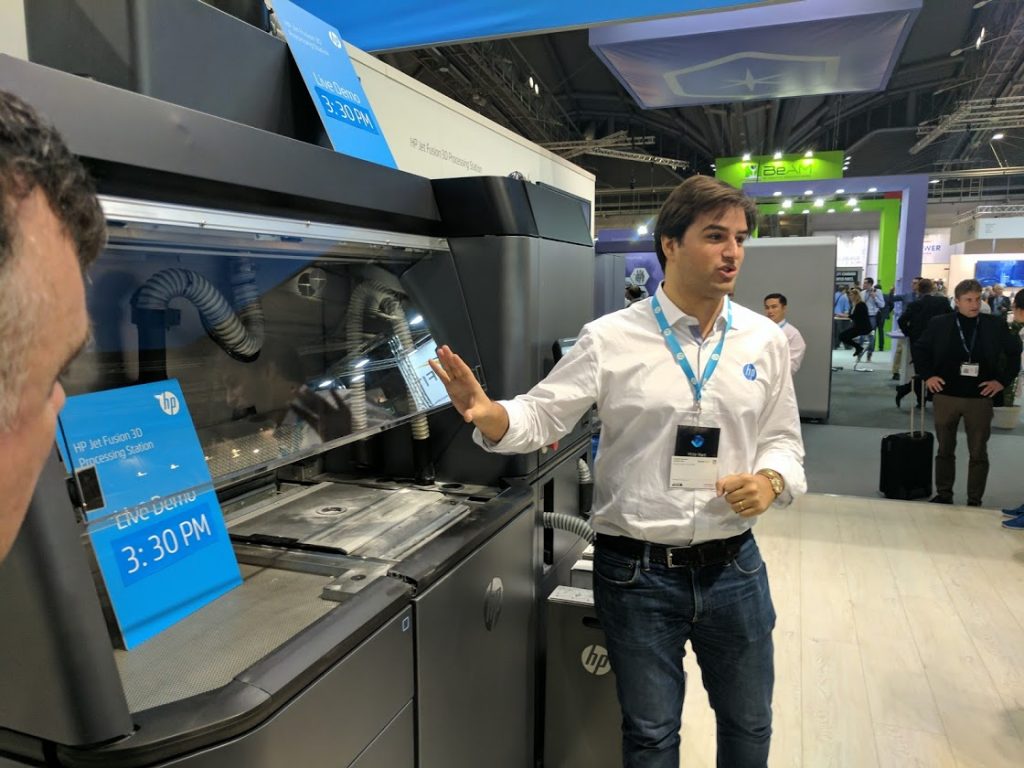 The money GE Additive/GE Capital gave to Roush has been used to purchase a Concept Laser Xline 2000R additive manufacturing system. The Michigan-headquartered high value engineering company will use the machine for bespoke, large-scale production of parts like engine blocks.
Reinforcing its high-profile Futurecraft 4D partnership with adidas, Carbon has added Eric Liedtke, Executive Board Member of adidas AG, to its own board of directors. Liedtke has a BA in journalism from the University of Wisconsin, and has been working in line management/marketing for adidas since 1994.
Probing innovations
Boston-based studio Catalano Design caught our eye this week by combing 3D printed with plywood. Approached by HIFIMAN to create their flagship headphone product, lead designer Carol Catalano directed an investigation of how wood can be directly integrated in the 3D printing process. The effects are demonstrated in a series of designs where plastic appears to "grow" in and around much more organic planks. "This opens up a whole realm of possibilities for creating expressive printed forms," says Catalano.
"Imagine a laminated wood seat with an array of mushroom forms placed selectively for ergonomic comfort. Could this replace traditional fabric upholstery?"
Seal whiskers have inspired new, multimaterial 3D printed sensor research at Jeju National University in South Korea. The vortex-sensitive whiskers are made from a mixture of polyurethane (PU) and graphene. Full details of the process can be found under "Fully 3D Printed Multi-Material Soft Bio-Inspired Whisker Sensor for Underwater-Induced Vortex Detection" in Soft Robotics journal.
Samantha Snabes, founder of re:3D, has won a prize of $1 million to help develop her company's "human-size" industrial FFF 3D printers. The top-prize fund was granted to Snabes by WeWork co-working and office space providers in the first WeWork Creator Awards.
In other accolades Nina Hoff, CEO of 3D printed food company byFlow, has been deemed one of "the 5 most talented Women in Tech in the Netherlands" by the Technionista Awards.
Nominate the best applications in the second annual 3D Printing Industry Awards here.
Subscribe to the 3D Printing Industry newsletter, follow us on Twitter, and like us on Facebook.
Featured image shows the Sliced logo over a seal diagram used to illustrate bioinspired sensor research at Jeju National University. Original image via Soft Robotics.