This edition of 3D printing news Sliced features stories from Praxair, MyMiniFactory, XJet, citim, TechniPlas, DWS, Viscient Biosciences, Organovo, BioBots, Allevi, Innovate UK, Iterate Design, 3DMAC, Walter Reed National Military Medical Center, Formlabs, Aranda\Lasch, and the University of Tennessee.
Collaborating and Educating in 3D printing
US industrial gases company Praxair has announced that it will offer an in-kind grant of TruForm metal powder and engineering assistance to some North American universities that offer addditive manufacturing courses.
Praxair VP Dean Hackett stated that "as a leading supplier of metal powder for additive manufacturing, we want to invest more in technology development to help grow the next generation of engineers."
Automotive OEM and service provider Techniplas has entered a partnership with DWS, which will see the latter bring its 3D printing capabilities to the Techniplas Additive Manufacturing Innovation Center.
Following the official launch of its Carmel range of Additive Manufacturing machines, XJet has confirmed that citim, now a subsidiary of Oerlikon, is the company's first offsite customer.
The MyMiniFactory app, which allows users to upload and browse through more than 35,000 3D printable objects, is now available for Android devices on the Google Play store.
Biobots regenerates as Allevi, Organovo divides and conquers

Bioprinting company BioBots has rebranded itself under a the name "Allevi." The new name is inspired by the user community's work "to cure disease, to alleviate suffering, to build with life." Bolster by the release of new software for "designing and building with life" Allevi is focused on standardization across biofabrication.
Bioprinting materials specialist Organovo has teamed up with Viscient Biosciences, a biotech company co-founded by Organovo's ex-CEO Keith Murphy. The plan in the partnership is to create a model for fatty liver disease in bio-printed 3D liver samples. By 3D printing liver cells that closely mimic live human ones, the companies aim to find a treatment for non-alcoholic steatohepatitis (NASH).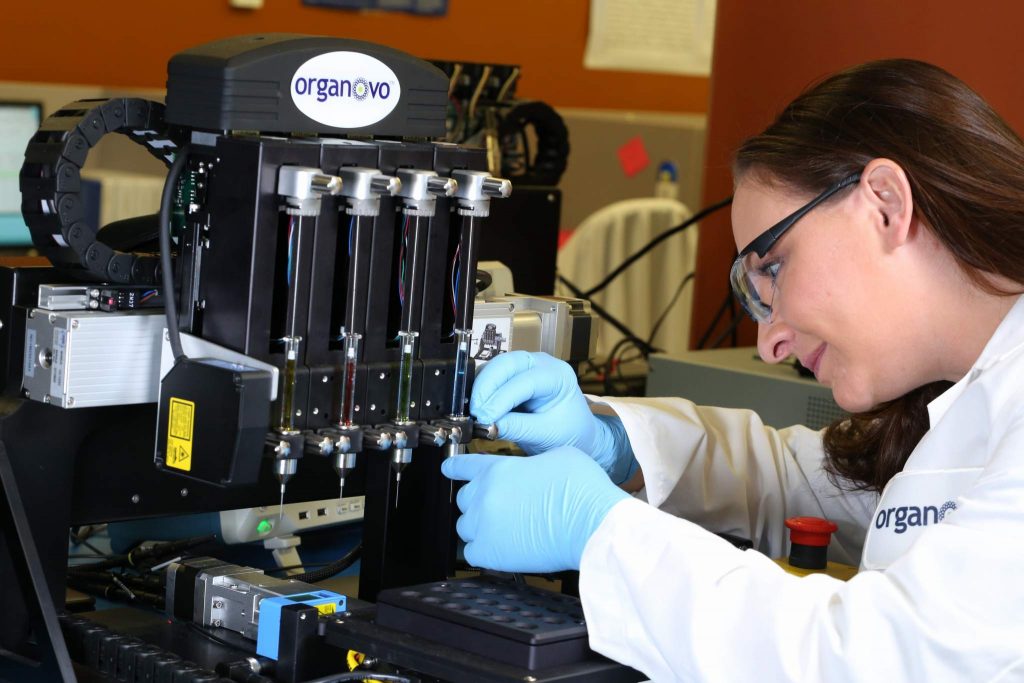 3D printing for Veterans and Veterinarians
Picking up on recent developments in custom prosthetics, and open source prostheses for veterans, technicians from the the 3-D Medical Applications Center (3DMAC) are 3D printing custom prosthesis for amputee war veterans. Based at the US Walter Reed National Military Medical Center, 3DMAC is producing titanium or plastic prostheses on demand for patients.
3DMAC Engineer Peter Liacouras stated that the devices would aid amputees in recovering from limb-loss trauma by helping them return to every activities. The center is concurrently creating a 3D archive of soldiers faces to help make potential facial reconstructions easier.
Using an Ultimaker 3 3D printer, veterinary surgeons at the University of Tennessee are creating models for pre-surgical planning and practice. The models are created using a CT or MRI scan and CAD software and are useful for planning complex operations.
By reducing the amount of time taken for a surgery, there is less of a likelihood of complications from anaesthesia. Successful operations so far include a installing a 3D printed facial prosthesis for Patches the black-breasted leaf turtle, helping her eat again.
Innovation, a window into the heart
Iterate Design + Innovation, a 3D printing service bureau startup based in Chepstow, Wales, has been awarded an Innovate UK grant of £1 million. The project, involving The University of Warwick, Printed Electronics Ltd. and C Enterprise aims to combine electrically conductive inks with polymer based materials to take the place of wires in product assembles. 
Aranda\Lasch and Marcelo Coelho (head of design at Formlabs) have been declared winners of the 2018 Times Square Valentine Heart Design competition for a love themed sculpture.
The winning entry, entitled "Window to the Heart" consists of a 12 Fresnel lens 3D printed from transparent resin by Formlabs. The structure distorts the lights of Times Square, and looks at how lenses capture places, how images are disseminated, and the tension between love and images.
For more on a world of 3D printed applications, subscribe to our free 3D Printing Industry newsletter, follow us on Twitter, and like us on Facebook.
Featured image shows "A Window to the Heart" in Times Square. Photo via Formlabs.