In our latest 3D printing news digest, Sliced, we will learn about industry programs for research and development, changes in the medical industry, and how various manufacturers are forming relations to advance 3D printing.
Read on for the latest news from ExOne, Mimaki, MatterHacker, Optomec, Nexa3D, Inovus Medical, 3D devo, Raplas, PyroGenesis, and many others.
Expanding networks of 3D printing
Optomec, a metal 3D printer manufacturer known for its DED LENS machines, has chosen Select Additive Technologies, a division of manufacturing machines supplier Morris group. Inc., as a distributor of Optomec's LENS machines throughout North America.
Jeff Holtzapple, Business Development Manager of Select Additive Technologies, "Adding Optomec's industry-leading LENS systems to our distributors' existing lineup of CNC machine tools enhances our end-to-end suite of advanced solutions for precision metal part repair and production."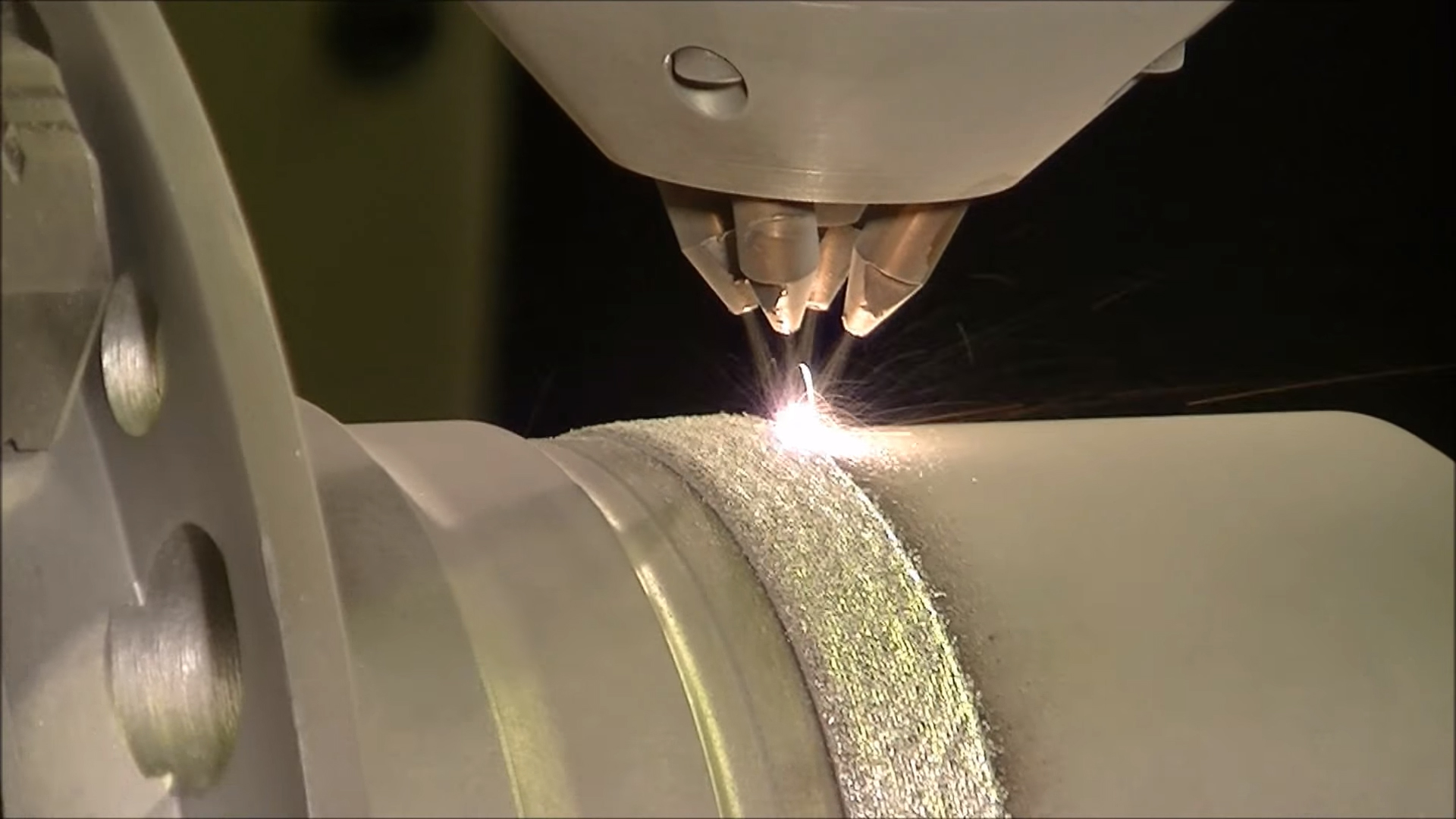 Raplas, a 3D printer manufacturer from the UK, is shipping its 3D printers to North America for the first time. The move was made possible with the help of 3D printer distributor and service provider, RP America.  
Rory Jackson, CEO of RAPLAS' U.S division called RAMP, said, "Having opened the US office in the Chicago area, this is a fantastic opportunity and endorsement of RAPLAS tech, the team behind the brand and our specialist distributor, RP America."
Metal 3D printer manufacturer, SLM Solutions, has opened an Applications Center at its China head office which was opened in 2015. At the new facility, the manufacturer has installed one SLM 125, two SLM 280 and one SLM 500 machines.
Meddah Hadjar, CEO of SLM Solutions, said, "China is a growth market for us as the manufacturing sector is continuing to transform with industrial selective laser melting applications […] This new office not only continues our commitment to the Chinese market, but also provides more resources for our local experts to support customers, ensuring they are successful and facilitating their innovation."
China Industrial Design Institute (CIDI), has established two research institutes: intelligent connected vehicles and intelligent manufacturing. Furthermore, CIDI is also holding an industrial design competition from August 30 till September 1. The institute also has future plans to set up 3D printing and aviation institutes.
Sicnova, a Madrid-base supplier of 3D printers, has signed a distribution agreement with Zortrax, a Polish 3D printer manufacturer known for the M300 FDM/FFF machine. From now on, Sicnova will be the sole distributor of Zortrax 3D printers in Spain, Portugal and Latin America.  
CEO of Zortrax, Rafał Tomasiak, said, "We are pleased to be cooperating with Sicnova, which will help us increase sales in markets that show great potential for our brand. Last year was a year of innovation;  we launched new devices, including our first resin printer, the Zortrax Inkspire, and an innovative post-processing device, the Apoller. They have been very well received by customers and garnered positive reviews in the media."
byFlow, a food 3D printer manufacturer, has announced a partnership with VDL Groep, an Eindhoven-based manufacturing company. The byFlow 3D printers will now be manufactured and assembled by VDL subsidiary, VDL Apparatenbouw located in Eersel.
Nina Hoff, co-founder and CEO of byFlow, said, "With VDL Groep as a strategic partner, byFlow is now prepared to extend their business with international food industry companies."
Streamlining production 
PENSA, a product design firm based in New York, has acquired a METHOD 3D printer from Makerbot to streamline its production.
Marco Perry, co-founder of PENSA, said, "METHOD has proven itself to be an extremely reliable tool […] Before METHOD, we would only use industrial 3D printers to check for fit and finish."
"Now, we are using 3D printing earlier in our process, and we can run through iterations very quickly, using it to check for functionality, ergonomics, and mechanics."
The company has also released PETG filament for its METHOD 3D printer. Nadav Goshen, CEO of MakerBot said, "PETG is the first in a new line of materials for METHOD. Our customers have been asking for different materials to use for a wide range of applications that require high strength and durability."
Varia 3D, a Texas-based 3D printer manufacturer and service provider, has announced that it will offer on-demand manufacturing service using its SLS-HR system, which was developed in-house. The SLS-HR 3D is a powder bed fusion machine, which according to Varia 3D, provides a smooth surface finish compared to traditional SLS machines.
Varia 3D's President and founder, Brian Bauman, said, "We are very pleased to offer the new SLS-HR process to our customers […] By optimizing scan strategies, thermal tuning adjustments and improved layer thickness control, we are observing isotropic properties for true production applications."
Xometry, one of the largest on-demand manufacturing service in the U.S, has partnered with Mitsubishi USA. Through its online tooling shop, Xometry Supplies, the on-demand service will fulfill the tooling demands of Mitsubishi USA.
Jaa Aguilar, General Manager of Xometry Supplies, said, "Xometry Supplies allows for an online shopping experience where our manufacturing partners and customers can purchase the materials and tools they need to manufacture parts faster and at lower costs […] Adding a premier partner like Mitsubishi Materials, U.S.A to our line card empowers our partners to quickly find the right tools they need without a time-consuming search."
Making room for 3D
Keio University, Japan, has installed a Photonic Professional GT2 3D printer by the German manufacturer, Nanoscribe.
Adding a little color to packaging, Japanese UV and 3D printer manufacturer, Mimaki, has installed its 3DUJ-553 full-color 3D printer at the Clemson University's Sonoco Institute of Packaging Design and Graphics.
Josh Hope, senior manager, 3D printing and engineering projects at Mimaki USA, said, "The Sonoco Institute is a leader in package design and graphics and Mimaki is proud to partner with them to provide hands-on experience with our full-color 3D technology."
"Our 3DUJ-553 printer will allow students to create color-accurate prototypes that complement their current curriculum as well as give them the opportunity to develop industry skills they can use outside the classroom."
A California-based composite materials manufacturer, AREVO, was awarded second place for "Outstanding Technical Paper" at the SAMPE 2019 conference and exhibition, a society promoting the development of high-performance composites.
At the recently concluded RAPID + TCT 2019, Printer Working Group, a program of IEEE Industry Standard and Technology Organization (ISTO), like the previous year, organized talks and presentations at the show. Some of these presentations included, America Makes & ANSI Additive Manufacturing Standardization Collaborative, SAE Additive Manufacturing Standardization Program, and IEEE-ISTO PWG IPP Working Group: Printer Working Group – Standards for 3D Printing.
The potential of metal 3D printing
ExOne, a Pennsylvania-based metal 3D printer manufacturer, has announced a materials partnership program to advance its metal binder jetting technology.
John Hartner, ExOne's CEO, commented on the new program, "By partnering with elite material companies we further advance our 3D binder jetting printing processes, which will propel us to the next generation in materials and product development."
Also, Kennametal, a tooling and industrial company, has been named a beta customer by ExOne. Kennametal will evaluate the performance of the X1 25PRO 3D printer made by ExOne.
Sherri McCleary, Director, Business Development Additive, Kennametal, "We see binder jetting technology as a key enabler for our differentiated, high-performance wear materials, such as tungsten carbide and Kennametal Stellite alloys."
Furthermore, ExOne also announced the appointment of Charles Grace to the newly created post of Chief Customer Officer. Grace was formerly, Senior Sales Vice President at the Xerox Corporation.
At this year's RAPID + TCT, Australian metal 3D printer maker, SPEE3D, announced the 'Supersonic 3D Printing Design Challenge'. For the challenge, participants are encouraged to submit designs that can be made on the LightSPEE3D and the large format WarpSPEE3D metal printers by SPEE3D. The winner of the competition will receive a metal 3D printed sample of their design. Rewards also include SPEE3D design certificate and six months of free access to SPEE3D's simulation software.
Christian Tse, a jewelry designer, and manufacturer, has partnered with Desktop Metal, a metal additive manufacturing expert to explore the potential of metal 3D printing in jewelry making.
Tse said, "The Studio System is a jewelry maker's dream […] The speed and accuracy of this system is coupled with the safety of being able to touch the materials and the convenience of being able to create the goods in-house with no major renovations. This puts the entire production process literally in the hands of the designer."
The material world
Armor, a French manufacturer, has joined the Ultimaker Material Alliance Program to develop FDM/FFF material print profiles. The Material Program includes names such as Armor's filament brand Kimya, Raise3D, Intamsys, Aon3D, and miniFactory, the maker of miniFactory Ultra 3D printer.
Also joining the Material Alliance Program this year is the Dutch 3D printer filament maker FormFutura.
MatterHacker, a California-based 3D printers and filament supplier, has partnered with ​BASF​, ​Dupont​, ​DSM​, Dow, and F​iberForce​, to grow its portfolio of materials.
Kevin Pope, Chief Operating Officer of MatterHackers said, "We are excited to bring more advanced materials partners into the MatterHackers portfolio of engineering plastics. With these new companies as allies in providing advanced materials to the American market."
The combination of software and hardware
GE Additive has appointed Igal Kaptsan as Software General Manager. Kapstan will report to Jason Oliver, President and CEO of GE Additive. Oliver said of the appointment, "Software is a crucial element to the future of the design manufacturing process. We are excited to welcome Igal to the team, and the leadership and experience he brings to a critical growth area for our business."
Dyndrite, a Washington-based maker of the CAD-to-print software, has formed the Dyndrite Developer Council. The members of the council include 3D printer manufacturers such as AON3D, Aurora Labs, Desktop Metal, EOS, HP, Renishaw, and other experts in the industry like NVIDIA, Plural, Aconity3D, and Impossible Objects.
American software corporation, MSC, has signed an agreement with Objectify Technologies, a 3D printing service based in New Delhi, for the use of MSC's Simufact Additive, simulation software for 3D printing.
CEO and founder of Objectify Technologies, said, Ankit Sahu, "Simulation plays a key role in the Additive Manufacturing process, and its importance is only set to grow over time. We were very keen to zero in on the right partner for our simulation process. When we evaluated Simufact Additive, we were impressed by its versatility and ability to match test results very accurately."
With the aim of reducing 3D printing time and costs, Florida-based 3D printer manufacturer, nScrypt, has developed an in-situ monitoring system for real-time quality assurance.
Dutch 3D printer manufacturer Ultimaker, has introduced version 4.1 beta of its open-source slicer Cura. The latest version includes updates to the interface and slicing.
Taking 3D printing to the next level
At RAPID + TCT 2019, California-based Nexa3D, a manufacturer of SLA/DLP 3D printers, introduced its new SLA 3D printer NXE400.
Avi Reichental, Nexa3D co-founder and CEO, said, "This technology completely blows off the doors for what's possible in terms of speed and size, and will unleash whole new levels of productivity and optionality for end-users."
"Our NXE400 presents a significant upgrade for experienced stereolithography users with its ultra-fast printing speed, high volume precision ready to use parts, and expanded range of performance materials that come at the most economical cost of ownership available on the market today."
3D devo, a Dutch filament maker, has introduced the AIRID Polymer Dryer. The portable dryer rids the plastic from excess moisture to improve the quality of the recycled filament. Before AIRID, 3D devo had also released SHR3D It, a shredder to recycle plastic into 3D printing filament.
Louis Rinaldo, Materials Researcher at 3D devo said, "The AIRID Polymer Dryer is the last piece in our closed loop ecosystem."
"The user now achieves full control over every step of recycling and extrusion. Unlike a standard oven, AIRID dries batches evenly and makes extrusion even more stable and reliable for consistent filament."
At the recently concluded RAPID + TCT 2019, Compound Dynamics an OEM based in Wisconsin, introduced its first large format FDM/FFF 3D printer called RM. The RM is a dual extruder 3D printer which takes 2.85mm filament as feedstock and supports a large build chamber of 1 cubic meter.
Strengthening the backbone
Corelink Surgical, a medical device company specializing in surgical implants, has introduced a 3D printed lateral access system and two spinal implants, the F3D and CL5 which is 3D printed with PEEK material.
Another medical device manufacturer experimenting with 3D printing is Inovus Medical based in St. Helens, England. Inovus Medical has recently installed a ProX SLS 6100 machine supplied by 3D Systems at its St. Helens facility.
CTO of Inovus Medical, Jordan Van Flute, said, "The addition of production level 3D printing to our manufacturing armamentarium is an exciting step forward as we continue to drive vertical integration within the company."
"Its particularly pleasing to know we are using additive manufacturing to actually manufacture commercially available products, something that we feel is a real paradigm shift for the 3D printing sector, feelings that are clearly shared by our suppliers 3D Systems."
Raising expectations
In financial news, the Montreal-based maker of plasma metal powder for 3D printing, PyroGenesis, has received approval to raise $3 million through non-brokered private placement financing.
Vote now in the 2019 3D Printing Awards.
Get all the latest news related to additive manufacturing by subscribing to our 3D printing newsletter. Join us on Facebook and Twitter for live updates.
Looking for a job? Visit our 3D Printing Jobs page.
Featured image shows Sliced logo over a full-color mask 3D printed on a Mimaki 3DUJ-553 machine. Photo by Michael Petch.