3D printer manufacturer Velo3D (VLD) has reported that its revenue increased 176.1% in Q2 2022 as its earnings grew for a fourth consecutive quarter.
Over the course of Q2 2022, Velo3D generated $19.6 million in revenue, nearly three times as much as it brought in during Q2 2021. According to the firm's CEO Benny Buller, this growth was driven by "very high" demand for its Sapphire XC 3D printer, which offset the cost of having to delay some orders due to ongoing supply issues.
In the two days after Velo3D's results were published, its shares rose 41.6%, as investors signalled their approval for its impressive recent revenue performance. With the company also projecting a strong H2 2022, Buller added that he believed it could be the "industry leader" in metal 3D printing by the end of the year, "quicker than even we (Velo3D) anticipated."
"We were pleased with our Q2 execution as we again posted strong sequential and year-over-year revenue growth, maintained our backlog and expanded our new and existing customer footprint," Buller said on Velo3D's earnings call. "We also posted record revenue despite the delay of a handful of early launch customer systems into Q3 due to supply chain challenges."
Velo3D's Q2 2022 financial results
Since Velo3D went public on the NYSE in September 2021, it has posted four quarterly financial statements, all of which have seen it report annual revenue growth. While the company doesn't break down its revenue into divisions, Buller explained on its earnings call that demand for both its Sapphire and Sapphire XC systems "continues to grow," and in Q2, it booked in $18 million worth of new orders.
In fact, demand for the systems was so high, that Velo3D could have achieved even greater growth, but it was unable to get the parts needed to build enough 3D printers. This was especially true with the machines' electronics, and while the firm has begun buying inventory much earlier than it would traditionally, impacting its gross margin, supply is expected to be an ongoing problem.
That said, Velo3D is also seeking to outsource the assembly of certain parts of the Sapphire XC that are currently made in-house. It's anticipated the initiative will allow the business to streamline procurement and scale without increasing spending by mid-2023. Likewise, the firm is working to better match deliveries with production times, in a way that should see it burn through its $62 million inventory.
When it came to spending, Velo3D managed to trim its operating expenses on a sequential basis from $23.2 million to $22.5 million, without cutting back on R&D investments, which remained at $12.9 million. Ultimately, the company finished Q2 with a net profit of $128 million, but this was boosted by a non-cash gain of $154 million, related to changes in the fair value of its warrants and earn out liabilities.
| | | | | | | | | |
| --- | --- | --- | --- | --- | --- | --- | --- | --- |
| Financials ($) | Q2 2021 | Q2 2022 | Difference ($) | Difference (%) | Q1 2022 | Q2 2022 | Difference ($) | Difference (%) |
| Revenue | 7.1m | 19.6m | +12.5m | +176.1 | 12.2m | 19.6m | +7.4m | +60.7 |
| Gross Margin | 30.6% | 6.3% | -24.3pts | -79.4 | 0% | 6.3% | +6.3pts | – |
| Net Profit/Loss | -12.5m | +128.0m | +140.5m | +1124 | -65.3m | +128m | +173.3m | +296 |
| Cash & Investments | 12.0m | 142.0m | +130.0m | +1083.3 | 186.0m | 142.0m | -44.0m | -296 |
Building a strong sales backlog
Despite encountering supply chain difficulties in Q2 2022, Velo3D was able to expand its customer footprint significantly. In July 2022, it was announced that Velo3D has sold a Sapphire XC to Pratt & Whitney, and though the deal won't impact its earnings until Q3, it reflects the technology's growing adoption in end-use aerospace part production.
Since then, Velo3D has begun collaborating with the Hartech Group, a supplier that will now distribute its machines to US government agencies on its behalf. Hartech works exclusively with federal government customers like the US Department of Defense, making it a lucrative partner for Velo3D, and Buller says it's already seeing "extensive interest" from the company's long list of contacts.
Velo3D also launched the Sapphire XC 1MZ 3D printer in Q2 2022, its largest system to date, which packs a 600 x 1000mm build volume, that's nine times bigger than the Sapphire's and twice the size of the Sapphire XC's. The firm expects to ship the first of these systems in Q3 2022, and Buller says it continues to see "strong demand" for the new unit from clients in the energy and aerospace industries.
Overall, Velo3D finished Q2 2022 with a backlog of $55 million, something Buller put down to its "expanded new and existing customer footprint." Having now "stabilized Sapphire XC production," the CEO added that the company intends to focus on "driving efficiency" moving forwards, via initiatives designed to put it on a "strong growth trajectory," improve its margins and push it towards profitability.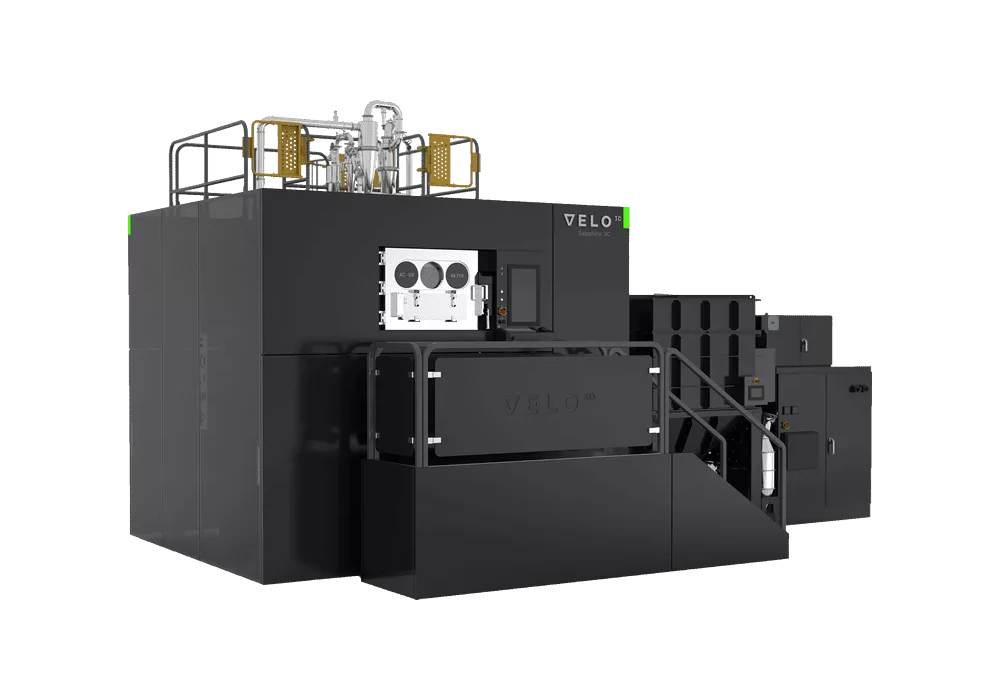 Reiterating guidance despite headwinds
Having seen strong bookings activity and built up a solid backlog, Velo3D has reaffirmed its guidance for FY 2022 of $89 million, which if realized, would constitute 225% growth. The firm's CFO Bill McCombe explained on its earnings call that it is confident of hitting its revenue target due to its "significant visibility," and the "strong growth momentum" its technology continues to see in the market.
Velo3D is also forecasting higher average selling prices (ASPs) offset by lower unit growth, something McCombe says is being driven by rising interest in its pricier Sapphire XC offering, and he added that it's experiencing a "shift in customers mix" towards repeat clients too, as recurring buys are now higher than modeled.
"Our goal for the balance of the year remains to efficiently scale the company to maximize our growth while focusing on improving our profitability," concluded McCombe. "Given our continued sales momentum, growing backlog, strong demand for our Sapphire XC system, and solid balance sheet, we're well-positioned to capitalize on what we see as significant growth opportunities in the additive manufacturing market."
To stay up to date with the latest 3D printing news, don't forget to subscribe to the 3D Printing Industry newsletter or follow us on Twitter or liking our page on Facebook.
For a deeper dive into additive manufacturing, you can now subscribe to our Youtube channel, featuring discussion, debriefs, and shots of 3D printing in-action.
Are you looking for a job in the additive manufacturing industry? Visit 3D Printing Jobs for a selection of roles in the industry.
Featured image shows a rendering of a Sapphire 3D printer production facility. Image via Velo3D.