Da Vinci Mini Maker printers from XYZPrinting are now available at Toys R Us stores in the UK. This collaboration with a household name is one of the first of its kind, and pips Mattel's ThingMaker 3D printer to the post for commercial availability by about a year (ThingMaker has been set back to release end of 2017).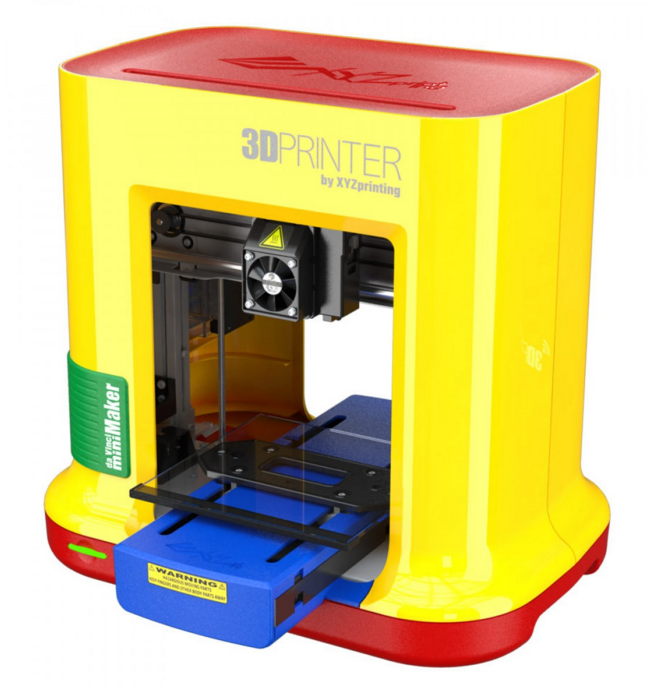 How much is it?
At an RRP of £239.99, the Da Vinci Mini Maker falls into the same price bracket as games consoles and laptops, and for parents it shares some of the same concerns: particularly when it comes to safety. From an environmental standpoint, the Da Vinci Mini Maker uses a non-toxic PLA, and its educational potential, as with computers, is virtually limitless.
Who are XYZPrinting?
The company was founded in 2013 and is backed by the Taiwainese New Kinpo Group who are world leaders in electronic manufacturing. Their mission statement is to make 3D printers accessible and available to the masses. In the past year, 3DPI has followed their every move, seeing them win awards for innovation and most recently expanding product lines. XYZ sell their printers primarily online, but the range is gradually becoming available in stockists across Europe and America. One big plus is that the printer comes with an online database of printable objects known as the Maker Zone.
The Toys R Us website has put a recommended age range on the Da Vinci Mini Maker at 12 years and above, however XYZ's marketing shows younger children using the printer and the design using primary colours has a decidedly more pre-school appeal. To me, this suggests that the market is not quite ready yet, however I reserve my judgement on how the Da Vinci stacks up against electronic competitors in the lead up to Christmas. It's not going to exceed the desire for an Xbox or a Playstation, but hopefully it will stir some imaginations for the years to come.