Researchers from the Slovak University of Technology have developed a novel ceramic 3D printing material that's designed for use with low-cost FFF machines.
Unlike existing entry-level ceramics, the team's filament, consisting of a PVA binder and mullite base, can be extruded from standard 0.4 mm nozzles without needing added adhesion or system adjustments. The formulation is also to be post-processed without the use of expensive specialist furnaces, lending it significant potential as a budget-friendly ceramic for would-be hobbyist adopters.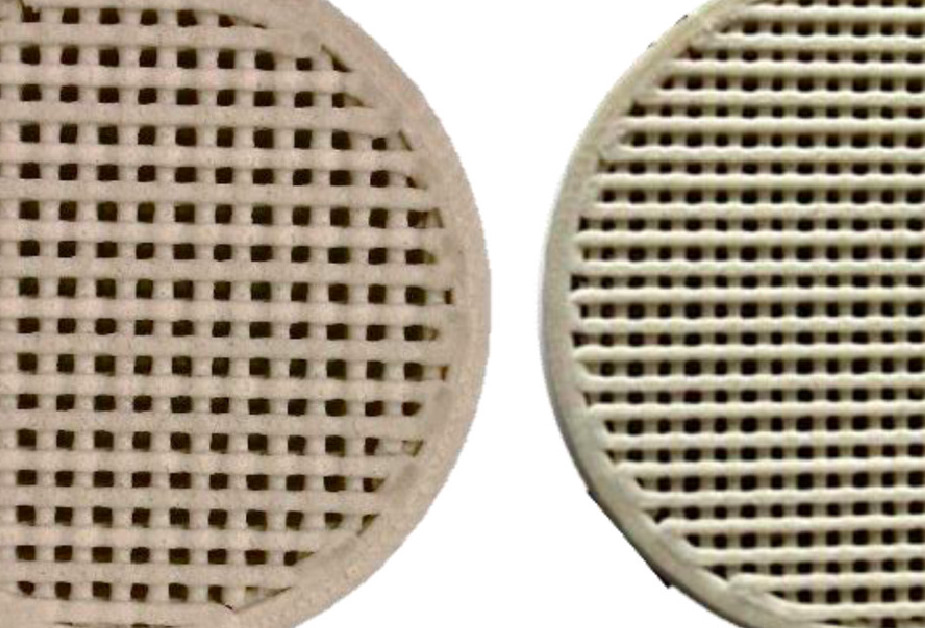 Ceramic for the people
By 3D printing ceramics, rather than processing them using traditional production methods like injection molding, it's possible to create parts with highly-complex internal features. However, so far the technology has only enabled users to conduct short production runs due to its difficulty-of-use, which requires powder handling and extensive post-processing.
While DIW systems are often touted as more user-friendly than SLS machines when it comes to ceramics, they can be finicky for newcomers, and formulating optimal pastes can be difficult. By contrast, following the success of the RepRap project, FFF systems are now much easier to access, making them ideal for new adopters.
Another advantage of entry-level machines is that they're compatible with a growing range of polymers like ABS and PLA, which can each be mixed with ceramics to form novel filaments. As a result, a number of ceramic-loaded concoctions have already been developed, but these usually require the use of a 600 μm diameter nozzle, limiting the level of detail it's possible to achieve.
Many experimental feedstocks are also 3 mm wide, and while they would be ideal for industrial applications, conventional FFF machines tend to stick to a 1.75 mm format. Making matters worse, existing mixtures tend to suffer from inconsistent shrinkage during debinding, limiting their efficacy when 3D printing large parts, and necessitating the development of a more repeatable solution.
The Slovaks' novel feedstock
In order to make ceramic materials easier to process and therefore more accessible, the Slovak scientists devised a new formulation. By combining mullite powder, aliphatic acid and a thermoplastic polymer, the team were able to create a 1.75 mm diameter filament that was processable using a 0.4 mm printhead, much like commercial alternatives.
Having optimized their feedstock, the researchers attached both 600 and 400 µm printheads to a Leapfrog Creatr 3D printer, and produced a set of cylindrical specimens. Each part was patterned with mini rectangles to make print errors obvious, but the team observed no visible cracks or nozzle blockages, leading them to consider their approach a success.
However, the scientists also chose to debind their test parts under the conditions found in cheap pottery kilns, causing significant shrinkage, with size reductions of up to 41.5% exhibited at 1400°C. Eventually though, the researchers identified a sweet spot between 1250 to 1350°C, as well as an optimized parameter set, yielding parts up to 17% larger than those fabricated using conventional methods.
Additionally, using their novel filament, the researchers found that they needed 26 times less material than comparative ceramics, to 3D print parts of the same geometry. As a result, the team concluded that their feedstock was not just just compatible with low-cost systems, but able to deliver the benefits of ceramic materials more efficiently than off-the-shelf products.
Ceramic's 3D printing potential
While it's well-known that ceramics feature high thermal resistance, their fragility has meant that companies have only recently begun to unlock their potential.
The General Motors-owned research center HRL Laboratories has conducted significant research in this area, developing a new method of 3D printing fracture-resistant Ceramic Matrix Composites (CMCs) last year. Using a novel siloxane-based preceramic resin, the institute has been able to fabricate uniquely-strong glass-like structures.
In a similar vein, a team from Fraunhofer IKTS has developed a Multi Material Jetting (MMJ) system for combining metals and ceramics into single parts. Leveraging their new process, the scientists have since 3D printed an array of heat-resistant components, including ceramic-reinforced satellite elements.
Binder jet 3D printer manufacturer ExOne has also got in on the act, by licensing a new ceramic-based production method from Oak Ridge National Laboratory (ORNL). Adopting the process has enabled ExOne to provide it to clients, who in turn, can now create aluminum-loaded boron carbide components.
The researchers' findings are detailed in their paper titled "Novel composite filament usable in low-cost 3D printers for fabrication of complex ceramic shapes. " The study was co-authored by Peter Veteška, Zora Hajdúchová, Jozef Feranc, Katarína Tomanová, Ján Milde, Michaela Kritikos, Ľuboš Bača and Marián Janek.
To stay up to date with the latest 3D printing news, don't forget to subscribe to the 3D Printing Industry newsletter or follow us on Twitter or liking our page on Facebook.
Are you looking for a job in the additive manufacturing industry? Visit 3D Printing Jobs for a selection of roles in the industry.
Featured image shows a sliced model of one of the parts produced using the team's new ceramic. Image via the Applied Materials Today journal.