The Photopolymer Additive Manufacturing Alliance (PAMA), the National Institutes of Standards and Technology (NIST), and RadTech have jointly released a revised guidance titled "Proper Handling of UV Curable 3D Printing Resins" for photopolymers.
Included in the revised guidelines is a comprehensive FAQ section, which aims to address common queries and concerns related to the handling of UV-curable 3D printing resins. This segment provides users with a better understanding of best practices. Moreover, the guidelines have been updated to feature revised sections on Good Housekeeping procedures, Clean-up, Disposal, and Storage. Through clear and practical instructions, PAMA seeks to ensure consistent adoption of safer practices across the industry. Additionally, a downloadable poster containing all the best practices is made available by the company.
"As new applications emerge, the continued communication of proper health and safety practices is vital to the 3d printing/additive manufacturing community," says Mickey Fortune, Associate Executive Director, RadTech.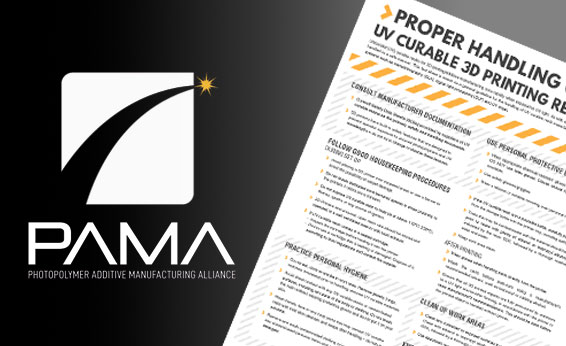 PAMA workshop to build unified vision for photopolymer AM
In its effort to enhance industry terminology, practices, protocols, and standards, PAMA is planning a workshop titled "Building a Unified Vision from Research to Regulations." This workshop comes after the successful NIST/RadTech event in 2019, which convened suppliers, users, academia, and government representatives.
Taking place in Boulder, Colorado, on September 18-19, 2023, the PAMA Workshop for photopolymer additive manufacturing offers stakeholders an opportunity to engage in candid, pre-competitive conversations. The workshop focuses on the current state of photopolymer AM through a series of panel discussions, exploring potential directions for future advancements in the field. Attendees will also collaborate on developing updated and comprehensive roadmaps during the event.
Ensuring a safe haven for 3D printing users
The Chemical Insights Research Institute (CIRI), a non-profit arm of Underwriters Laboratories, found that even small quantities of emissions from 3D printing could be harmful to human health. Researchers discovered that fumes produced during ABS or PLA filament printing could lead to airway cellular injury and inflammation. They suggested discussing safety guidance, such as operating 3D printers from a safe distance and using ventilation and filtration strategies. The study aimed to identify materials and conditions posing the most risk and assessed the consequences of exposure. Results indicated higher toxicity from ABS emissions compared to PLA, highlighting the importance of educating users about potential dangers through 3D printing safety guidance.
The National Institute for Occupational Safety and Health (NIOSH) published two posters that focused on 3D printing material safety in both workplace and home environments. The first poster provided comprehensive guidelines for ensuring safe Fused Deposition Modeling (FDM) operation with filaments, while the second poster was dedicated to the proper handling of metal powder. These posters represented the culmination of nearly five years of NIOSH's direct field observations and laboratory research on the harmful effects of 3D printing emissions. Additionally, NIOSH conducted extra research in alliance with the Environmental Protection Agency (EPA) and the Consumer Products Safety Commission (CPSC) to investigate the potential effects of exposure to these emissions.
By conducting a 3D printing emission study, researchers at the US Environmental Protection Agency (EPA) explored the impact of employing carbon nanofiber-reinforced ABS in the 3D printing process. The study's primary objective was to equip users with new insights and a comprehensive understanding of potential issues arising from emissions during 3D printing.
What does the future of 3D printing for the next ten years hold?
What engineering challenges will need to be tackled in the additive manufacturing sector in the coming decade?
To stay up to date with the latest 3D printing news, don't forget to subscribe to the 3D Printing Industry newsletter or follow us on Twitter, or like our page on Facebook.
While you're here, why not subscribe to our Youtube channel? Featuring discussion, debriefs, video shorts, and webinar replays.
Are you looking for a job in the additive manufacturing industry? Visit 3D Printing Jobs for a selection of roles in the industry.
Featured image shows PAMA unveils updated safety guideline for 3D printing resins. Image via PAMA.