On April 9th Creality, a Shenzhen based global 3D printing pioneer, celebrated its 9th anniversary through a "Reflect and Renew" event, announcing a range of new products in the process. One such new offering was their flagship K1 Series, which includes the brand new FDM K1 and K1 Max 3D printers.
This new range of professional-grade CoreXY machines serve to further the company's goal of "evangelizing" 3D printing, making high speed, high quality printing more widely accessible to users of all levels.
"3D printing has long been favored by those with an engineering background who love coding, modeling, and tinkering. But for those who also want to turn their creativities into realities, operating a 3D printer still requires a steep learning curve – and this is what we aim to solve," commented Creality CEO Ao Danjun. "Leave the complexity to ourselves, and give the simplicity to users is our understanding of being user-centric."
Following a good market response to their 9th anniversary event, Creality is already looking to the future. Danjun stated that "Our development of high-speed intelligent 3D printers will by no means stop here, and we have already planned for a future where every home can enjoy the convenience of 3D printing technology."
Key features and benefits offered by Creality's new K1 and K1 Max
Print speed is key to both of these new K1 series machines. Indeed, both systems can reach impressive maximum print speeds of up to 600mm/s in just 0.03s, at a maximum acceleration of up to 20000mm/s². These impressive speeds are achievable thanks to an innovative motion system, which uses a lightweight printhead weighing just 190g to ensure fast movement. As a result, both the K1 and K1 Max can print a 3D Benchy model in just 13 minutes, 12 times faster than average.
High speed printing is also aided by the new generation of Creality OS. Incorporating a dual core 1.2GHz CPU, this new OS provides incredibly strong computing power for high speed printing. Additionally, when connected to the internet, the K1 Max can be controlled or monitored remotely via Creality Print or Creality Cloud (an optional extra for the K1). With a notification being sent automatically to the user's phone or PC once printing is finished or an issue is detected, this feature offers greater flexibility and versatility to users. The K1 Max also features a 1080p AI camera and AI LiDAR technology. The 1μm resolution LiDAR can map out the first layer on its own. It will pause printing and inform the user immediately if something goes wrong, and uses an AI camera to watch over spaghetti failure, foreign objects, and debris.
Furthermore, both the K1 and K1 Max models also employ G-sensor technology, which solve resonance issues and eliminate ringing or ghosting patterns on the surface of models which are often associated with high-speed printing. Slicing software is also essential when it comes to ultra-fast 3D printing, with the K1 Series utilizing Creality Print 4.3. This new generation of self-developed slicing software optimizes nozzle movement and adds extra algorithms to enable high speed and efficient printing.
A new hot end and extruder is also incorporated into the K1 series. This new system includes a ceramic heater which encircles the entire hot end, heating to 200℃ in just 40 seconds and melting filament instantly. This allows the molten filament to keep pace with the machines fast printing speeds, achieving a flow rate of 32 ㎣/s. The K1 Max also incorporates a new air filtration system, with a large fan loaded on the printhead to cool the model directly. Additionally, an 18W auxiliary fan within the build chamber further enhances the cooling effect. This cooling hardens printed models before stringing or warping can occur, allowing for support-free bridges and overhangs.
Dual hands-free auto leveling technology is also offered by the K1 Max, making the print bed leveling process a much more efficient and user friendly experience. One method offered by the K1 Max is through an array of strain sensors. Additionally, K1 Max users can also use Creality's 1µm AI LiDAR technology for print bed leveling. This new non-contact measurement method rapidly scans the build surface with lasers to form a virtual surface of millions of points, enabling sophisticated and accurate automatic leveling. Both methods guarantee good leveling and, when combined, it has never been easier to achieve perfect leveling and print a perfect first layer.
Whilst not included with the base K1 Model, K1 customers can purchase both the AI 1080p camera and AI LiDAR technology separately, further optimizing their printing experience.
Additional features offered by the new K1 Series include a flexible build plate for easy print removal, and a quick heating print bed which heats to 60℃ in 180s for the K1 and just 90s for the K1 Max. Both printers also offer easy printing straight out of the box, and continuous printing after power loss. The K1 Max also offers a substantial build volume of 300 x 300 x 300mm, with the standard K1 sporting a volume of 220 x 220 x 250mm.
The K1 range – price and availability
Having been announced in April, the K1 is available now and the K1 Max is set to go on sale soon, with pre-sale opportunities available for users who want to get their K1 printer as soon as possible. Additional bonuses for pre-order customers include 2 free 1kg PLA Filaments, and the option for four interest-free payments with credit cards.
Starting at just $599, the Creality K1 printer has been officially released, and is available to purchase now through official Creality store's and local overseas channel providers in North America, Europe, and Asia. Customers in the US, EU, Germany, UK, Australia, and Canada can purchase the K1 Speedy 3D printer through their dedicated online store links.
The K1 Max is set to be officially released to market later this month. However, customers who want to secure their K1 Max first can do so through a pre-sale opportunity beginning at the end of May. Creality customers can access this pre-sale through the dedicated store links.
Technical specifications and comparisons of the K1 and K1 Max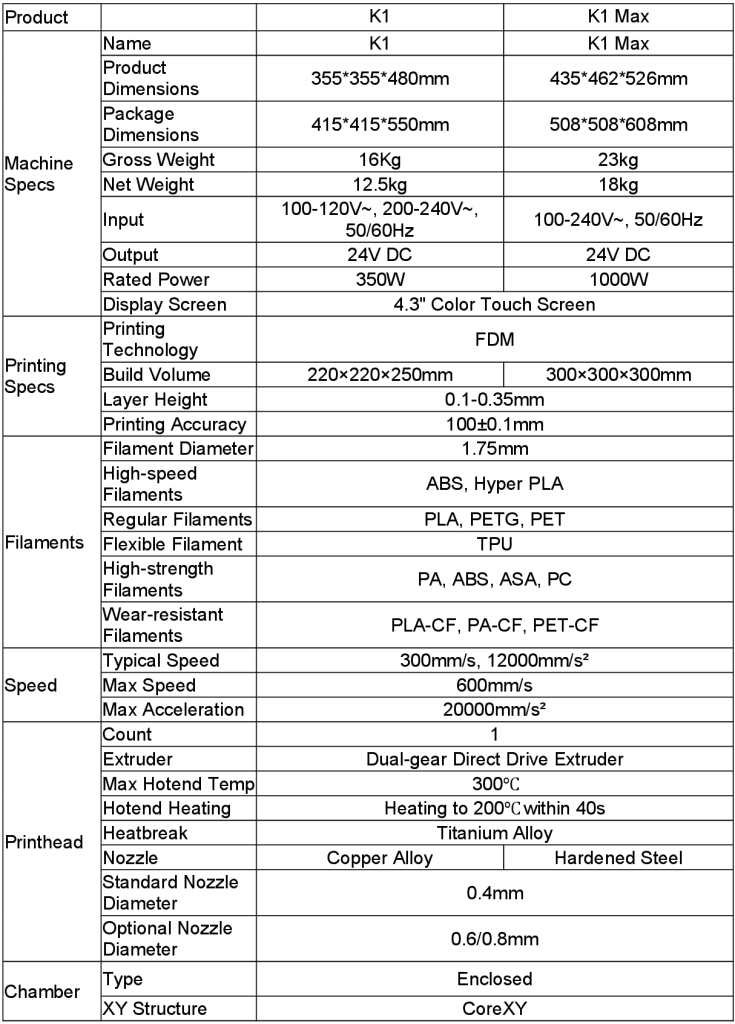 Subscribe to the 3D Printing Industry newsletter to ensure you keep up with the latest 3D printing news. You can also follow us on Twitter, like our Facebook page, and subscribe to the 3D Printing Industry Youtube channel to access more exclusive content.

Are you interested in working in the additive manufacturing industry? Visit 3D Printing Jobs to view a selection of available roles and kickstart your career.

Featured images shows the new Creality K1 Max with printed parts. Photo via Creality.