Two pieces of 3D printing news show how the additive manufacturing industry plans to increase adoption of the technology. Oerlikon and IABG are addressing certification, while SME has announced a platform for evaluating the feasibility using industrial 3D printing for manufacturing.
Oerlikon AM and IABG
Oerlikon AM, Swiss technology group Oerlikon's additive manufacturing Business Unit, has signed an agreement with IABG, a leading European technology and science service provider, to cooperate in accelerating equipment and process certification, as well as equipment testing for additive manufacturing (AM) parts.
New qualification process for AM components
The new partnership aims to ensure that European manufacturers are able to provide customers with AM-qualified components through a certified process developed as part of the collaboration.
This partnership also aims for their AM qualification, inspection and testing methods to become new standards in 3D printing, fostering the the industrialization of additive manufacturing and leading to enhanced component reliability. Florian Mauerer, Head of Oerlikon AM, says:
"Oerlikon AM is taking a collaborative approach to integrating the whole AM value chain. Partnering with IABG will allow us to accelerate certification of parts and original equipment manufacturers to introduce more AM components into the market. Leveraging our materials, manufacturing and R&D competencies in AM, customers can benefit from the advantages that AM brings, without having to invest heavily in AM equipment, training, people and infrastructure."
Oerlikon's broader goal is the adoption of AM as a manufacturing process for aerospace, power generation, automotive, and other leading industries. The new partnership was announced just two months after Oerlikon signed a five-year collaboration agreement with leading aircraft manufacturer Boeing.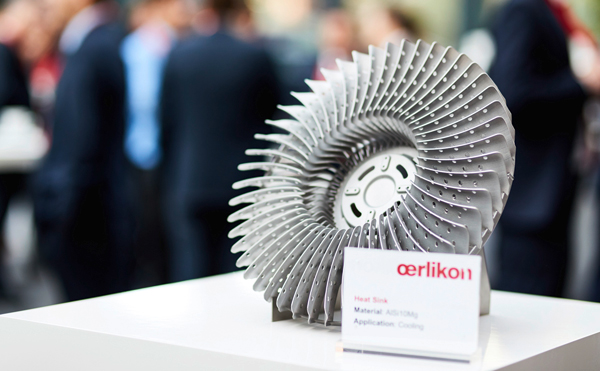 Dr. Oliver Kosing, Head of IABG's Tests & Analyses department, adds:
"Additive manufacturing is gaining more and more importance for our customers. The partnership with Oerlikon, a global company with a clear and sustainable AM strategy, allows IABG to offer even more integrated solutions along the entire AM value chain."
SME launches AM evaluation platform
SME has given an update on a project announced last year. In May 2017,  Michigan-based SME announced they were collaborating with 3D printing industry experts to create the Independent Technical Evaluation of Additive Manufacturing Consortium (ITEAM) evaluation platform.
Conceived as a virtual database of 3D printers and materials, the purpose of ITEAM is to help manufacturers determine whether 3D printing is right for their project.
ITEAM is now available as an online platform, although in beta-testing mode. Florida Institute of Technology's Michael Grieves, PhD, is also working with SME.
ITEAM offers evaluation tools and a repository of machine and material capabilities to help users make informed decisions in additive manufacturing. The tool is intended to assist in the decision of whether a component should and can be 3D printed.
The launch was announced prior to the opening keynote at the RAPID + TCT 2018.
ITEAM's function is to compare and determine the best machine, material and process for any particular application. It utilizes the new SAM-CT methodology (Size, Accuracy and Materials + economic evaluation of Cost and Throughput). SAM-CT allows companies can upload their part file to a secure platform and assess whether something 3D printing can be applied to a specific project, and whether it is the best method for the project.
This virtual methodology enables manufacturers to avoid risking time and resources on trial and error in the manufacturing process. Dr Grieves, executive director at the Center for Advanced Manufacturing and Innovative Design at the Florida Institute of Technology, says:
"To truly take advantage of the benefits and opportunities created by additive manufacturing, companies need the ability to quickly and easily judge the suitability of the process for making their products. The beta launch of the ITEAM platform now provides users with an accurate and reliable tool to make the best technical and economic decisions about production."
Debbie Holton, Vice President of Industry Strategy and Events at SME, adds: "Manufacturers are continuously looking for new ways to reduce waste, improve productivity, produce better parts, and cut their time to market while cutting costs and eliminating expensive tooling. Additive manufacturing not only enables manufacturers to reach these goals, it allows products and geometries not possible with traditional manufacturing processes."
These recent partnerships indicate an industry focus on assessing and optimizing production process, but also a drive to harness wide-ranging technologies as they become available, exploring new horizons for 3D printing.
From April 25 to 29, IABG is exhibiting at the ILA Air Show Berlin. IABG will host ILA visitors at stand 402 in hall 2.
For more of the latest 3D printing news – subscribe to the 3D Printing Industry newsletter, follow us on Twitter, and like us on Facebook. Follow the Awards with the hashtag #3DPIAwards.
The 3D Printing Industry Jobs is live. Post a job or discover your next career move now.
Featured image shows Oerlikon 3D printed titanium parts for Boeing. Image via Oerlikon.