If you're on the lookout for a job in the 3D printing industry, or seeking to hire an additive manufacturing expert, our 3D printing job board has a host of new positions available. There are currently listings in consultancy, customer service, marketing, research and more. 
In this update, we have vacancies from BigRep, Fusion3 and Dyndrite, as well as a managerial role at the University of Exeter. To apply for the jobs listed below and elsewhere on our website, create a free profile now. Improve your chances in landing a role by reading our guide on how to get a job in 3D printing as well. 
In addition, we provide updates on the latest personnel movements from across the industry, indicative of new potential opportunities and activities throughout the field.
Businesses seeking experts in 3D printing can also create a free account to post an additive manufacturing vacancy. Our talent pool is filled with qualified engineers, software developers, materials scientists and other experts.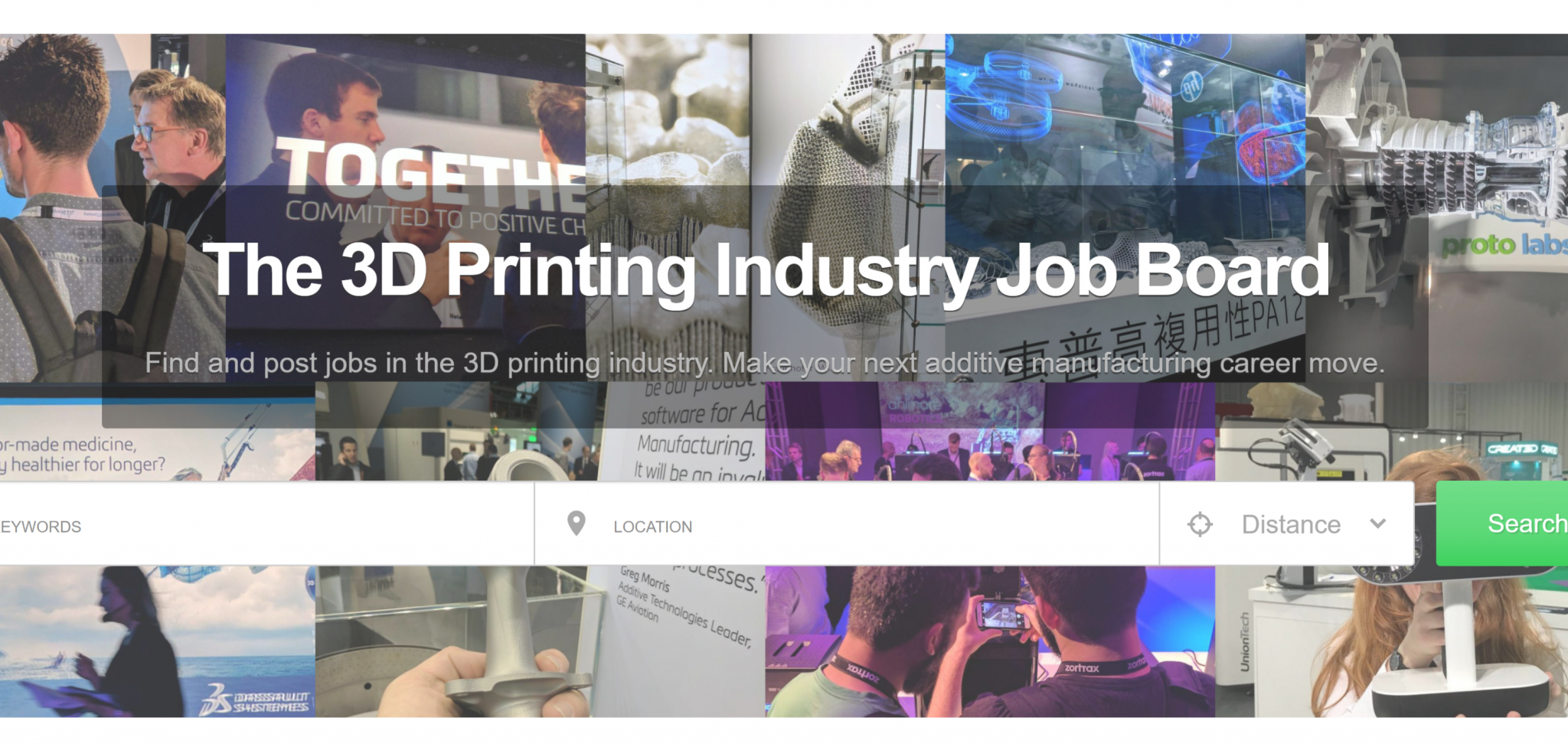 3D Print Specialist / Application Consultant, BigRep, Berlin, Germany
Leading large format 3D printer manufacturer BigRep is seeking a 3D Print Specialist/Application Consultant for its headquarters in Berlin, Germany. The company launched its STUDIO G2 system this year, and recently revealed it was ramping up for volume production to satisfy demand.
Responsible for  supporting BigRep's international sales & service team, the successful applicant will be required to provide application specific consulting for customers and resellers. The 3D Print Specialist will also be tasked with training customers and resellers and creating sample prints.
Daily responsibilities include evaluating CAD files, producing benchmark 3D prints, analyzing print results, providing print quality support for customers, and potentially visiting tradeshows and customers on-site. 
BigRep specify that applicants are required to have some form of qualification, be it A-levels, a professional qualification, vocational training or similar. Previous work experience with 3D printers, particularly in an industrial environment, is preferred, as well as basic CAD experience (Solidworks, Rhino, Fusion360 or similar). To apply for the role of 3D Print Specialist / Application Consultant at BigRep, click here. 
Customer Care Team Lead, Fusion3 3D Printers, Greensboro, North Carolina
Fusion3, a 3D printer manufacturer based in Greensboro, North Carolina, is on the hunt for a Customer Care Team Lead to ensure Fusion3's technical support team satisfies its customers by quickly and comprehensively resolving their issues. Described as a "player/coach" role, the successful applicant will also be a member of the technical support team coverage and interact daily with customers on regular support issues.
As the Customer Care Team Lead, responsibilities include managing and staffing the support desk, which involves organizing the team schedule, ensuring effective response to daily ticket flow, and making sure service level agreements are met. The candidate will also be responsible for coaching and mentoring employees to improve individual performance, developing training resources for customers, and establishing metrics for team and individual performance. 
It is required that candidates have at least 3 to 5 years experience managing customer support teams for a manufacturer or hardware product. Professional communication skills are a must, as well as proficiency working with Windows PCs, MS Office including MS Project, hosted software (Gmail, Google Sheets, DropBox, etc). Those with an Associates or Bachelor's Degree will also gain an advantage. If you think you're the right person for the Customer Care Team Lead role at Fusion3 3D Printers, click here to find out more and apply. 
Research Manager, University of Exeter, Exeter, UK
The University of Exeter in the UK has a position open for a Research Manager in Materials and Manufacturing to help provide project management for various ongoing projects at the university. Specifically, this role will help support the Exeter Technologies Group (ETG), a research outfit with three centres at Exeter focused on material characterisation, additive manufacturing and recycling and sustainability.
The main duties of the Research Manager will be to manage multiple existing research projects surrounding polymers and composites, as well as developing new research opportunities and collaborations to generate further income. Carrying out this responsibility will involve daily tasks such as identifying sources of funding, securing industrial contracts, providing technical and administrative support, developing research objectives and more. Further accountabilities include acting as a research team leader, contributing to teaching programmes and supervising postgraduate research students. 
The University of Exeter specify that it is essential for the candidate to have a master's degree, or equivalent, in Material Science, Engineering or Manufacturing. It is required to have excellent project management skills, with prior experience of managing research projects and research teams, and the ability to balance research, administrative demands and deadlines. A PhD in material science or manufacturing is a bonus, as well as project management qualifications and experience teaching and supervising university students. 
Apply for the University of Exter's Research Manager position now, and also find out more about the role here. 
Additive Manufacturing Content Marketing Manager, Dyndrite Corporation, Seattle, Washington
Dyndrite is a Washington-based developer of CAD-to-print software for medical and service bureaus, and aerospace, rocket, and automotive companies. The company is seeking an Additive Manufacturing Content Marketing Manager to join its marketing team in Seattle. Dyndrite describe the ideal candidate as someone who is a sharp and creative person with previous experience creating targeted video, graphic, and written content, managing social engagement, as well as measuring ROI. 
The role will include planning, creating and publishing engaging content within a team, like videos, white-papers, site content, tutorials, FAQs, etc. on a regular basis. This content should also be optimized according to defined SEO strategies, and distributed online so as to drive web traffic for Dyndrite. The Additive Manufacturing Content Marketing Manager will also be responsible for developing an editorial calendar that aligns with the company's short-term and long-term marketing targets. Further tasks include editing and proofreading public company documents, and analyzing traffic and user engagement metrics.
A minimum requirement for the role is a Bachelor's Degree or equivalent work experience in marketing, as well as strong design and writing skills and knowledge of the 3D printing industry. It is also necessary to have 3 years or more experience in content development, with further experience in SEO, and a US citizenship. Dyndrite explain that it would be preferable for the candidate to have video storyboarding experience, social media influencer marketing knowledge, and HTML experience. Technical writing skills and graphic design skills are also a plus. Check out the full advertisement for Additive Manufacturing Content Marketing Manager at Dyndrite, where you can apply today. 
New appointments in the 3D printing industry
Nexa3D, a California-based SLA 3D printer manufacturer now headed by Avi Reichental, recently announced a new addition to its board of directors in Frank S. Sklarsky. Sklarsky has previously operated as CFO at coatings company PPG Industries and security systems firm Tyco International. Nexa3D made the appointment of Sklarsky to help its worldwide expansion plans.
"We are thrilled and honored to welcome Frank to our board of directors," stated Nexa3D Chairman & CEO Avi Reichental. "Frank has been providing sound leadership and guidance on strategic, business and financial matters to several world class tech companies for decades and we are fortunate to attract a director of his caliber to our company."
Massachusetts based additive manufacturing material manufacturer Amastan Technologies has made two new seasoned appointments in its leadership team. Bruce Bradshaw, who has over 12 years experience in the additive manufacturing industry, has been made CMO and will be responsible for the marketing strategy and communications for the company. Previously, Bradshaw was co-founder of Evolve Additive Solutions, a spin out of Stratasys, and CMO at Arcam, a GE Additive company.
Additionally, Dr. Badwe joins as Chief Metallurgist and will help drive development, research and process for the commercialization of systems, powder and materials at Amastan. His experience includes metal casting, powder metallurgy processing, and alloy development for additive manufacturing.
The National Center for Defense Manufacturing and Machining (NCDMM) made several changes to its executive leadership staff during early October. Gary Fleegle, previously VP and COO, has been promoted to Executive VP and COO. Randy Gilmore, who was VP and CTO, has now been made VP and Chief Development Officer. In his place, NCDMM has hired George Barnych as the next VP and CTO. Joe Veranese, Business Systems manager, has been promoted by NCDMM to Director of Corporate Services. And finally, Brandon Ribic, Ph.D has joined the NCDMM team as the Technology Director at national AM accelerator America Makes.
Keselowski Advanced Manufacturing (KAM), a hybrid manufacturing start-up based in North Carolina, has announced the addition of Dr. Robin Tuluie as Chief Scientist. At KAM, Tuluie will be responsible for determining CAD simulation strategies and capabilities. Previously, Tuluie has worked in the simulation and motorsports industries.  "Engineering is the tip of the spear at KAM and having Robin on board to drive advanced simulation further expands the solutions and resources we can bring to our customers," commented KAM founder and CEO, Brad Keselowski.
Subscribe to the 3D Printing Industry newsletter for the latest news in additive manufacturing. You can also stay connected by following us on Twitter and liking us on Facebook.
Looking for a career in additive manufacturing? Visit 3D Printing Jobs for a selection of roles in the industry.
Featured image shows the 3D Printing Industry Jobs Board.