Californian off-world manufacturer Made In Space (MIS) has partnered with Braskem, a Brazilian petrochemical company, to develop a plastic recycling facility for 3D printed parts to send to the International Space Station (ISS). The facility, named Braskem Recycler, will be launched to the ISS aboard Northrop Grumman's upcoming 12th commercial resupply mission (NG-12) no later than November 2 2019. 
The Recycler aims to improve the sustainability of the station's manufacturing capabilities. It is designed to convert plastic waste and 3D printed objects into feedstock for the additive manufacturing systems currently onboard the ISS. Potentially, this can help create a near-closed loop manufacturing system, and therefore reduce the reliance on feedstock resupply missions from Earth for space exploration.
"Local manufacturing resources are a crucial capability for space exploration," commented MIS Chief Engineer Michael Snyder. 
"Demonstrating and validating recycling capabilities on the ISS is an important step towards developing sustainable manufacturing systems that will enable us to venture deeper into the solar system."
Pioneering 3D printing in space
MIS aims to deliver next-generation manufacturing in orbit to support exploration objectives and national security priorities. It is focused on industrializing the space environment by developing manufacturing facilities and materials for use beyond Earth.
A large focus of its technology portfolio space has revolved around additive manufacturing, with MIS being the first company to place a 3D printer on the ISS. Known as the Additive Manufacturing Facility (AMF), MIS' 3D printer has now produced over 200 tools, assets, and parts in orbit.
Since launching the AMF in 2016, MIS has gone on to other, varied and larger-scale fabrication projects including the satellite-building Archinaut system, capable of 3D printing in low-gravity conditions for off-world manufacturing. MIS was awarded with a $73.7 million contract from NASA in July 2019 to demonstrate 3D printing in a Low Earth Orbit (LEO) using the Archinaut One. 
In 2018, NASA also awarded a Small Business Innovation Research (SBIR) contract to MIS for the development of its Vulcan Hybrid Manufacturing System, capable of working more than 30 different materials covering both polymers and metals. Essentially an upgrade of the AMF, the Vulcan will have subtractive manufacturing toolheads in addition to 3D printing capabilities.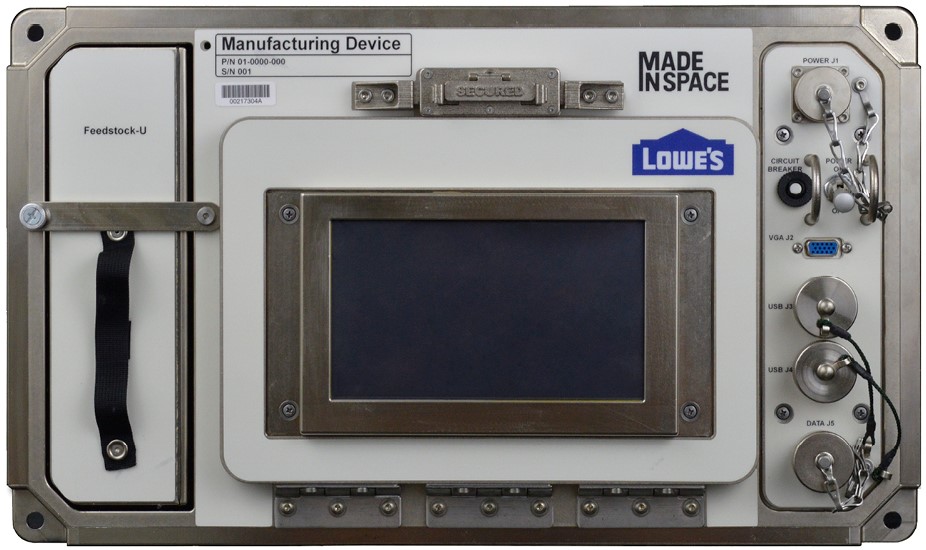 Recycling in space for circular additive manufacturing
Once MIS and Braskem's Recycler reaches the ISS, it will be capable of producing recycled feedstock compatible with the AMF. Plastic waste and materials can be loaded into the facility and subsequently reduced into smaller pieces. These parts are then heated, extruded, and spooled to create the required feedstock. The process is mostly automated, with the only manual stage involving material loading. The facility will demonstrate its recycling capabilities with a specific polyethylene, developed by Braskem, called "I'm green" Biobased PE. 
"On Earth, we are committed to a joint effort, involving our customers, value chain partners and society at large, to find more sustainable solutions through the use of plastic," added Braskem CEO, Fernando Musa. "In space, by supporting Made In Space, we have the opportunity to contribute to reducing mission costs and optimizing the transported weight."
As the Recycler can potentially reduce the need for resupply missions, this can create important benefits for future long-duration space exploration by improving reusability and sustainability of manufacturing processes in space. NASA also recently installed an integrated 3D printer and plastic recycler known as the Refabricator aboard the ISS, developed by US-based aerospace company Tethers Unlimited Inc. (TUI). The provision of spare parts to maintain the ISS is a significant part of NASA's in-space manufacturing (ISM) roadmap. It has already explored the potential of 3D printing in space to minimize the cost of spare parts and enable in-situ resource production in the future. 
Subscribe to the 3D Printing Industry newsletter for the latest news in additive manufacturing. You can also stay connected by following us on Twitter and liking us on Facebook.
Looking for a career in additive manufacturing? Visit 3D Printing Jobs for a selection of roles in the industry. 
Featured image shows the Braskem Recycler. Photo via Made In Space.