The scale of formnext this year truly is astounding. Now halfway through the show, there have already been key announcements from GE Additive, EOS, TRUMPF, Stratasys and Identify3D. Still to come, companies including Admatec, O.R. Laser, and Authentise have arranged announcements for the penultimate day of the expo.
Outside of scheduled press conferences, there are also many announcements on the fringe of the show, and inspiring tech demos indicative of news still to come.
Small is the new big thing
Digital Metal recently entered commercial production of its industrial DM P2500 metal 3D printer. With binder jetting technology, Digital Metal's technology is capable of creating intricate details equivalent to the point of a ballpoint pen (and smaller). This skill is showcased at formnext by a number of geometrically complex miniatures, including a micro chess set, and a group of employees faithfully recreated in stainless steel.
The company is also giving visitors a chance to be metal 3D printed as a bust themselves. An opportunity I wasn't going to miss out on.
Speaking on the success of this year's exhibit, Alexander Sakratidis, Sales Manager at Digital Metal, comments, "If you are in the 3D business or looking to get in, Formnext is the place to be. We are very pleased to see that so many companies are interested in our high precision binder jetting."
2D in a 3D world
In a somewhat controversial turn, 3D Hubs has adopted 2D printing for the additive world and released The 3D Printing Handbook to give users an idea of how the technology applies to them. George Fisher-Wilson, Communications Manager at 3D Hubs, comments, "It's been great to see the reception the books received. The one thing we've heard over and over again is "This is exactly what we need" from designers and engineers alike."
The additive manufacturing family 
The "Family of the Future" project from German non-profit organizaition Flam3D had it's official launch at the Formnext 2017, showcasing the ability of all partners involved on a set of mannequins, including Materialise, Ricoh and Renishaw.
Kris Binon, General Manager at Flam3D, explains, "Industry 4.0 will be about value chains and meaningful innovations; with Flam3D we're building those value chains through different projects.
"Family of the Future is one of those projects in which we try to bring the AM technology to new companies in the ecosystem. Inspire and inform, that's what we aim at!"
3D Printing Industry Awards winners
We have also been presenting trophies to winners of this year's 3D Printing Industry Awards. Jonah Myerberg, CTO of 3D printing start-up of the year award winner Desktop Metal, comments, "Formnext is one of the most important shows in additive manufacturing."
"It features a very knowledgeable audience with minds at the cutting edge thinking not just what's going on today, but what's next and that's what Desktop Metal is about."
"The feedback at our booth has exceeded expectations, and with our recently announced international expansion, we look forward to bringing our technology to new markets."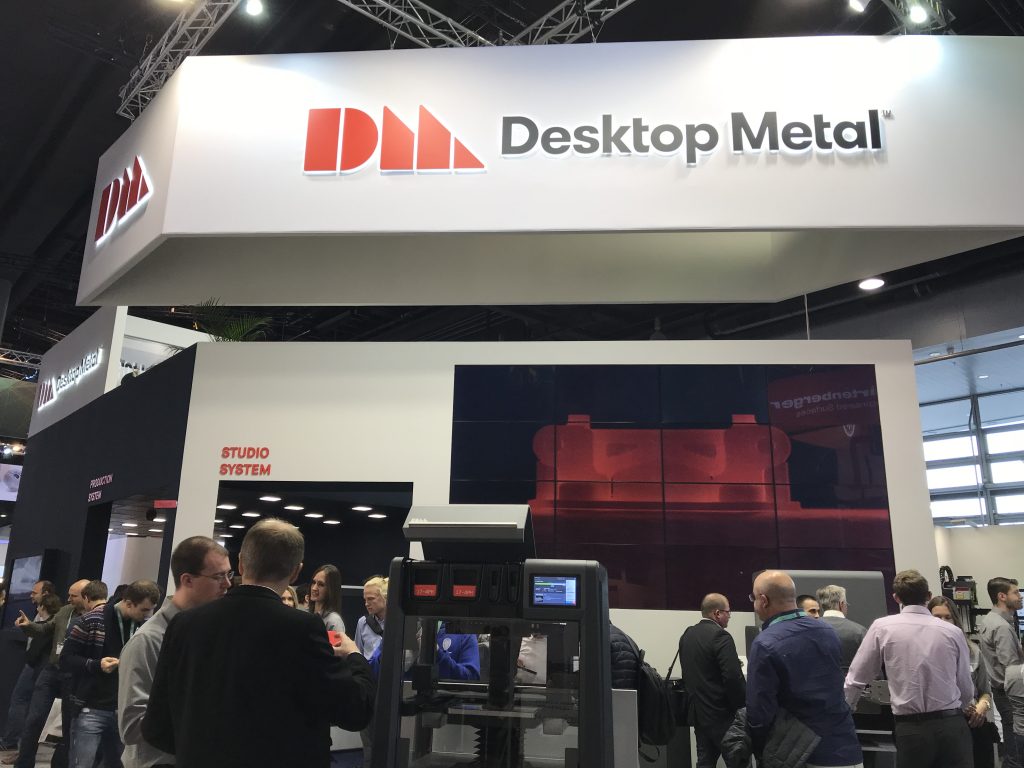 Markforged, winner of the Enterprise 3D printer of the year (FFF) category also has a much bigger booth this year, evidencing its significant growth over the last 12 months.
To be the first to hear about how to get involved in next year's 3D Printing Industry Awards, subscribe to our newsletter, follow us on Twitter and like us on Facebook. Check out upcoming 3D printing events near you here.
Featured image inside floor 3.1 of formnext 2017. Photo by Beau Jackson of 3D Printing Industry