The Mini Metal Maker does add a new capacity for the home maker, DIY inventor, artist  or individual liking the idea of being able to download free objects to have materialised in metal before their eyes. The development of this Mini Metal Maker now conceivably means that 3D printing metal gears, miniature mechanisms, home 3D printed jewellery, metal ornaments and many, many other things is open to anyone, anywhere, anytime.
The Mini Metal Maker has been designed specifically to print metal anywhere, including in at home… a statement almost as significant as the invention of the wheel, in my opinion. On the back of the first circuit 3D printer that 3DPI reported on last week, the real impact of these developments is yet to be realized, but one outcome is achieving the holy grail of 3D printers that will be able to fully print another 3D printer. Developments really are moving apace across the 3D printing industry: already there are 3D printers that can print 100,000's of items such as those which can be found by 3D search engines in a range of significany materials that include: wood, cement, clay, PLA (biogradable plastic), seaweed, and nylon that sticks without a heated print bed. And with Autodesk's new Shapeshifter software application, and others like it, we are heading towards a world in which anyone really can design a whole range of objects for the home: from vases to lampshades to pencil holders to jewellery to, you get the idea…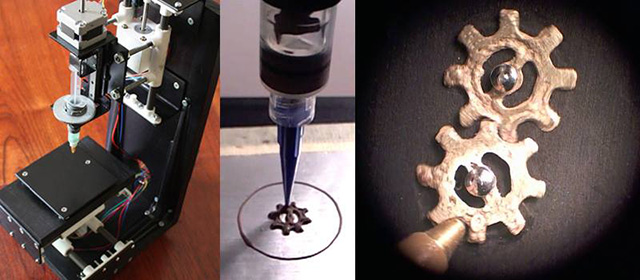 There's the exciting part. But, let's slow down a little. The Mini Metal Maker is still a work in progress, seemingly viable and seeking crowdfunding on Indiegogo. However, it makes no claims to be able to print perfect house sized parts for warp-speed star-ships or anything of the sort.
This home metal printer takes a different approach from The Vader home metal 3D printer or the deliberations of the RepRap project on this subject, which can, among other places be found here and here.
The Mini Metal Maker prints in metal clay, including precious metal clay. Metal clay is a crafting medium consisting of very small particles of metal such as gold, bronze or copper mixed with an organic binder and water.
The pragmatic technical reality of this, for this particular 3D printer is not straightforward however as it requires a kiln. This is not a huge problem, but will mean that this 3D printer is not for everyone. Kiln considered (I didn't want to leave that until the end of the article building your hopes up only for some of you to feel let down) let's look at why this first of its kind home metal 3D printer is something to feel excited about — now and for near future equivalents that will push the tech further.
The Mini Metal Maker is built around the concept of using the minimum number of parts, reducing the cost to produce and also eliminating many chances for error during assembly.
A prototype Mini Metal Maker has been created and demonstrated in the development team's shop. It runs on the open source software used by the RepRap community, and is driven by high-precision stepper motors. The team's goal is to create a product that is ready for market in three different forms:
A downloadable product, including 3D build files and DIY instructions.
Kits containing the hardware, software, and assembly instructions.
Fully Finished and calibrated machines with software installed.
Specifications
Input: Print directly from SD cards and via a standard USB port
Hardware: Arduino Duo running modified Sprinter-based firmware
Print bed: 2.3 x 2.3 x 2.3 inches (6 x 6 x 6 cm)
Printer Size: 16 x 7 x 12 inches (41 x 18 x 30 cm)
Movement resolution: Up to 1600 steps/mm.
Health and safety: The team says that the device does it cause indoor air pollution. The machine operates at room temperature because it does not have to melt plastic. A small kiln is required to fire the objects – kilns require a well ventilated area.
Current operating system compatibility: Windows 8, Mac
The device prints with a commercially available jewelry product known as "precious metal clay." This material is a pre-mixed emulsion of metal particles in a water soluble organic binder. When heated in a kiln (600˚C-900˚C) the binder burns away as the metal particles fuse together.
The mini metal maker will work for most water soluble clay or ceramic type materials if the consistency of the material is properly mixed.
Funds raised by the campaign will go toward the following activities:
Refine the metal clay recipe for copper, bronze, steel,silver & gold:
Refine our high-pressure extruder design, which currently has a reliable extrusion trace at around 0.5mm, the team will reduce this to 200 microns.
Add a second print head for use with additional metal clays or support material.
Optimise the integrated motor carriage design so that it can be easily printed on low cost printers ..
Refine custom firmware for the printer to further optimize printing for clay.
Create a Mini Metal Forge software environment in order to foster a good user experience, particularly for the non-technical craftsperson.
Work with industrial partners to tool up for production of the machine with injection moulding.
Regardless of achieving crowdfunding success, the team will continue moving toward their goal: A Mini Metal Maker made for the masses. Regardless of funds raised, the tasks above will completed, albeit less efficiently. Want to print metal at home at high resolution, and soon? This could be one for you to back.
There is a danger. Guns. Now that Solid Concepts has broken the ethical boundaries by starting trends for 3D printed metal weapons, how long before law enforcement of all kinds will soon be falling over themselves to regulate and confiscate 3D metal printers across the world? How long before cyber security agencies will be tracking 3D downloads? But, with those who are willing to place violence and profit over morality such as Solid Concepts and Defense Distributed, who is to say that this is the only way to stop them?
More thoughts on this to come. In the mean time, let's reflect upon the positives, which massively out-weight the negatives:
A 3D printer that 3D prints almost anything, including another 3D printer means it is almost possible to exist at home without contact with the external economy outside of primary commodities in the form of filament – and your local electronics store.
Indeed, hook a solar panel and mini wind turbine up to your 3D printer (something I'll be experimenting with soon), upcycle solar capture devices that can be made from rubbish such as these, grow your own food at a local community level, set up a water filtration device and pretty soon it's possible to see how the developing world can leap forward towards a sustainable, more developed future.
What's more, why merely think of this as a phenomena for developing communities?
Localisation offers many benefits for the developed world ranging from diminishing the pollution caused by current transportation logistics to increasing economic growth via skills for employment to recapturing a level of democracy from every increasing centralised bureaucracy with increasingly all-encompassing powers whose interests ultimately reside in the hands of large corporations motivated by the greed of the 1%.
The world needs to change and 3D printing has the potential to make it happen.