Next week, a number of additive manufacturing specialists will be among the exhibitors at Farnborough Airshow in the UK, one of the most important dates in the aerospace and defense industry. For many, it will be particularly interesting to see what GKN brings to the show following its hostile takeover by Melrose Plc earlier this year.
The division's 3D printing capabilities in particular are expected to feature front and center at the show, demonstrating its ongoing commitment to "Investing in the future."
Additive manufacturing at GKN
Large-scale additive manufacturing is certainly a primary focus for GKN Aerospace. According to reports from the company, "Our AM technology is flying on 7 major aircraft and rotor-craft platforms," representing "the largest range of flying Additive Manufacturing (AM) parts and the broadest suite of AM technologies globally."
One such technology is the division's proprietary Laser Metal Deposition with wire (LMD-w) method, that recently earned the R&D support of Oak Ridge National Laboratory.
Flight-ready parts developed by GKN are positioned in the wing, tail, fuselage and engine modules, including it's recently approved optical ice detector, and a fan case mount ring which is to be shown at Farnborough.
Large-scale deposition and DfAM
Russ Dunn, Senior Vice President of engineering and technology at GKN Aerospace, recently revealed details of the company's Farnborough exhibit in an interview for Aviation International News.
"One area where I think we can clearly say we are the world leader is in large-scale deposition," said Dunn, "We've taken that all the way through to TRL [Technology Readiness Level] 6 and we are now at production standard."
Design for Additive Manufacturing (DfAM) is also a key area of development for the company, something other subsidiaries have been developing with software startup 3YOURMIND.
"We aim to understand how an aircraft structure is optimized to give the best properties with material where you need it, and we have a new program on that launching this year," adds Dunn.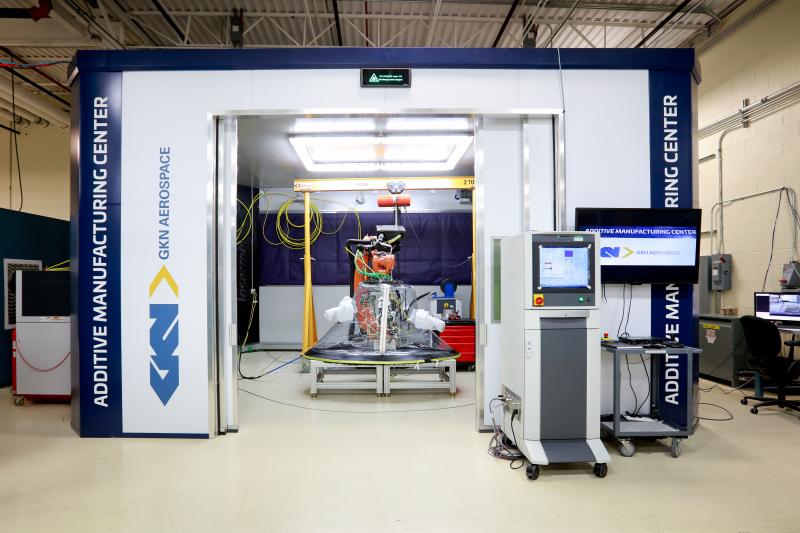 Other activity at GKN
Within the wider group, GKN also has a powder bed/freeform deposition MoU with GE Additive and, a metal powder development sector under GKN Hoeganaes.
In terms of investment activity, 3D printed remains a "primary focus" for the group as a whole. For the next five years at least, the GKN Aerospace division will be retained by Melrose, though there are plans in place to sell GKN's Powder Metallurgy Division that started the production of metal powders for additive manufacturing in June 2017.
The 3D Printing Industry team will be covering all the latest releases live at Farnborough Airshow next week. To be the first with the additive manufacturing news, subscribe to our daily newsletter, follows us on Twitter and like us of Facebook.
Engineers, designers and marketeers – sign up to 3D Printing Jobs to seek new opportunities within the industry. Or, post a job now, to hone in our specialist talent pool.
Featured image shows a the Lockheed Martin F-35 successfully landing in a crosswind test – installed with GKN Aerospace electrical
wiring interconnection systems. Photo by Tom Reynolds/Lockheed Martin