NERF guns have become the bane of any office employee without one. Even my mother has to duck and cover behind her desk every Friday afternoon as a NERF war surrounds her, pistols against mavericks against chain fed machine guns. At the end of the working week, squishy warfare is waged in offices across the globe, with each NERF enthusiast trying to outdo the other.
Then along comes a guy with a vision. Or to be more accurate, along comes a former NASA engineer with a vision.
Meet Mark Rober. He just had to have the best, so he built a massive NERF gun.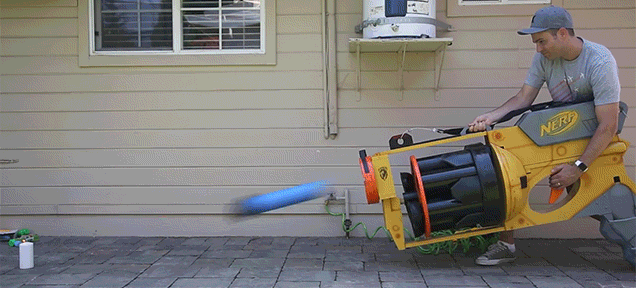 Along with Ryan and David from Youtube channel Eclectical Engineering, Mark built this gigantic version of a NERF Maverick, with the darts travelling at an astounding 40 MPH (64KPH). They also decided to 3D print a projectile for it that travelled an amazing 130 yards (118 meters) with the assistance of the 3000psi paintball tank "under the hood" of the Maverick. It was a bit more aerodynamic than the pool noodle/toilet plunger they had MacGyvered together, although it didn't stick to the surfaces it hit.
The guys then proceeded to use these projectiles to do experiments involving the comparison of black powder and a pneumatic air system, and the destruction of watermelons.
If you aren't feeling up to the challenge of building your very own giant NERF gun, you can still find some really cool mods and things to 3D print.