GE Renewable Energy CTO Danielle Merfeld has addressed world leaders at US President Joe Biden's Climate Summit to inform them of the partnership between GE, Danish 3D printing construction firm COBOD, and building materials specialist LafargeHolcim, that culminated in the successful 3D printing of the first 10-meter concrete wind turbine tower base last year.
President Biden brought together the leaders of 16 countries responsible for 80 percent of global carbon emissions and gross domestic product (GDP) for the summit, alongside a select number of civil society and business leaders, like Merfeld.
Merfeld shared the success of the wind turbine tower project with attendees of the summit, focusing on the environmental benefits achieved by deploying 3D printing for such applications, including lower carbon emissions and greater efficiency.
"We have always believed in the possibilities of our technology and 3D concrete printers in the wind turbine sector, and GE putting it on the table for the world leaders shows that we are not alone with this confidence," said Henrik Lund-Nielsen, Founder and General Manager of COBOD.
"We are extremely proud to be the inventors and manufacturers of the technology and printers, which made it possible to produce the first over 3D printed concrete wind turbine tower bases for GE in cooperation with LafargeHolcim."
World's first 3D printed turbine tower
GE, COBOD, and LafargeHolcim first saw success in their project to accelerate the commercialization of 3D printed wind turbines in 2019, when the trio printed a 10 meter tall tower pedestal as a preliminary prototype. Through the project, the firms sought to boost global renewable energy production while lowering the levelized cost of energy.
During the project, GE offered design, manufacturing, and commercialization expertise, while COBOD focused its efforts on optimizing the concrete 3D printing technology and LafargeHolcim took charge of formulating and processing the printable concrete. The turbine tower took three weeks to print in total, and the success of the trial led the partners to continue the project.
In June 2020, the trio 3D printed another wind turbine tower of the same height, but this time a significantly larger volume of concrete was 3D printed. Despite the increase in material volume, the tower was printed in just three days.
"We had predicted that the second time we would 3D print a wind turbine tower, our productivity would see a massive improvement, as we also saw this when we in 2019 3D printed a copy of Europe's first-ever 3D printed building," said Jakob Jorgensen, Head of Projects and Implementation at COBOD. "In 2019 when printing that BOD building a second time, we saw a 20 times improvement. Such multi-times faster printing we also expected this time, simply because so much is learned the first time, that can be improved the second time around.
"However, that we really could print the second tower in just three days for a 10-meter concrete structure was even a bit surprising to us, as we also increased the volume of printed material very significantly."
GE's decarbonization efforts
In addition to discussing the wind turbine tower project at the Climate Summit, Merfeld also told the leaders present about the other projects GE has underway to speed up decarbonization across the globe.
Sticking with the wind sector, earlier this year GE was awarded a $6.7 million project by the US Department of Energy (DoE) to further explore the design and manufacture of 3D printed wind turbine blades. Also involved in the project were LM Wind Power, Oak Ridge National Laboratory, and the National Renewable Energy Laboratory.
The project is tasked with initially producing a full-size 3D printed blade tip for structural testing, in addition to three blade tips to be installed on a wind turbine, in order to reduce manufacturing cost, increase supply chain flexibility for the components, and ultimately bolster the competitiveness of both onshore and offshore wind energy.
GE has also deployed its technology to garner crucial weight savings in the aerospace sector, which ultimately aids in lowering aircraft emissions during flight. In 2019, the company 3D printed foot-long carbon fiber turbine blades for its GE9X engines for use in Boeing's 777X twin-engine jet, which reduced overall engine weight and maximized power.
In February, GE's R&D wing GE Research was awarded $14.3 million by the Defense Advanced Research Projects Agency (DARPA) to create a 3D printed device that produces water out of thin air. While initially focused on providing potable water to troops in the field, the device could potentially be used on a much wider scale to address issues of water scarcity around the world.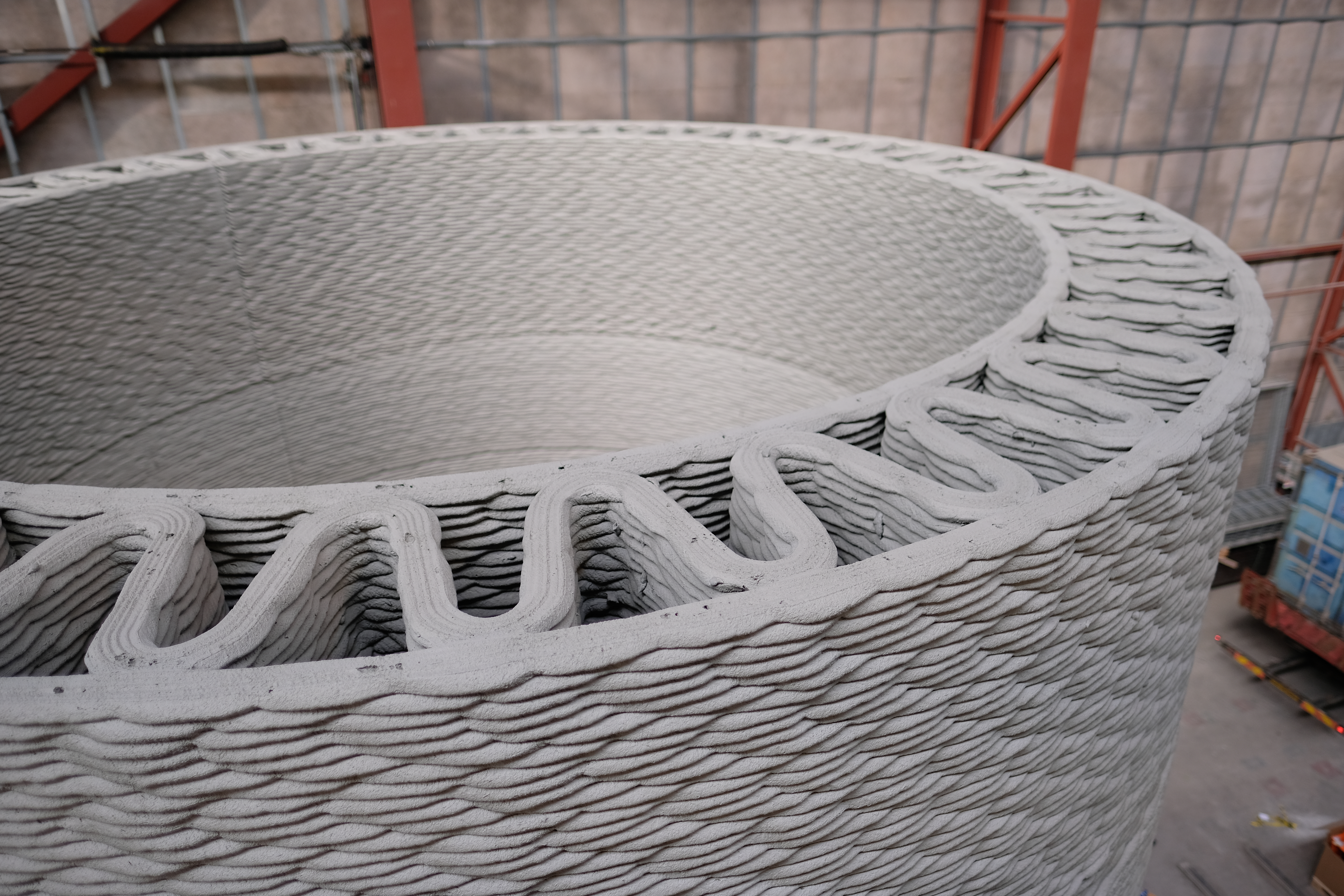 Subscribe to the 3D Printing Industry newsletter for the latest news in additive manufacturing. You can also stay connected by following us on Twitter and liking us on Facebook.
Looking for a career in additive manufacturing? Visit 3D Printing Jobs for a selection of roles in the industry.
Featured image shows President Joe Biden at the Climate Summit. Photo via Evan Vucci/Associated Press.