The GE Aviation plant in Auburn, Alabama, this week celebrated the successful shipping of it's 30,000th 3D printed fuel nozzle tip. Installed within GE's LEAP jet engine, the nozzle has been made at the facility since 2018 and marks a significant milestone for production-scale additive manufacturing.
Ricardo Acevedo, plant leader for GE Aviation Auburn, comments, "This milestone isn't just about reaching production of 30,000 fuel nozzle tips,"
"The team should also be proud for their role in helping prove additive technology works in mass production for our business and others who buy GE technology."
The GE LEAP engine
Development of the LEAP 3D printed fuel nozzle precede's the establishment of GE Additive and GE's acquisition of Concept Laser and Arcam.
The fuel nozzle, in fact, is qualified for manufacturing on an EOS M 250 DMLS 3D printer. It was initially produced for the company by advanced and additive manufacturing service provider Morris Technologies subsequently acquired by GE Aviation in  2012.
Following the nozzle's certification for flight in 2016, LEAP engine orders had racked up a total of over 14,000 at the 2017 Paris Airshow. Now that figure reportedly exceeds 16,300 orders and commitments.
40 metal 3D printers for production
GE Aviation Auburn currently operates more than 40 metal 3D printers for the purpose of part production. The facility covers 300,000-square-feet and employs 230 people, soon to be upped to 300 in 2019.
Each LEAP engine produced by GE contains 19 3D printed fuel nozzles. And so, Alabama's 30,000th 3D printed fuel nozzle takes the facility's fulfilled engine total to around 1,578.
Acevedo concludes, "We're leading the way of mass producing additive parts for the industry. We're continuously looking at ways of expanding the possibilities for the business."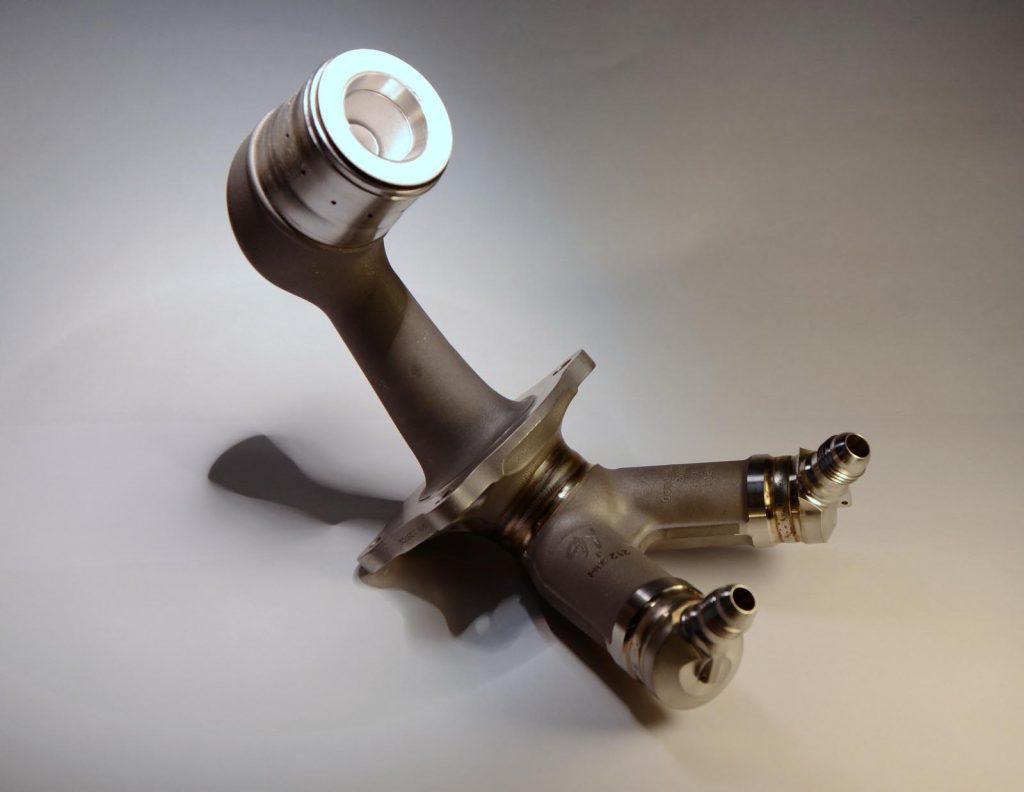 Outside the fuel nozzle
In addition to aviation, GE is applying additive manufacturing across all its business segments.
At GE Power the company's largest and most efficient gas turbine, nicknamed HArriet, broke its own net efficiency record with thanks to 3D printed components.
In medical, GE is applying Concept Laser DMLM to the development of innovative surgical devices like the endocon endoCupcut.
And, in most recent reports, the GE Transport arm is pursuant of a goal to introduce 250 3D printed component to locomotives by 2025.
For all of the latest additive manufacturing application updates subscribe to the 3D Printing Industry newsletter, follow us on Twitter, and like us on Facebook. Search and post additive manufacturing vacancies on 3D Printing Jobs. 
Featured image shows employees of GE Aviation Auburn celebrate the delivery of the 30,000th 3D printed fuel tip. Photo via GE Aviation