3D Printing Industry recently visited Shenzhen, China, for Formnext + PM South China, an emerging showcase for 3D printing innovations.
Formnext South China concluded its second edition this year with decent growth in participation. From its debut with approximately 200 companies in 2021, the 2023 edition boasted a lineup of 275 companies, a third of which are dedicated 3D printing enterprises. The event is co-located with a powder metallurgy and advanced ceramics expo, providing a degree of synergy with additive manufacturing.
In total, the organizers say 13,183 trade visitors attended. The numbers included several international and local influencers attending to visit local desktop 3D printer manufacturers such as Anycubic. Interestingly, 3D Printing Industry was the only international media organization in attendance. Read on for exclusive reports from the show.
Nominate now for the 3D Printing Industry Awards 2023.
Shenzhen's modern and clean highways are a testament to the city's rapid development. With blue plate glass skyscrapers juxtaposed with bamboo-scaffolded constructions paint a picture of a constantly evolving city. The pink bougainvillea flanking the highways thrives in the near tropical climate. Often called China's Silicon Valley, Tencent, DJI, BYD, and Huawei are all headquartered in the city. Tencent's messaging service, WeChat, is a useful tool to exchange contact information at the show. The city's electric vehicle (EV) revolution is evident, with automaker BYD's logo prominently displayed on cars and buses. These vehicles' interiors are minimalistic, focusing on electronic consoles and displays. BYD is currently the world's second-largest EV manufacturer and recently acquired Jabil's China manufacturing business for $2.2 billion.
The World Exhibition Centre, vast in its expanse, played host to Formnext South China. The exhibition area will eventually cover 500,000 m² across 19 halls and is served by two metro stations; the exhibition center covers 1.6 million square meters. For comparison, Messe Frankfurt, the venue for Formnext in November, has 10 expo halls containing 367,000 m² and covers an area of 595,000 m².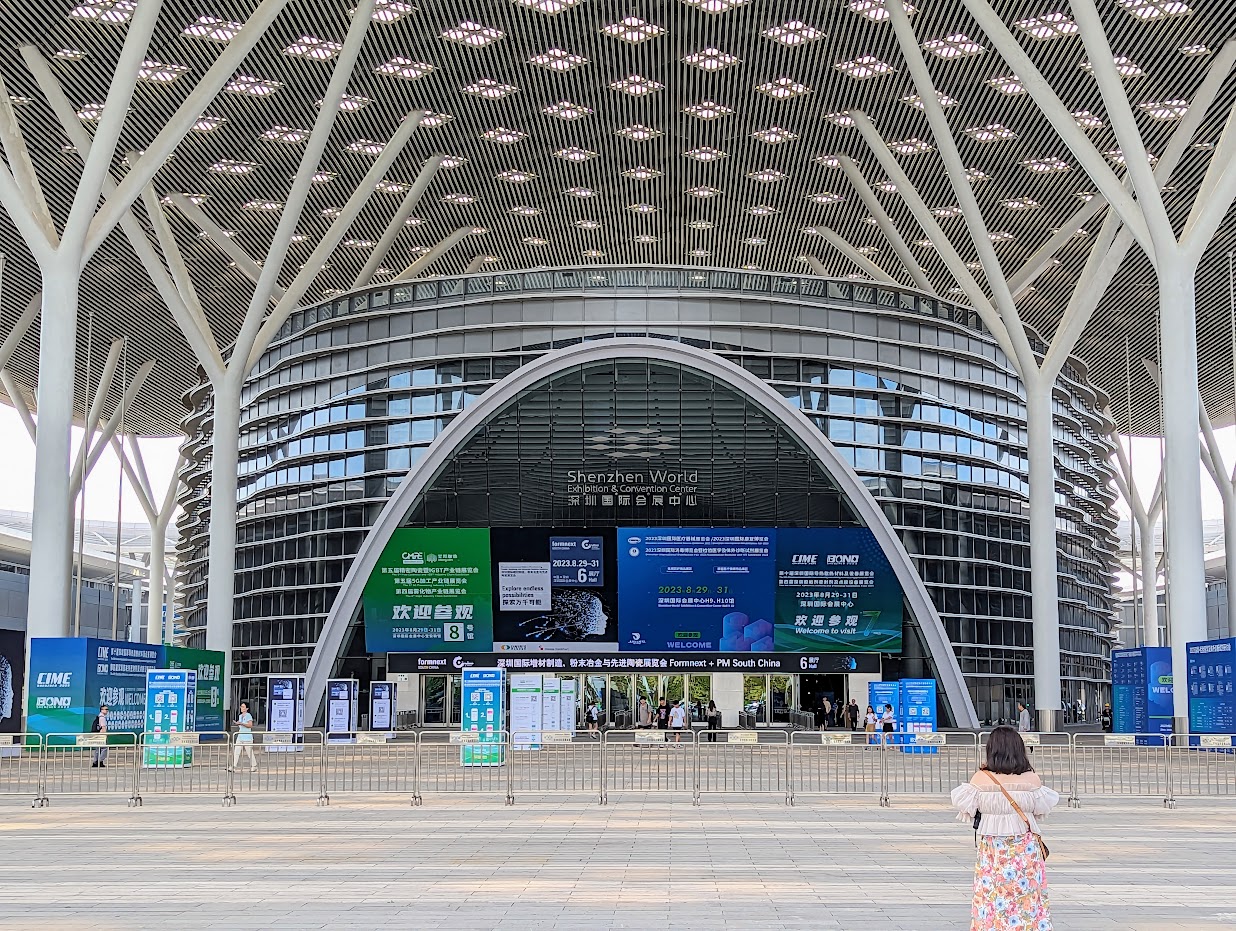 Highlights from the Formnext + PM South Show Floor
So what is on display in all that space? Much has been written about the expansion of Chinese firms in the desktop FDM and resin 3D printer markets. And while local companies such as Anycubic had a significant presence, the show was pitched much closer to the industrial sector. This is perhaps to be expected, given that some 90% of desktop 3D printer customers are international, according to James Ouyang, VP at Anycubic. Bambu Lab, one of the rising stars in desktop FDM, did not have its own space but instead had a 3D printer at the booth of materials supplier Kexcelled. Kexcelled was also the host of a 3D fashion event with Stratasys.
Shanghai Royal Electronics was exhibiting its brand, BJ-Tech 3D Solutions. Transitioning from its roots in 2D large format printing, the company now specializes in metal binding jetting, producing parts in stainless steel 316.
I also spoke with INTAMSYS from Shanghai, who told me about some impressive sales figures, having sold over 1,000 units of their Funmat Pro 310. The tech education sector in China, bolstered by government support, has been a significant market for them. The company focuses on FDM systems for users requiring a broader materials palette.
Another Shanghai-based company is AMESOS Advance Manufacturing, with its Blade series of high-speed 3D printers. The company is making waves with its innovative approach to 3D printing, with claims to offer a 60 percent reduction in printing times. Co-founded by Tommy Huang in 2019, the company aims to revolutionize traditional FDM printing, which they deem slow and inefficient. Their Blade X system, a high-speed machine, can be customized per user requirements, emphasizing its adaptability for end-use applications. Using direct drive technology from the semiconductor manufacturing industry, the co-founder says the Blade 1 pro runs at 2 cubic inches per hour (33 cm-cubed per hour), with the latest version 3D printing at 4 cubic inches per hour (66 cm-cubed per hour).
The 3D printer can run at 500 mm/s, but this speed alone should not be the key focus, as during operation, approximately 80% of the time, the printhead will not be moving at that pace. The acceleration rate is, therefore, more important, as the print head is quite heavy, and moving the head at a fast speed creates inertia that can create instability if not properly controlled. AMESOS says the motion control systems, plus the sturdy 1000 kg frame, are designed to tackle this. The company has also received investment from Akribis. Akribis Systems is a global designer and manufacturer of direct drive motors and positioning systems. Notably, Mitsubishi is also an investor in Akribis.
TSC Group showcased its LiM (Laser is Making) brand, focusing on the aerospace and automotive sectors. Their LiM X400M, designed primarily for molding, has already found distribution channels in Germany. A representative tells me that they have produced metal parts for aero engine assembly – used in engines where combustion takes place at 700 to 1000 C. Parts are in service with both commercial and military applications.
HRG, under the brand name ACME 3D, presented its top-down laser SLA technology. With three operational locations in China, they cater to diverse sectors, from beauty manufacturers in Poland to car designers in Korea. The company also makes LCD-based 3D printers – primarily for model making and supplying their own resins. They have 3 locations in China. Sales are based in Shenzhen, a factory in Shanghai for machines, and Huhnan province to produce resins. The company has a total of 170 employees.
Metal AM company Farsoon highlighted their innovative heat exchangers for the oil and gas sector and tooling for the injection molding sector. Using metal AM to make tools with inner channel cooling for injection molding has increased productivity by 20%. A notable revelation was that 80% of vape pens/e-cigarettes in China are now produced using 3D printed molds, underscoring the technology's growing industrial relevance.
A heat exchanger on display was 3D printed in aluminum alloy. The oil must be rapidly heated and cooled during the crude oil refining process. The in-line heat exchanger is optimized for additive manufacturing and is a more efficient and lower-cost option. A thrust chamber for a rocket engine on display was 3D printed in a copper chromium zirconium alloy.
BLT demonstrated its versatility with applications ranging from dental solutions to aerospace. A representative told me more about using the company's metal 3D printing systems to manufacture shoes. Making shoe molds, whether for the mid-sole or sole, decreases production-cycle time, with a 3D printed mold taking 10 hours compared to two weeks for the traditional process. With sports shoe companies typically producing many designs and the industry having two distinct seasons, this is an application where the production of molds is ongoing. Potentially, over half of traditional sports shoe molding could be replaced by 3D printing, according to the representative.
A collaboration with global sportswear giant Adidas was a testament to the potential of 3D printing in mainstream manufacturing. The company is also active with phones and smart watchmakers. BLT is set to have a significant presence at Formnext Frankfurt in November.
Kexcelled unveiled their high-speed filament, a new product that promises faster printing speeds. The PLA filament is designed and tested for Bambu Labs' 3D printer and is intended to operate at up to 500 mm/s. The formulation of the filament has an improved melting point, according to the company. Kexcelled also supplies PEEK filament, with a 1 kg spool available at a price significantly lower than I have seen elsewhere.
I spoke to Kings 3D Printing, a Shenzhen-based company with over 500 employees in China, reporting the sale of more than 10,000 machines. The company's FGF systems run on pelletized material. The JS-FGF-800 was launched in July 2023, and the FGF-600 in February 2023. Sales within China are robust, and the company has also made international sales in Australia.
SoonSer introduced its Mars Pro 600 SLA, emphasizing its potential to revolutionize tire molding processes. The resin 3D printer has a build volume of 600 x 600 x 400 mm. Also available are systems up to 1.6 m x 800 x 500 mm that require 500 kg of material. The company believes that the tire production market is ripe for disruption by 3D printing and spoke at length about its approach. A 3D print can be converted into a silicone mold for the end product. This replaces the several stages of the traditional process whereby a wooden mold was used, and surface structure was added separately via a combination of CNC and metal inserts.
3D printing shortens the production of mold and uses less labor. Eight 3D printing-enabled assemblies are required for one tire. SoonSer is currently installing 20 Mars 600 systems to validate the process.
Lastly, Vistar, operating under the ProtoFab brand, showcased a range of 3D printers, emphasizing their growth from 10th rank to becoming China's market leader in SLA printing within two years.
Away from the trade show floor, there was ample opportunity to discuss trends in the Chinese additive manufacturing market. Metal 3D printing is booming; one attendee estimates the Chinese market uses 10 tonnes of metal powder for additive manufacturing per year. The number of companies exhibiting metal systems based on DLMS or binder jetting supports the figure. While other metal AM systems, such as DED or Electron Beam Melting, were not visible at the expo, a conference track dedicated to the technical use and implementation of such systems was running.
Subscribe to our newsletter for more news from Formnext + PM South China 2023.
You can also follow us on Twitter, like our Facebook page, and subscribe to the 3D Printing Industry Youtube channel to access more exclusive content.
Are you interested in working in the additive manufacturing industry? Visit 3D Printing Jobs to view a selection of available roles and kickstart your career.

Featured image shows Shenzhen World Exhibition and Convention Center. Photo by Michael Petch.